Supermoon over snow-capped mountains. Photo by Frank Cone.
Written and Narrated by Pam Younghans.
Watch video version on YouTube
Current and previous weeks astrological overviews
Astrological Overview: July 31 - August 6, 2023
Astrologer Pam Younghans writes this weekly astrological journal based on planetary influences, and offers perspectives and insights to assist you in making the best use of current energies. This column is not intended as prediction. Your own experience will be more specifically defined by transits to your personal chart.

Aspects of Note this Week:

All times listed are Pacific Daylight Time. For Eastern Time, add 3 hours; For Greenwich Mean Time (GMT), add 7 hours.
Monday: No major aspects are exact today
Tuesday: Full Moon 11:31 a.m. PDT, Mars trine Jupiter, Mars sesquiquadrate Pluto, Mercury opposite Saturn
Wednesday: No major aspects are exact today
Thursday: No major aspects are exact today
Friday: Sun sesquiquadrate Neptune, Venus trine Eris
Saturday: Mercury sesquiquadrate Eris
Sunday: Sun square Jupiter
****
SUPER FULL MOON: The first of August's two Full Moons perfects this Tuesday, August 1, when the Moon is at 9°15´ Aquarius and the Sun is at the same degree of Leo. Both this lunation and the one on August 30 are Supermoons, occurring when the Moon is at perigee, its closest point to the Earth in its not-quite-circular orbit. Visually, a Supermoon looks noticeably larger than most Full Moons since Luna is closer to the Earth; we also anticipate that its emotional impact will be stronger.
An Aquarius Full Moon amplifies the need to be independent and original, true to our unique, authentic self. It is also a very progressive and eclectic sign, potentially advancing social developments based on a heightened awareness of where there is imbalance and inequality.
When pushed to an extreme, the reformist traits of Aquarius can become radical and its demand for independence can lead to rebellion. This may be part of our experience of this Full Moon, due to the Giant Planet Jupiter being in square aspect to both the Sun and the Moon, creating a configuration known as a T-square.
FIXED T-SQUARE: A T-square is formed when two planets are opposite each other in the zodiac and a third planet is 90 degrees away (square) each of the two planets in opposition. To visualize this particular configuration, imagine a giant letter "T" in the sky, with the Sun and Moon at opposite ends of the crossbar and Jupiter at the base of the stem. Since all three planets are in fixed signs, this is called a fixed T-square.
All T-squares indicate the possibility of friction and escalate tension, requiring that we develop more objectivity and self-awareness. A fixed T-square challenges us to become aware of ways in which we are stubbornly attached to our personal perspective, to our values, or to the status quo. At this lunation, as the fixed T-square takes effect, we may observe where we resist being flexible or are unwilling to allow necessary change to occur.
APEX JUPITER: Jupiter, which is situated at the base of the letter T, is in the very important "apex" position. The apex planet of a T-square indicates both how the tension of the configuration is likely to manifest and also provides insights into how we can successfully navigate its challenges.
Jupiter at the apex activates strong beliefs and philosophies, and may bring forward issues in either the legal system or religious organizations. Inflexible opinions, self-righteousness, dogmatism, bigotry, and intolerance are all symptomatic of Jupiter's shadow side. And, with the planet in resource-seeking Taurus, there could also be stress in the financial sector.
Our keys to diffusing the tension of this Full Moon T-square include being open-minded, flexible, and nonjudgmental. We will also want to be mindful of Jupiter's tendency to be excessive or indulgent, and to monitor our reactions. Self-awareness and taking the time to truly understand our motivations will be most helpful.
PULSAR PSR 2045-16: At the time of the Full Moon, Luna aligns with a pulsar known as PSR 2045-16. With this pulsar activated, we are learning when, where, and how to share our inner wisdom with others. It is important to intuitively sense whether someone is ready to both hear and utilize the insights that we share, since sharing before the time is "right" can lead to exhaustion and resistance.
In tandem with the influence of Jupiter at the apex of the Full Moon T-square, this pulsar underscores how important it is that we take the time to assess a situation before launching into what may be received as judgmental or as a lecture. When we feel Jupiter's exuberant need to pour out our opinions, we will want to check ourselves for any undertones of self-righteousness and to make sure that our words are not contributing to a separatist "us versus them" mindset.


DAILY ASPECTS: Here are this week's most important planetary aspects, with my brief interpretations.

Monday
No major aspects are exact today.

Tuesday
Full Moon: This is the first of two Full Moons this calendar month. It peaks at 11:31 a.m. PDT, when the Moon is at 9°15´ Aquarius.
Mars trine Jupiter and sesquiquadrate Pluto: The Mars-Jupiter trine increases confidence and optimism today. However, with Mars also in hard aspect to Pluto, we will need to make sure that our actions are not motivated by a need to be in control. Resistance is strong against any attempts to manipulate.
Mercury opposite Saturn: Our world view may be somewhat pessimistic with this influence. We might also experience challenges in communications or travel plans, especially if we are being too critical or require perfection and efficiency.

Wednesday & Thursday
No major aspects are exact on these two days.

Friday
Sun sesquiquadrate Neptune: Judgment may not be accurate today, since we may not see a situation clearly. An overly robust need for appreciation and approval can bring disappointment.
Retrograde Venus trine Eris: A new friendship or romance might blossom under this influence, or we may feel drawn to be more playful and spontaneous in an existing relationship. With Venus retrograde, there may also be a renewal of an old alliance.

Saturday
Mercury sesquiquadrate Eris: There could be "buyer's remorse" today if we misjudged a situation yesterday, or risks do not bring hoped-for results.

Sunday
Sun square Jupiter: This aspect can exaggerate a tendency to pontificate. It may also indicate a battle of ideologies or a disagreement about moral or ethical issues.
*****
IF YOUR BIRTHDAY IS THIS WEEK: A sense of adventure and a desire for expansion are heightened this year, Leo. This may appear as a renewed enthusiasm about your spiritual journey or in opportunities for higher education, or it could invite you to long-distance physical journeys. Your attention may be drawn to legal, ethical, cultural, or publishing matters. The ability to take risks and to grow in your understanding of life's meaning play important roles in your well-being. Intuition and sensitivity to the subtle realms may increase this year, making it vital that you have good boundaries and find ways to stay grounded. (Solar Return Sun square Jupiter, sesquiquadrate Neptune)
*****
REGISTRATION NOW OPEN! I'm greatly looking forward to my new "Solar Month" class, and very honored by the number of people who are planning to attend! The first class, which will air live on August 17, will cover the Month of Virgo (August 23-September 22). If you wish to learn more about this class, please visit https://events.humanitix.com/solar-month-class to read the event description and to register.
*****
TRANSLATION and AUDIO/VIDEO VERSION: This weekly Journal is now recorded (in English) AND the text is transcribed into 30 languages! You'll see a row of flags under "Available Languages" in the upper right. And, there are options to listen to the audio (in English) or watch a video directly beneath the photo (see top of page).
The Journal entry is usually updated by Sunday evening, with the recordings appearing late Sunday or by Monday depending on your time zone. Please share this information with those who might benefit.
*****
For previous weeks of the Astrological Journal, click here.
*****
About the Author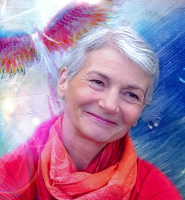 Pam Younghans is a professional astrologer, editor, and writer. She lives in a log home northeast of Seattle, Washington with her beloved animal companions. She has been interpreting charts professionally for over 25 years. If you are interested in an astrology reading, e-mail This email address is being protected from spambots. You need JavaScript enabled to view it., or leave a message at 425.445.3775.
For more information about NorthPoint Astrology offerings, please visit northpointastrology.com or visit her Facebook page.