A composite image of 35 photos of a total lunar eclipse, taken three minutes apart, by Laszlo Francsics.

Narrated by Pam Younghans.

Watch video version at InnerSelf.com or watch on YouTube.
Current and previous weeks astrological overviews
Astrological Overview: May 9 - 15, 2022
Astrologer Pam Younghans writes this weekly astrological journal based on planetary influences, and offers perspectives and insights to assist you in making the best use of current energies. This column is not intended as prediction. Your own experience will be more specifically defined by transits to your personal chart.

Aspects of Note this Week:

All times listed are Pacific Daylight Time. (For Eastern Time, add 3 hours; For Greenwich Mean Time, add 7 hours.)
MON: No major aspects are exact today
TUE: Mercury stations retrograde, Jupiter enters Aries, Venus semisquare Saturn
WED: Jupiter semisquare Uranus
THU: No major aspects are exact today
FRI: Sun conjunct South Node
SAT: Mars sextile North Node
SUN: Venus conjunct Chiron, Sun square Saturn, Sun sextile Neptune, Full Moon/Total Lunar Eclipse 9:13 p.m. PDT
****
This week's planetary events, are significant!

TOTAL LUNAR ECLIPSE: The Full Moon that occurs next Sunday, May 15, is also a powerful Total Lunar Eclipse. The eclipse will reach totality at 9:11 p.m. PDT on Sunday night, which means it will occur early on Monday, May 16, for Eastern and other time zones. The eclipse will be visible from North and South America, plus parts of Europe and Africa.
All eclipses provide the opportunity to align with our higher destiny, but total eclipses are especially transformational. Even the fact that a Total Lunar Eclipse is called a "Blood Moon" (due to the reddish hue that it gains at totality) lends a sense of intrigue and even foreboding to the event. And, while all lunar eclipses involve a process of emotional cleansing, with this Full Moon eclipse in cathartic Scorpio, deep feelings that we may have been keeping at bay are likely to come to the surface to be released and healed.
OMEGA SYMBOL: At the time of the Full Moon Eclipse, the Moon will be at 25°17´ Scorpio, with the Sun positioned at the same degree of Taurus. The Omega symbol for the 26th degree of Scorpio reads: "A witch dressed in black. Her clothes are turning white." Astrologer John Sandbach's interpretation of this symbol describes the powerful emotions we may access through this eclipse: "Complete immersion in something before moving on. The deep dive. In this way, we reach a deep understanding, having experienced the polarities at work."
We're all aware that expressing emotions can be cathartic, and yet most of us tend to repress or suppress deep feelings. This may be because it's not socially acceptable to express them, or due to a fear of feeling such intensity, or out of not knowing what to do with the emotions once they arise. And yet, we also know that denying or ignoring our feelings can cause them to become "stuck" in our physical and emotional bodies. These stuck feelings can then manifest as physical illness or behavior patterns that can cause us problems down the road.
Suffice to say, if there are emotions that we've been avoiding, they may very well emerge and ask (demand?) to be expressed and released around the time of the eclipse next weekend. This is the "complete immersion" referenced in the Omega symbol, and may feel overwhelming at times. But, it is a necessary step "before moving on," as it will ultimately free us of some weighty emotional baggage. This is the "deep dive" stage in the process of transmutation that is supported by a Total Lunar Eclipse in Scorpio.
PHOENIX RISING: Of all the signs of the zodiac, Scorpio is unusual in that it has more than one animal symbol. Traditional astrology includes both the Scorpion and the Eagle as representing the sign. The Scorpion symbolizes the shadow side – the ability to strike with venom at times, as well as a tendency to stay stuck in the mud of darker emotions. But the Eagle shows the higher potentials of Scorpio, through its ability to rise above the landscape, to view with keen eyesight both the dark and the light, but not attached to either.
A third animal symbol for Scorpio has also come into practice. The mythical Phoenix is known primarily for the stage in its life cycle where it bursts into flame, but then rises from the ashes. This represents the capacity of Scorpio to go deeply into an experience, but to emerge on the other side transformed and reborn.
As we navigate the profound emotions that can arise with a Scorpio Lunar Eclipse, we will benefit not by ignoring our feelings, but rather in not attaching to them. And, by always keeping the higher perspective of Eagle, knowing that where there is dark, there is also light. This attitude will enable us to go through the cleansing and rebirth process with more grace.
RELEASING THE PAST: Our Lunar Eclipse next Sunday is a South Node eclipse, which simply means that the Moon will be within a few degrees of the karmic South Node at the time of the lunation. What may not be so simple is that we will be working with a major release of emotional issues and attachments, not only from this life, but perhaps also from other lifetimes and even from our ancestral lineage.
Eclipses tend to repeat at the same zodiac degree every nineteen years, which can provide clues as to what issues we are being called to work on now. Next Sunday's event is a repeat of a Total Lunar Eclipse that occurred on May 15-16, 2003. As we review what was occurring in our lives at that time and over the six months that followed, we may be able to see similar themes that are resurfacing in current day. These themes may be manifesting in your waking life, or perhaps appearing in the dream state.
DAILY ASPECTS: Besides the Total Lunar Eclipse, there are several other significant events this week, such as Mercury going retrograde and Jupiter entering Aries. I'm including those in the list of daily aspects below, along with my brief interpretations:
Monday
No major aspects are exact today.
Tuesday
Mercury stations retrograde: Mercury will be moving backward from May 10 to June 3. Traditional wisdom calls for us to delay important decisions while Mercury is retrograde. If this is not possible, make sure that you understand all the details of any paperwork, and perhaps ask a trusted friend to review as well. What is vital is not to make decisions hastily or under pressure under Mercury retrograde; those are the types of choices that often need to be revisited later.
Jupiter enters Aries: As it transits the zodiac, Jupiter magnifies the themes of whatever sign it is transiting. As the Giant Planet moves through Aries from May 10 until it retrogrades into Pisces on October 7, it emphasizes the qualities of assertiveness, confidence, and inspired leadership. The shadow side of Aries may also appear larger, as people can be more headstrong, impatient, and willful, especially when it comes to fighting for something they believe in.
Venus semisquare Saturn: Relationships hit a minor snag today, requiring us to reassess our commitments.
Wednesday
Jupiter semisquare Uranus: In combination, these two planets are known for manifesting in surprising ways that require us to be flexible. The need for freedom is amplified, causing breakthroughs, breakdowns, and breakouts. This can also be a very insightful time, but nerves may be frazzled.
Thursday
No major aspects are exact today.
Friday
Sun conjunct North Node: Issues from the past come into our awareness today, and may evoke deep emotions that we thought we had processed. These feelings will be clues as to the larger themes that will be brought forward by Sunday's Lunar Eclipse.
Saturday
Mars sextile North Node: We have the opportunity to make progress along our evolutionary path, as we have the courage to leave the past behind.
Sunday
Venus conjunct Chiron: People may be especially sensitive today. This can cause some upset in relationships, but it also provides an opportunity to deepen our understanding of ourselves and others.
Sun square Saturn: We are challenged to move beyond our comfort zone today, perhaps due to certain tasks we have taken on.
Sun sextile Neptune: Compassion and understanding are our companions today, as we are more able to see life through a spiritual lens.
Full Moon/Total Lunar Eclipse 9:13 p.m. PDT: This Full Moon eclipse, while most powerful around its exact date and time, is setting themes that we will be working with for the next six months, until the Total Lunar Eclipse in Taurus on November 8.
*****
IF YOUR BIRTHDAY IS THIS WEEK: You are not likely to be bored this coming year, Taurus! The level of growth you achieve and the number of changes you experience may surprise you at times. You can experience times of self-confidence but must be careful not to slip into a pessimistic attitude when things don't go exactly as planned. Progress may sometimes be slower than you'd like, requiring you to build greater patience. But, over the course of the year, creative or spiritual work is supported, as is the achievement of some significant personal goals. (Solar Return Sun sextile Mars, square Saturn, conjunct Uranus, sextile Neptune, trine Pluto)
*****
SEE YOU TOMORROW! My "Metamorphosis" webinar goes live on Monday, May 9! This Zoom class will cover the planetary influences we'll be working with from now through August 2022 – it's somewhat like a live version of this Journal, but giving you a "heads-up" about the next four months instead of just seven days.

If you can't be there for the live class, please know that all registrants receive a link to the replay, along with all the class materials. Please see the class description to register and/or for more info. Once you register, please watch for a confirmation and follow-up emails from [This email address is being protected from spambots. You need JavaScript enabled to view it.].
*****
TRANSLATION and AUDIO/VIDEO VERSION: This weekly Journal is now recorded (in English) AND the text is transcribed into 30 languages! You'll see a row of flags under "Available Languages" in the upper right. And, there are options to listen to the audio (in English) or watch a video directly beneath the photo (see top of page).
The Journal entry is usually updated by Sunday evening, with the recordings appearing late Sunday or by Monday depending on your time zone. Please share this information with those who might benefit.
*****
For previous weeks of the Astrological Journal, click here.
*****
About the Author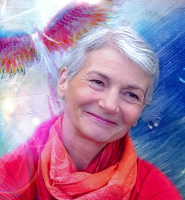 Pam Younghans is a professional astrologer, editor, and writer. She lives in a log home northeast of Seattle, Washington with her beloved animal companions. She has been interpreting charts professionally for over 25 years. If you are interested in an astrology reading, e-mail This email address is being protected from spambots. You need JavaScript enabled to view it., or leave a message at 425.445.3775.
For more information about NorthPoint Astrology offerings, please visit northpointastrology.com or visit her Facebook page.