Image by kjpargeter (freepik)
Written and Narrated by Pam Younghans.
Watch video version on YouTube
Current and previous weeks astrological overviews
Astrological Overview: July 3 - 9, 2023
Astrologer Pam Younghans writes this weekly astrological journal based on planetary influences, and offers perspectives and insights to assist you in making the best use of current energies. This column is not intended as prediction. Your own experience will be more specifically defined by transits to your personal chart.

Aspects of Note this Week:

All times listed are Pacific Daylight Time. For Eastern Time, add 3 hours; For Greenwich Mean Time (GMT), add 7 hours.
Monday: Full Moon 4:38 a.m. PDT
Tuesday: No major aspects are exact today
Wednesday: Mercury square Chiron
Thursday: Mars quincunx Neptune, Mercury sesquiquadrate Saturn, Mercury sextile Uranus
Friday: No major aspects are exact today
Saturday: Mercury square Eris, Venus trine Eris
Sunday: Mars quincunx Eris, Mercury trine Neptune
****
SUPER FULL MOON: The first lunation in our new month of July is a Full Moon that occurs on Monday, July 3, at 4:38 a.m. PDT. This will be a Super Full Moon, so called because it occurs when the Moon is at perigee, the point in its orbit when it is closest to the Earth. A Super Full Moon appears larger in the sky and also is considered to have greater impact, both energetically and emotionally.
At the time of the lunation, the Moon will be at 11°18´ Capricorn, opposite the Sun at the same degree of Cancer. The Cancer-Capricorn polarity requires that we balance the Nurturer and the Achiever, that we equalize the energy spent in fulfilling emotional needs with the energy expended in pursuing external goals and ambitions. We are called to observe and finetune the balance between objectivity and subjectivity, to be neither aloof nor needy, but to realize the importance of being both resilient and vulnerable, of having both good boundaries and a caring empathy.
Four other planets are strongly activated by the Full Moon, adding their energies to our experience of the lunation. Most significantly, Mercury is conjunct the Sun, emphasizing themes of information sharing, news, travel, and other forms of communication and connection. With Mercury opposite the Moon, differences of opinion and perspective may bring up feelings of vulnerability, causing a protective "fight or flight" response. We may also need to deal objectively with issues that are causing defensiveness or fear.
Jupiter and Saturn are both very supportive at the time of the lunation, forming harmonious aspects with the Moon and with each other. Jupiter's trine to Luna awakens new confidence and optimism, a "can do" attitude, and helps us have faith despite the challenges we may be facing. Saturn's sextile adds stability and common sense to the mix, helping us be realistic and responsible.
The main challenge in the Full Moon chart appears in the form of a very tight sesquiquadrate between the Moon and Mars. This aspect can be quite frustrating, due to a feeling of not being able to express one's needs, or not having them fulfilled adequately. With impulsive Mars in expressive Leo, some may be quick to anger and overly dramatic in their reactions, especially if they feel disrespected, controlled, or ignored.

DAILY ASPECTS: Here are this week's most important planetary aspects, with my brief interpretations.

Monday
Full Moon 4:38 a.m. PDT: This Full Moon asks us to consider how well we balance the Capricorn themes of career and purpose with the Cancer themes of home, family, and self-nurturing.

Tuesday
No major aspects are exact today.

Wednesday
Mercury square Chiron: People may take offense easily today. We might also feel insecure in our ability to communicate our feelings, and may instead withdraw or hide under pressure. This is an opportunity for some inner child work, to express caring support for the part of ourselves that is feeling vulnerable or fearful.

Thursday:
Mars quincunx Neptune: This aspect indicates a tendency to overidealize a situation or our own abilities. Unrealistic expectations can lead to disillusionment and a sense of confusion about what we truly want.
Mercury sesquiquadrate Saturn and sextile Uranus: Conversations may feel unsatisfying today, if we are communicating from a protective or defensive stance. Once we try a new approach, allowing our intuition and higher Self to guide our words, we are more likely to feel heard.

Friday
No major aspects are exact today.

Saturday
Mercury square Eris: People may tend to be quarrelsome today, unwilling to yield or truly hear what another has to say.
Venus trine Eris: Allowing each person their independence will help relationships flow with greater ease today.

Sunday
Mars quincunx Pluto: Desires are expressed with great passion today, perhaps leading to bursts of anger. There may be power struggles if one person tries to directly control or subtly manipulate another.
Mercury trine Neptune: This aspect represents a collaboration of heart and mind, enabling us to be compassionate and understanding. It is also a helpful influence for creative writing or using the mind in spiritual pursuits.

*****
IF YOUR BIRTHDAY IS THIS WEEK: You may feel a strong need to speak (or write) your truth this year, Cancer. However, there could be some inner healing needed before you fully trust your ability to share your story and perspectives. Many of us have a lingering fear that no one wants to hear what we have to say, or that we will not be able to clearly articulate our thoughts. This is an opportunity to truly care for and support the young child within you, who may still be feeling insecure. Pay special attention to when you feel irrationally or unexpectedly angry; this is a signal from your inner child that they are feeling especially fearful and are in need of your love and understanding. (Solar Return Sun conjunct Mercury, semisquare Mars, square Chiron)
*****
NEW "SOLAR MONTH" CLASS: I will soon be offering a new monthly class! Each class will take a closer look at the astrological energies for the upcoming solar month and also teach about how transits work. Participants will receive a copy of their birth charts and each class will include time for a few people to ask about current transits to their charts. Since this is a teaching opportunity for everyone to learn about transits, anyone who wants to ask a personal question must also give permission for me to share their natal chart onscreen with the other class members.

The hour-long class will be held on Zoom, the week before the Sun changes signs each month (around the 20th), and recorded for those who cannot attend live. The classes will start in either August or September. This class is in addition to the three webinars I offer each year, which cover overall trends and themes for a four-month period. The fee will be $22 per Single Class or $60 for a Season Pass (3 classes in a row, starting in September).
Thanks to everyone who has already expressed interest in the class! If you want to add your name to the list and keep informed as plans and dates are finalized, please send me an email at This email address is being protected from spambots. You need JavaScript enabled to view it..
*****
TRANSLATION and AUDIO/VIDEO VERSION: This weekly Journal is now recorded (in English) AND the text is transcribed into 30 languages! You'll see a row of flags under "Available Languages" in the upper right. And, there are options to listen to the audio (in English) or watch a video directly beneath the photo (see top of page).
The Journal entry is usually updated by Sunday evening, with the recordings appearing late Sunday or by Monday depending on your time zone. Please share this information with those who might benefit.
*****
For previous weeks of the Astrological Journal, click here.
*****
About the Author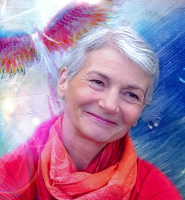 Pam Younghans is a professional astrologer, editor, and writer. She lives in a log home northeast of Seattle, Washington with her beloved animal companions. She has been interpreting charts professionally for over 25 years. If you are interested in an astrology reading, e-mail This email address is being protected from spambots. You need JavaScript enabled to view it., or leave a message at 425.445.3775.
For more information about NorthPoint Astrology offerings, please visit northpointastrology.com or visit her Facebook page.