Image byPhoto by B A Fields (Pexels)
Written and Narrated by Pam Younghans.
Watch video version on YouTube
Current and previous weeks astrological overviews
Astrological Overview: June 19 - 25, 2023
Astrologer Pam Younghans writes this weekly astrological journal based on planetary influences, and offers perspectives and insights to assist you in making the best use of current energies. This column is not intended as prediction. Your own experience will be more specifically defined by transits to your personal chart.

Aspects of Note this Week:

All times listed are Pacific Daylight Time. For Eastern Time, add 3 hours; For Greenwich Mean Time (GMT), add 7 hours.
MON: Jupiter sextile Saturn, Mercury sesquiquadrate Pluto, Venus sesquiquadrate Neptune
TUE: Pluto trine Ceres
WED: Sun quincunx Pluto, Sun enters Cancer (Solstice), Mercury sextile Mars, Sun square Ceres, Mercury sextile Chiron
THU: Mars trine Chiron
FRI: Mercury semisquare Jupiter
SAT: Mercury sextile Eris
SUN: Mercury square Neptune
****
JUNE SOLSTICE: When the Sun enters Cancer this Tuesday, it will momentarily appear to be at a standstill. This is the June solstice, when the Earth's tilt — either toward the Sun (Northern Hemisphere) or away from it (Southern Hemisphere) — is at its maximum. The English word solstice is derived from the Latin word sōlstitium, which translates to "the Sun stands still."
A horoscope drawn for the moment of the solstice is the birth chart for the coming season, showing basic themes for the next three months. The chart for 7:58 a.m. PDT on June 21 shows a wide variety of influences. With the Moon, Venus, and Mars in fiery Leo, we can expect a fair amount of drama and theatrics, but also the potential for great creativity and courage.
The Sun itself is in harmonious aspect with Saturn, helping us be responsible and objective. However, with Sol also square Neptune and quincunx Pluto, we may face some disillusionment, insecurities, and a lack of boundaries. We will need to make attitude adjustments to maintain a sense of personal empowerment when situations and events are outside of our control. In addition, a semisquare between the Sun and Venus indicates minor challenges in the Venus-ruled areas of relationship, values and self-worth, and finances.
JUPITER SEXTILE SATURN: Included in the solstice chart is a hopeful yet practical sextile aspect between Jupiter in Taurus and Saturn in Pisces. The sextile, which perfects on Monday, represents a good balance between optimism and realism. It encourages us to be responsible, but also provides a sense of ease as we tackle practical concerns. In other words, once we apply discipline, we will generally feel that the process unfolds favorably, even if somewhat slowly. We have access to sound judgment and wise decision-making ability, and are supported in long-term planning that, over time, can bring a dream into reality.
This sextile contributes to steady growth in some area of our lives, depending on the houses where the two planets are currently transiting in our natal charts. For everyone, we could see special benefit in the area of spiritual development, given that Jupiter represents faith and belief, and Saturn is in the mystical, metaphysical sign of Pisces. Still, this aspect implies that we must first sit in meditation or otherwise focus our attention to receive insights, since it will reward the effort we put in.

DAILY ASPECTS: Here are this week's most important planetary aspects, with my brief interpretations.

Monday
Jupiter sextile Saturn: This aspect represents an opportunity to manifest something that has been mostly in the visionary state until now, if we are willing to apply ourselves and be patient.
Mercury sesquiquadrate Pluto: Thinking can be a bit irrational or we might obsess about a specific issue. Conversations could be upsetting, if we expect others to fully agree with our perspective.
Venus sesquiquadrate Neptune: Some disillusionment is possible in relationships, if we have overly idealistic expectations of self or other.

Tuesday
Pluto trine Ceres: This trine allows for a deeper understanding of those with whom we might usually feel at odds. Tolerance and acceptance are keywords.

Wednesday
Sun quincunx Pluto: We may trip over our tongues or stumble over old thought patterns today.
Sun enters Cancer (Solstice): The Sun makes ingress into Cancer at 7:58 a.m. PDT. Over the next month, while the Sun moves through the sign of the Crab, security and protection are primary motivators, and there is a draw to spend time at home or with family.
Mercury sextile Mars and sextile Chiron: We have greater confidence in our ideas and are able to take action on them.
Sun square Ceres: Challenges may arise in relationships, due to a conflict between a need for self-care and a desire to please others.

Thursday:
Mars trine Chiron: A renewed sense of self-confidence encourages us to take creative risks.

Friday
Mercury semisquare Jupiter: Decisions may not work in our favor today, if they are based on an outdated understanding of how reality works.

Saturday
Mercury sextile Eris: The urge to take action on our ideas is strong and people may be more forthright in their communications.

Sunday
Mercury square Neptune: It can be hard to focus or concentrate on practical matters. We may have some misgivings about recent decisions or conversations.
*****
IF YOUR BIRTHDAY IS THIS WEEK: This year, you are learning about the importance of self-care. This lesson will be especially profound if you have a history of being a martyr, of being overly concerned with whether loved ones are pleased with your choices, or of being too motivated by the need for favorable attention from others. By applying discipline and taking the time to decide on your best course of action — as opposed to responding immediately to a request for assistance or attention — you will be able to access your wise and empowered self. This is possible when you step to the side, check in with your body, and listen to what it is telling you. (Solar Return Sun semisquare Venus, square Ceres, trine Saturn, square Neptune, quincunx Pluto)
*****
TRANSLATION and AUDIO/VIDEO VERSION: This weekly Journal is now recorded (in English) AND the text is transcribed into 30 languages! You'll see a row of flags under "Available Languages" in the upper right. And, there are options to listen to the audio (in English) or watch a video directly beneath the photo (see top of page).
The Journal entry is usually updated by Sunday evening, with the recordings appearing late Sunday or by Monday depending on your time zone. Please share this information with those who might benefit.
*****
For previous weeks of the Astrological Journal, click here.
*****
About the Author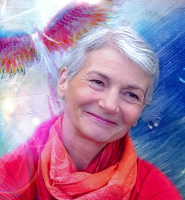 Pam Younghans is a professional astrologer, editor, and writer. She lives in a log home northeast of Seattle, Washington with her beloved animal companions. She has been interpreting charts professionally for over 25 years. If you are interested in an astrology reading, e-mail This email address is being protected from spambots. You need JavaScript enabled to view it., or leave a message at 425.445.3775.
For more information about NorthPoint Astrology offerings, please visit northpointastrology.com or visit her Facebook page.