Photo by Raman deep
Watch video version on YouTube
Current and previous weeks astrological overviews
Astrological Overview: November 20 - 26, 2023
Astrologer Pam Younghans writes this weekly astrological journal based on planetary influences, and offers perspectives and insights to assist you in making the best use of current energies. This column is not intended as prediction. Your own experience will be more specifically defined by transits to your personal chart.

Aspects of Note this Week:

All times listed are Pacific Daylight Time. For Eastern Time, add 3 hours; For Greenwich Mean Time (GMT), add 8 hours.
Monday: Sun conjunct Ceres, Sun sextile Pluto, Mercury trine Chiron, Pluto sextile Ceres
Tuesday: Mars sextile Pluto
Wednesday: Venus sesquiquadrate Saturn, Sun enters Sagittarius, Venus opposite Chiron, Mars conjunct Ceres
Thursday: Sun square Saturn, Sun sesquiquadrate Chiron
Friday: Mercury quincunx Uranus, Mars enters Sagittarius, Ceres enters Sagittarius
Saturday: Saturn semisquare Chiron, Mars sesquiquadrate Chiron, Mars square Saturn, Mercury sesquiquadrate Jupiter
Sunday: Venus quincunx Uranus, Mercury trine Eris
*****
SAGITTARIUS RISING: Three planets exit emotionally intense, watery Scorpio and enter optimistic, fiery Sagittarius over the course of the next few days: the Sun makes ingress on Wednesday, and Mars and Ceres follow suit on Friday. As these three join Mercury in the ninth sign of the zodiac, we may find it easier to rise above some of the emotional density we've been feeling lately.
At its highest vibrational level, Sagittarius can help us cultivate a more philosophical or hopeful perspective on events. Archetypes linked to the sign include the Adventurer, the Intuitive, the Eternal Seeker, and the Wise Sage. The arrow of The Archer is always pointed upward, in search of the greater meanings of life. With help from Sagittarius, we have access to a broader vista and thus are more able to view life from a higher perspective.
THE ARCHER'S SHADOW: There is, of course, a shadow side of Sagittarius, as with all the signs. With so many planets in the sign — and especially with the Sun and Mars square moralistic Saturn in Pisces this week — we will need to be on alert for ways in which we might be self-righteous or dogmatic. If we are too adamant about the validity of our personal beliefs, we may have little tolerance for alternate world views. The Judge, the Proselytizer, and the Fanatic archetypes are engaged, which may cause resistance and separatism.
We may also find it hard to focus on practical tasks, our minds restless and our attention diverted by each passing insight or shooting star. And, although Sagittarius is known for its lighthearted sense of humor, it also can be sarcastic and tactless when not conscious of how its words might be received.
FINAL DAYS OF SCORPIO: This week, before the shift into Sagittarius occurs, the Sun, Ceres, and Mars congregate in the final two degrees of Scorpio, with all three in harmonious aspect to transformational Pluto. On Monday, when the Sun and Ceres conjoin in the eighth sign and are sextile Pluto, family bonds are emphasized and potentially deepened. The focus is on intimacy and honesty, leading to stronger emotional connections.
Mars is exactly sextile Pluto on Tuesday, and then aligns with Ceres on Wednesday. The themes here are similar to what we experienced on Monday, but we may be more assertive or courageous in how we approach issues or express our desires. A mother-bear, protective instinct is strong and we are unlikely to take things lightly.


DAILY ASPECTS: Here are my brief interpretations of this week's most important planetary aspects:

Monday
Sun conjunct Ceres, Sun sextile Pluto, Pluto sextile Ceres: The need to feel connected to home and family is strong. We are willing to work on issues that need to be addressed to improve these relationships.
Mercury trine Chiron: Conversations today may bring up old feelings of insecurity, but healing is possible through honest sharing and attentive listening.

Tuesday
Mars sextile Pluto: We have the courage to take decisive action today and may feel especially passionate about reaching a longer-term goal.

Wednesday
Venus sesquiquadrate Saturn, Venus opposite Chiron: Fears and insecurities can arise regarding relationships today. This may result in feeling emotionally distant from a loved one. As always with Chiron aspects, much can be healed by focusing loving attention on our inner child self.
Sun enters Sagittarius: The Sun will travel through the sign of The Archer from November 22 to December 21. Over the course of this solar month, we are drawn to explore what we believe and to engage in activities that expand our sense of life's meaning. In general, we may have little patience with practical details, preferring to contemplate the entire forest rather than the individual trees. The Sagittarius Sun also can provide an uplift in confidence and optimism.
Mars conjunct Ceres: This alignment helps us have the courage to directly face the truth of a family situation. It also may inspire us to play the role of psychotherapist for a loved one, as needed.

Thursday
Sun square Saturn, Sun sesquiquadrate Chiron: The need to take care of responsibilities could interfere with our freedom today. As an ideal comes face-to-face with reality, we may feel short-term anxiety, heaviness, or depression. Situations may bring up old childhood wounds of not being good enough, if we feel we are being judged as being "bad" or "wrong" in some way.

Friday
Mercury quincunx Uranus: The mind is distracted today, making it hard to focus on practical matters. An intuitive knowing may lead to a change of plans.
Mars enters Sagittarius: Mars will be in Sagittarius from November 24, 2023, to January 4, 2024. We are inspired by higher ideals during these weeks, and are more likely to act if we fully believe in what we are doing. Motivation is strong if we know that a greater vision or cause will be served by our actions.
Ceres enters Sagittarius: While Ceres is in Sagittarius, from November 24, 2023, to February 7, 2024, self-esteem and self-acceptance are enhanced as we seek to find greater meaning in our lives and to expand our consciousness.

Saturday
Saturn semisquare Chiron, Mars sesquiquadrate Chiron, Mars square Saturn: Fears and insecurities may arise if we do not feel confident about our ability to take care of practical matters. Frustrations and anger are possible as a result of an underlying lack of belief in ourselves.
Mercury sesquiquadrate Jupiter: We may receive and feel overwhelmed by too much information. The mind is scattered, making it harder to attend to details.

Sunday
Venus quincunx Uranus: Restlessness or boredom in a relationship could indicate a need for more freedom, independence, or flexibility. This is a good opportunity to consider where there might be some elements of codependency at work.
Mercury trine Eris: It is easier to be more forthright in communications today and to express our true needs and opinions.
*****
IF YOUR BIRTHDAY IS THIS WEEK: Although you may feel very clear about your dreams and desires, and be strongly inspired to achieve them, there are likely to be some delays in how and when they manifest this year. The story of The Tortoise and the Hare may be helpful to remember, with the moral being that "slow and steady wins the race." If you find yourself or your goals tested, consider that these challenges are enabling you to strengthen in some way, and that the end result — and the timing — will be far better than it would have been if all had proceeded exactly as planned. In addition, your determination and persistence in overcoming obstacles will enhance your self-esteem in lasting ways. (Solar Return Sun semisquare Venus, conjunct Mars, square Saturn, trine Neptune, conjunct Ceres)
*****
CLASS THIS WEEK: My Solar Month Class covering the month of Sagittarius is this Wednesday, November 22! Everyone who has registered should have received an email last week with links to the class handouts. Be sure to check your inbox on Monday for an email with the Zoom link and passcode.

If you are interested, there's still time to sign up! To learn more, please visit https://events.humanitix.com/solar-month-class-sagittarius-2023

INSTAGRAM: I invite you to check out my daily astrological updates: https://instagram.com/pamyounghans/
*****
TRANSLATION and AUDIO/VIDEO VERSION: This weekly Journal is now recorded (in English) AND the text is transcribed into 30 languages! You'll see a row of flags under "Available Languages" in the upper right. And, there are options to listen to the audio (in English) or watch a video directly beneath the photo (see top of page).
The Journal entry is usually updated by Sunday evening, with the recordings appearing late Sunday or by Monday depending on your time zone. Please share this information with those who might benefit.
*****
For previous weeks of the Astrological Journal, click here.
*****
About the Author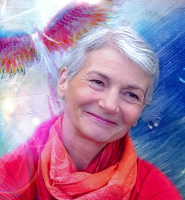 Pam Younghans is a professional astrologer, editor, and writer. She lives in a log home northeast of Seattle, Washington with her beloved animal companions. She has been interpreting charts professionally for over 25 years. If you are interested in an astrology reading, e-mail This email address is being protected from spambots. You need JavaScript enabled to view it., or leave a message at 425.445.3775.
For more information about NorthPoint Astrology offerings, please visit northpointastrology.com or visit her Facebook page.