Image by Leopictures from Pixabay
Written and Narrated by Pam Younghans.
Watch video version on YouTube
Current and previous weeks astrological overviews
Astrological Overview: June 12 - 18, 2023
Astrologer Pam Younghans writes this weekly astrological journal based on planetary influences, and offers perspectives and insights to assist you in making the best use of current energies. This column is not intended as prediction. Your own experience will be more specifically defined by transits to your personal chart.

Aspects of Note this Week:

All times listed are Pacific Daylight Time. For Eastern Time, add 3 hours; For Greenwich Mean Time (GMT), add 7 hours.
MON: No major aspects are exact today
TUE: Venus quincunx Saturn, Sun semisquare Venus, Mercury semisquare Chiron
WED: No major aspects are exact today
THU: Mercury square Saturn
FRI: Sun sextile Eris
SAT: Mercury sextile Venus, Saturn stations retrograde, New Moon in Gemini
SUN: Sun square Neptune
****
GEMINI NEW MOON: We are now in the Last Quarter phase of the current lunar cycle, which began with the New Moon on May 19. Over the next seven days, in addition to working with other planetary events, we are invited to assess our progress over the past three weeks. Following our intuition is especially important as we move through this completion phase of the lunar cycle, as it will guide us regarding what needs to be done to wrap up projects or issues we've been working on. Inner knowing will also inform us about what needs to be cleared and released, so that we are prepared for the new beginning that lies ahead.
This month's New Moon occurs on Saturday, June 17, at 9:36 p.m. PDT, when the Sun and Moon align at 26°43´ Gemini. A New Moon in the sign of The Twins would normally inspire us to use our intellect and reasoning abilities to set goals for the new lunar cycle; however, the Sun and Moon are closely square mystical Neptune at the time of the lunation, conveying an entirely different message.
Neptune's influence is spiritual and creative, calling for us to rely on our intuitive awareness instead of our rational minds. It is also motivated by the heart rather than the intellect, which is why this Gemini New Moon could feel confusing if we attempt to rely primarily on our minds to chart a new course.
It may be hard to focus or concentrate on practical concerns as the new lunar cycle begins; daydreams and night dreams may seem more real than waking life. The challenge will be to not get lost in the imagination or the escapist tendencies of Neptune, but also to allow ourselves the time to disappear from "reality" for periods, with the intention of bringing insights and visions forward from the inner realms.
GALACTIC ASTROLOGY: Next Saturday's New Moon will be tightly conjunct Quasar 3C147 (at 27° Gemini), and exactly opposite the Galactic Center (at 27° Sagittarius). With this quasar activated, a tremendous amount of new information is available for download, and many will feel a strong desire to share what is received. The guidance here is not only to receive the information, but to channel it through the heart before allowing it to be expressed by the voice (or in any written form).
The Galactic Center activates a clearing process before the download of information may begin. Once we commit to allowing this clearing process to occur, old limiting patterns, ideas and beliefs, and self-definitions are dismantled. This allows us to both receive and transmit clear insights and information, without it being contaminated by outdated filters.
SATURN RETROGRADE: In sharp contrast to the other-worldly overtones of the New Moon, reality-based Saturn's influence is very strong this week. The Ringed Planet is moving very slowly now as it prepares to station retrograde on Saturday, June 17, at 07°12´ Pisces.
Saturn always provides a reality check of sorts, when we are asked to assess whether or not current conditions are working for us on a practical level. Where we each feel this influence most strongly depends on our natal astrology chart — both the house location of seven degrees Pisces and whether we have planets or points at a sensitive location (between three and eleven degrees of the mutable signs: Gemini, Virgo, Sagittarius, or Pisces).
Saturn will be moving backward in Pisces for over four months, until it stations direct on November 4. During this period, forward progress in various areas — especially in careers, business, or the pursuit of other outer ambitions — may seem to slow or be stalled. If delays occur, it is an opportunity for us to develop more efficient and effective methods that may be implemented once Saturn goes direct.
Postponements could also be a sign that there are other issues that must be addressed, other unfinished business to complete, before we can successfully focus all our attention on current goals. It may be helpful to remember that Saturn is Father Time, and that seeming "setbacks" are ultimately working in our favor, that they will enable us to be in the right place at the right time, farther down the road.

DAILY ASPECTS: Here are this week's most important planetary aspects, with my brief interpretations.

Monday
No major aspects are exact today.

Tuesday
Venus quincunx Saturn, Sun semisquare Venus: Relationships, values, and finances are in the spotlight today. A reality check in these areas may reveal ways in which our sense of well-being is overly dependent on external validation. Some may exhibit impatience when listening to others, based on their own need to receive attention.
Mercury semisquare Chiron: Attempts to communicate may not go smoothly today, since people may be feeling a bit insecure about sharing their ideas or perspectives.

Wednesday
No major aspects are exact today.

Thursday:
Mercury square Saturn: This aspect can indicate a mental block, a disruption in communications, or delays in travel plans. The mind tends to be pessimistic and critical, making it harder to trust our intuition.

Friday
Sun sextile Eris: The need to act independently is strong, and there is a tendency to speak or act impulsively.

Saturday
Mercury sextile Venus: Conversations may flow more easily with this aspect in effect. It is also helpful in creative projects.
Saturn stations retrograde: Saturn comes to a standstill at 10:27 a.m. PDT on June 17. It will be retrograde until November 4.
New Moon: The new lunar cycle begins at 9:36 p.m. PDT.

Sunday
Sun square Neptune: Events may not go as planned today, and it can be harder to focus or concentrate. Disillusionment is possible, if we are too dependent on life "making sense" to our rational minds.

IF YOUR BIRTHDAY IS THIS WEEK: A lack of clear direction this year is designed to help you strengthen important spiritual qualities: surrender, nonattachment, faith, trust, and a reliance on your intuition and higher guidance. It may be helpful to remind yourself that faith and certainty do not sit at the same table: There is little need for faith if there is certainty, and there is little need for certainty if you have faith. At the same time, there are lessons this year in not falling into patterns of self-sacrifice or self-criticism, but to consider your innate value and personal needs as equal to that of others. (Solar Return Sun semisquare Venus, square Ceres, square Neptune)
*****
IF YOUR BIRTHDAY IS THIS WEEK: xxx
*****
TRANSLATION and AUDIO/VIDEO VERSION: This weekly Journal is now recorded (in English) AND the text is transcribed into 30 languages! You'll see a row of flags under "Available Languages" in the upper right. And, there are options to listen to the audio (in English) or watch a video directly beneath the photo (see top of page).
The Journal entry is usually updated by Sunday evening, with the recordings appearing late Sunday or by Monday depending on your time zone. Please share this information with those who might benefit.
*****
For previous weeks of the Astrological Journal, click here.
*****
About the Author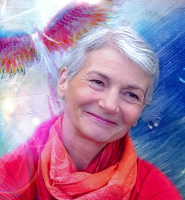 Pam Younghans is a professional astrologer, editor, and writer. She lives in a log home northeast of Seattle, Washington with her beloved animal companions. She has been interpreting charts professionally for over 25 years. If you are interested in an astrology reading, e-mail This email address is being protected from spambots. You need JavaScript enabled to view it., or leave a message at 425.445.3775.
For more information about NorthPoint Astrology offerings, please visit northpointastrology.com or visit her Facebook page.