Image by Manfred Antranias Zimmer
Written and Narrated by Pam Younghans.
Watch video version on YouTube
Current and previous weeks astrological overviews
Astrological Overview: June 5 - 11, 2023
Astrologer Pam Younghans writes this weekly astrological journal based on planetary influences, and offers perspectives and insights to assist you in making the best use of current energies. This column is not intended as prediction. Your own experience will be more specifically defined by transits to your personal chart.

Aspects of Note this Week:

All times listed are Pacific Daylight Time. For Eastern Time, add 3 hours; For Greenwich Mean Time (GMT), add 7 hours.
MON: Venus enters Leo, Venus opposite Pluto, Sun sesquiquadrate Pluto
TUE: No major aspects are exact today
WED: No major aspects are exact today
THU: Venus square nodal axis
FRI: Mercury sextile Neptune
SAT: Sun sextile Chiron, Neptune opposite Ceres
SUN: Mars sesquiquadrate Neptune, Pluto reenters Capricorn, Mercury trine Pluto, Mercury enters Gemini, Venus square Jupiter, Sun semisquare Jupiter
****
REFLECTION AND REVIEW: After having been in progressive Aquarius for only a couple of months, Pluto is returning to practical Capricorn this week. While the effects of Pluto's retrograde phase are only subtly different than those of its direct phase, the dwarf planet's return to the previous sign is significant.
Pluto's regress into Capricorn next Sunday indicates that we are not yet done with the process of exposing and dismantling the shadow side of governments, authority figures, social and legal systems, and other realms ruled by The Seagoat — and that further work in these areas is necessary before we can fully launch into the Pluto-in-Aquarius years. This will not be a short revisit, either; Pluto will be in Capricorn from June 11, 2023 until it returns to Aquarius on January 22, 2024.
As Pluto now begins its seven-months' revisit of Capricorn, we can reflect back on what occurred when the dwarf planet first entered the sign, in late January 2008. That ingress marked the beginning of major changes worldwide, as faulty systems disintegrated, requiring new structures to be built that would provide greater stability.
In our individual lives, a symbolic or literal death around that time began a new phase of self-determination; this had ripple effects over the next several years as we claimed greater inner authority and chose personal empowerment over adherence to outdated rules, traditional values, or past obligations that were no longer working for us.
Although there are many other factors we'll be working with during the rest of this calendar year, Pluto's return to Capricorn is among the most significant. This is the time to ask ourselves — again — whether the rules we are following are really right for us. This theme will be especially strong in the last half of July, when the Moon's nodal axis moves from Taurus-Scorpio to Aries-Libra (July 17) and Pluto is exactly square that axis three times (July 22-28). I'll share more of my thoughts about that impactful time in the weeks ahead.

DAILY ASPECTS: Here are this week's most important planetary aspects, with my brief interpretations.

Monday
Venus enters Leo: Venus will be in the sign of The Lion from June 5 to October 8 this year; this extended visit is due to the planet going retrograde from July 22 to September 3. During this transit, we may feel especially passionate about a loved one or a creative endeavor, and we are eager to feel appreciated. The need for attention and validation are strong. Venus in Leo is also playful, warmhearted, and generous with its love. On the shadow side, this can be a time of fireworks and theatrics in either relationship or financial areas.
Venus opposite Pluto, Sun sesquiquadrate Pluto: The drama could be intense on this first day that Venus is in Leo. Feelings that have been successfully hidden while Venus was in Cancer may surface with great force and demand to be seen. The hard aspect between the Gemini Sun and Pluto may bring revelations, as the urge to share one's truth is strong.

Tuesday & Wednesday
No major aspects are exact on these two days.

Thursday:
Venus square nodal axis: "Pride goeth before a fall" with Venus in Leo square the Moon's nodes. The ego's need for attention and approval complicates relationships. It will be important to understand our deeper motives for any actions.

Friday
Mercury sextile Neptune: Intuition and empathy are enhanced with this aspect. It also supports creative writing or meditative experiences.

Saturday
Sun sextile Chiron: This aspect provides an opening for conversations that will help heal.
Neptune opposite Ceres: Romanticized expectations of perfect outcomes may cause disillusionment.

Sunday
Mars sesquiquadrate Neptune: Confidence is a bit watered down with this aspect, and we may be unclear about what we truly desire.
Pluto reenters Capricorn: Pluto will be retrograde in Capricorn until it stations direct on October 10.
Mercury trine Pluto: People speak with great passion today, and words may be very persuasive.
Mercury enters Gemini: Mercury is moving very quickly now, and will travel through Gemini in just over two weeks, from June 11 to June 26. Communications and information move rapidly as well during this time, and our minds may be more scattered than usual, due to a need to take in as much data and experiences as possible.
Venus square Jupiter, Sun sesquiquadrate Jupiter: These are somewhat self-indulgent aspects, so we are not likely to want to do much work today. Social activities and other pleasures are at the top of the "to-do" list.
*****
IF YOUR BIRTHDAY IS THIS WEEK: You may sense a need for extra self-care this year, Gemini, along with a strong dislike of having to "force" yourself to be productive. This can lead to some challenges in areas where you have obligations and responsibilities. While it is important to give yourself permission to enjoy the many pleasures of life, it may be tempting simply to be self-indulgent. Meanwhile, you have opportunities for some significant personal growth and inner healing this year, if you apply the techniques you have learned. (Solar Return Sun semisquare Venus, semisquare Jupiter, sesquiquadrate Pluto, sextile Chiron)
*****
TRANSLATION and AUDIO/VIDEO VERSION: This weekly Journal is now recorded (in English) AND the text is transcribed into 30 languages! You'll see a row of flags under "Available Languages" in the upper right. And, there are options to listen to the audio (in English) or watch a video directly beneath the photo (see top of page).
The Journal entry is usually updated by Sunday evening, with the recordings appearing late Sunday or by Monday depending on your time zone. Please share this information with those who might benefit.
*****
For previous weeks of the Astrological Journal, click here.
*****
About the Author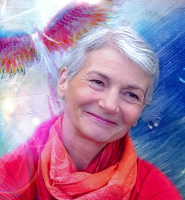 Pam Younghans is a professional astrologer, editor, and writer. She lives in a log home northeast of Seattle, Washington with her beloved animal companions. She has been interpreting charts professionally for over 25 years. If you are interested in an astrology reading, e-mail This email address is being protected from spambots. You need JavaScript enabled to view it., or leave a message at 425.445.3775.
For more information about NorthPoint Astrology offerings, please visit northpointastrology.com or visit her Facebook page.