Image by Denis Azarenko

Our InnerSelf welcomes your inner self.

As humans we sometimes have a tendency to take things to extremes. But when we learn to simplify, listen to our heart and to others, be kind, play nice, have respect for others as well as for ourselves, find common ground with others, life becomes much more balanced.

This week, we bring you articles to assist you in simplifying your life by finding balance and inner peace.

Scroll down for the new articles and videos that were added to the website this week.

Please visit our YouTube channel and subscribe. Thank you.
---
NEW ARTICLES THIS WEEK
---
---
Marie T. Russell, InnerSelf.com
The greatest ailment in our modern world is separation. We have become disconnected from ourselves, from others, and from the world around us.
---
Robert Jennings, InnerSelf.com
As humans, we tend to see things in extremes. We think in black, white, hot, cold, simple, and complex.
---
Maureen J. St. Germain
We must be willing to let go of the old to embrace the new. We must be willing to accept guidance from our Higher Self even when we don't want to.
---
Steve Chandler
One of the benefits of creatively planning your life is that it allows you to simplify. You can weed out, delegate, and eliminate all activities that don't contribute to your projected goals.
---
Brian Smith
Often, people don't even notice that they're talkers. It's important, therefore, to observe your own behavior and read the body language of others to learn if you're a talker.
---
Barbara Y. Martin and Dimitri Moraitis
I have used these keys for many years in my classes. I offer them to you to facilitate your spiritual journey.
---
'Deji Ayoade
While this article is directed to new immigrants, its precepts can be applied to anyone experiencing challenges in life.
---
Marie T. Russell, InnerSelf.com
In today's society, it can be challenging to be happy for someone else's success.
---
Robert Jennings, InnerSelf.com
Many remember watching "The Wizard of Oz" as a child. We were captivated by the magical world of Oz and the characters who roamed its colorful countryside.
---
Bàrbara Baraibar Padró and Jordi Recasens Guinjuan
Poppies can be a problem for crops if they appear in large numbers. We informally call them weeds, but what are they really and how bad are they?
---
Alice Hayward
New research shows your plants could be silently screaming at you.
---
Niko Wanders
Five easy ways to use less water at home – and not just in a drought.
---
Fenwick McKelvey
Longtermism is the belief that artificial intelligence poses long-term or existential risks to humanity's future by becoming an out-of-control superintelligence.
---
Ted Steinberg
To paint or not to paint? That is the question that many homeowners are facing as their dreams for perfect turf are battered...
---
Arie Kruglanski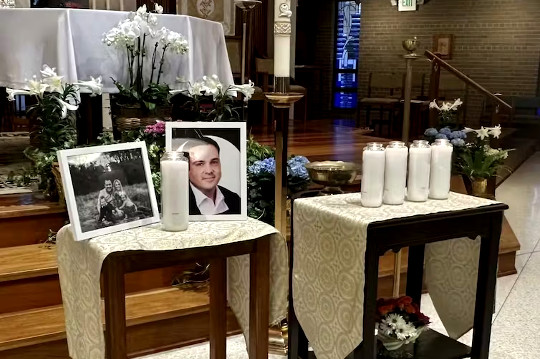 Why do mass shooters kill? It's about more than having a grievance.
---
Marcus Perlman
Children love to spin. Whether it is by whirling around on their feet, whipping around on a tyre swing, or tumbling down a grassy hill, they revel in the drunken effects of dizziness that follow.
---
Paul Levy, University of Brighton
How long do you spend staring at a screen every day? According to one report, the average person spends about seven hours a day on screens connected to the internet.
---
Christopher Damman
Diet-related chronic diseases have reached a critical juncture in the U.S. Nearly half the population has prediabetes or diabetes. Over 40% are overweight or obese.
---
Ramana Vinjamuri
Robots are machines that can sense the environment and use that information to perform an action. You can find them nearly everywhere in industrialized societies today.
---
Kris Marsh
Why is it seemingly OK to ask single people "Why are you single?" when married people are rarely asked "Why are you married?"
---
Candace Johnson
As of April 1, 2023 all residents of British Columbia gained access to free prescription contraception. This includes the birth control pill, injections and implants, IUDs and emergency contraception known as Plan B or the "morning after" pill.
---
Christopher W. Callahan and Justin S. Mankin
Home runs are exhilarating – those lofting moments when everyone looks skyward, baseball players and fans alike, anxiously awaiting the outcome: run or out, win or loss, elation or despair.

---
---
This Week's Uptakes
with Robert Jennings
In today's climate change news, scientists have made a startling discovery - a dramatic and abnormal rise in sea levels
---
Inflation figures can sometimes be distorted during times of rapidly changing monthly figures, as we are seeing now.
---
Abortion is a topic that has long been debated and discussed in various communities, particularly in the United States.

---
---
This Week's Daily Inspirations
Marie T. Russell, InnerSelf.com
April 16, 2023 - Hatred, anger and resentment do not a happy person make.
---
Carl Greer PhD, PsyD
April 15, 2023 - A few minutes in nature reduces levels of the stress hormone cortisol, giving your body and spirit a break.
---
Cara Bradley
April 14, 2023 - Stop, pause, and experience the brilliance of being fully alive.
---
Carol Ritberger, Ph.D.
April 13, 2023 - We can make ourselves healthy or sick through our thoughts and our emotional reactions to those thoughts.
---
Marie T. Russell, InnerSelf.com
April 12, 2023 - Have you noticed that the things that you dislike doing are the ones that seem to take forever to get done?
---
Pamela D. Blair, PhD.
April 11, 2023 - What survives you and me are the world's children. I imagine them awaiting our wisdom.
---
Bill Philipps
April 10, 2023 - Visualize the clearing of your energy and protect yourself, no matter what your occupation may be.

---
---
This Week's Astrological Overview
Pam Younghans
This weekly astrological journal is based on planetary influences, and offers perspectives and insights to assist you in making the best use of current energies. This column is not intended as prediction. Your own experience will be more specifically defined by transits to your personal chart.
See section below for the link to the Video Version of the Astrological Overview.

---
---
Videos Added to YouTube This Week
Written and Narrated by Astrologer Pam Younghans
---
Written and Narrated by Marie T. Russell
---
Written by Marcus Perlman
---
Video versions of this week's Daily Inspirations:
---
---
♥ Your InnerSelf ♥To Do♥ List ♥

♥ If you shop on Amazon, please use this link: http://www.amazon.com/?tag=innerselfcom Your cost is the same and we receive up to 5% in commission. Every little bit helps!

♥ Share the InnerSelf articles and the Daily Inspiration with your friends on social media and otherwise.

♥ We also welcome (and invite) feedback... To send us your comments, hover over the "This and That" item in every page's top menu, and click on the "Contact Us" button.
---
---
HELPFUL INNERSELF LINKS:
Facebook | Twitter | InnerSelf Home
Please use this link to shop at Amazon:
http://www.amazon.com/?tag=innerselfcom
Your price is the same, and we get a commission :-) which helps us defray the costs of running the website: servers, bandwidth, program updates, etc.

---