Image by Freepik
Written and Narrated by Pam Younghans.
Watch video version on YouTube
Current and previous weeks astrological overviews
Astrological Overview: October 23 - 29, 2023
Astrologer Pam Younghans writes this weekly astrological journal based on planetary influences, and offers perspectives and insights to assist you in making the best use of current energies. This column is not intended as prediction. Your own experience will be more specifically defined by transits to your personal chart.

Aspects of Note this Week:

All times listed are Pacific Daylight Time. For Eastern Time, add 3 hours; For Greenwich Mean Time (GMT), add 7 hours.
Monday: Sun enters Scorpio
Tuesday: Sun trine Saturn
Wednesday: No major aspects are exact today
Thursday: Venus quincunx Chiron
Friday: Mars sesquiquadrate Neptune
Saturday: Mercury sesquiquadrate Neptune,
Mars opposite Jupiter,
Full Moon/Lunar Eclipse 1:23 p.m. PDT,
Mercury opposite Jupiter
Sunday: Mercury conjunct Mars
*****
LUNAR ECLIPSE: The final eclipse of 2023 will grace our skies next Saturday, October 28. The Full Moon event, which perfects at 1:24 p.m. PDT (2024 UT), occurs when the Moon is at 05°09´ Taurus, opposite the Sun at the same degree of Scorpio, with our planet Earth positioned between the two luminaries.
This will be a partial Lunar Eclipse, since the Earth will not completely block the Sun's light from reaching Luna. Visually, most of us may notice only a slight dimming of the reflected light from the Moon. The event will be visible from any location where the Moon is above the horizon at the time, including Asia, Russia, Africa, the Americas, Europe, Antarctica, and Oceania.
NEW AWARENESS: A Full Moon always offers important insights and increases self-awareness. It does this primarily by intensifying our emotions, making sure that we become aware of them and how they have been affecting us.
With Saturday's Lunar Eclipse, we are also offered a deeper understanding of recent events, especially those that have occurred since eclipse season began in late September. With the Sun in Scorpio, instincts are strong and reactions may be dramatic, but these are meant to be balanced by the inner serenity, grounding, and stability represented by the Moon in Taurus.
This partial Lunar Eclipse is at the same degree as a Total Lunar Eclipse that occurred on October 28, 2004. A cycle that began nineteen years ago is drawing to a close, and a new one is beginning. Where this shift is occurring for each of us individually is shown by the house locations of five degrees of Taurus and Scorpio in our natal astrological charts.
JUPITER, MARS, & MERCURY: The polarities represented by a Full Moon are intensified in Saturday's Lunar Eclipse, due to the close proximity of three other planets to the luminaries: the Taurus Moon is conjunct Jupiter and the Scorpio Sun is conjunct both Mercury and Mars. The push-pull of opinions and ideologies is magnified, with both sides being stubbornly attached to their view of reality and their set course of action.
Thoughts, words, and actions are strongly influenced by emotions with this lunation and may be expressed with great intensity. Some may speak or act tactlessly or impulsively, or with the intent to manipulate or control. Much of this may occur unconsciously or instinctively.
A drive to gather more and more data can lead to overwhelm if we are not careful. We can also become obsessed with trying to figure out deeper motivations or to understand intellectually what's "really" going on. This will be a good time to monitor the need to take in more information, and to ask ourselves if reading yet another news story will truly serve us, or if going within to ascertain a deeper truth is a better route to take. Ultimately, what we seek is hope and faith in a positive outcome (Jupiter in Taurus), and that goal may not easily be achieved by seeking or doing in the outside world.
One of the specific dangers of this eclipse energy is being dogmatically attached to an outdated perspective. It is possible that our words and actions are being motivated by a belief or opinion that once was true for us, but which is not in alignment with who we are becoming. This Full Moon/Lunar Eclipse is a powerful opportunity to become aware of where we are too rigid and may be unconsciously controlled by an old view of reality.

DAILY ASPECTS: Here are my brief interpretations of this week's most important planetary aspects:

Monday
Sun enters Scorpio: A new solar month begins when the Sun enters the eighth sign at 9:20 a.m. PDT today. Over the next four weeks, we tend to dive more deeply into issues of concern, may be more emotional, and feel an urge to seek truth, even if it is uncomfortable.

Tuesday
Sun trine Saturn: Saturn's stabilizing influence is very welcome now. This aspect helps us to maintain a calm demeanor and to channel our emotions in responsible and productive ways.

Wednesday
No major aspects are exact today.

Thursday
Venus quincunx Chiron: We may become aware of unhealed wounds, based in not having our needs met in relationships or not feeling valued for being who we are. As with all Chiron aspects, realizing where we have pockets of pain within us provides an opportunity for conscious self-care.

Friday
Mars sesquiquadrate Neptune: We may struggle with knowing when to take action and assert ourselves, versus when to accept and allow circumstances to unfold.

Saturday
Mercury sesquiquadrate Neptune: A lack of clarity can make it hard to know our true feelings and can result in confusing conversations.
Mars opposite Jupiter: There is a tendency to be overly reactive, especially if our beliefs about reality are being challenged. Some may act impulsively or take a leap of faith without considering the possible consequences.
Full Moon/Lunar Eclipse: The lunation perfects today at 1:23 p.m. PDT (2023 UT).
Mercury opposite Jupiter: Thinking and judgment are strongly affected by emotions. Because of this, we can miss important details, so making long-term decisions is not advised. We can tend to over-obsess about an issue, or to try too hard to explain ourselves.

Sunday
Mercury conjunct Mars: Words and actions are somewhat compulsive, driven by instinct rather than reason. We could feel a strong urge to speak or take action. Objectivity is not very strong, and thus our reactions feel very visceral. As a result, conversations can easily become argumentative.
*****
IF YOUR BIRTHDAY IS THIS WEEK: This year could find you passionately involved in a new activity or project. The need to express your thoughts and beliefs is very strong, but you may not always do so tactfully. Patience is key this year; much can be accomplished if you slow down long enough to tap into an inner knowing of right action and proper timing. If your birthday is in the first part of this coming week (Monday, Tuesday, or Wednesday), you are entering a time of profound inner and outer change, where your self-understanding will deepen and your sense of purpose may shift accordingly. (Solar Return Sun conjunct Mercury, conjunct Mars, opposite Jupiter, trine Saturn, square Pluto)
*****
SOLAR MONTH CLASS: Our Month of Scorpio is tomorrow, Monday, October 23! Everyone who has registered should have received an email on Friday containing the Zoom link and class handouts. Please check your spam/junk folder if you don't find that email in your inbox. See you soon!

INSTAGRAM: If you frequent Instagram, please check out my daily astrological updates: https://www.instagram.com/pamyounghans/
*****
TRANSLATION and AUDIO/VIDEO VERSION: This weekly Journal is now recorded (in English) AND the text is transcribed into 30 languages! You'll see a row of flags under "Available Languages" in the upper right. And, there are options to listen to the audio (in English) or watch a video directly beneath the photo (see top of page).
The Journal entry is usually updated by Sunday evening, with the recordings appearing late Sunday or by Monday depending on your time zone. Please share this information with those who might benefit.
*****
For previous weeks of the Astrological Journal, click here.
*****
About the Author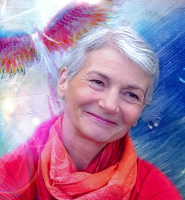 Pam Younghans is a professional astrologer, editor, and writer. She lives in a log home northeast of Seattle, Washington with her beloved animal companions. She has been interpreting charts professionally for over 25 years. If you are interested in an astrology reading, e-mail This email address is being protected from spambots. You need JavaScript enabled to view it., or leave a message at 425.445.3775.
For more information about NorthPoint Astrology offerings, please visit northpointastrology.com or visit her Facebook page.