Image Credit: MAVEN, Laboratory for Atmospheric and Space Physics, Univ. Colorado, NASA
Written and Narrated by Pam Younghans.
Watch video version on YouTube
Current and previous weeks astrological overviews
Astrological Overview: October 2 - 8, 2023
Astrologer Pam Younghans writes this weekly astrological journal based on planetary influences, and offers perspectives and insights to assist you in making the best use of current energies. This column is not intended as prediction. Your own experience will be more specifically defined by transits to your personal chart.

Aspects of Note this Week:

All times listed are Pacific Daylight Time. For Eastern Time, add 3 hours; For Greenwich Mean Time (GMT), add 7 hours.
Monday: Mercury opposite Neptune, Venus trine Eris
Tuesday: Mercury trine Pluto, Venus quincunx Neptune
Wednesday: Mars opposite Eris, Mercury sesquiquadrate Jupiter, Mars conjunct North Node, Mercury enters Libra
Thursday: Mercury quincunx Saturn, Sun semisquare Venus, Mars quincunx Neptune
Friday: Venus quincunx Pluto
Saturday: Sun quincunx Jupiter
Sunday: Mars square Pluto, Venus enters Virgo, Mercury sesquiquadrate Uranus
*****
OCTOBER OVERVIEW: October 2023 promises to be a profoundly transformational and, at times, emotionally intense month. Here are some of the powerful planetary events we'll be working with, week by week:

Week 1: Warrior Mars conjoins the karmic South Node while also opposing controversy-stirring Eris.

Week 2: Mars squares passionate Pluto while the dwarf planet is stationary, increasing the impact of the square. Pluto stations direct. New Moon in Libra/South Node Solar Eclipse with cardinal T-square.

Week 3: The Sun and Mercury align with the South Node and oppose Eris. Mercury and the Sun then square Pluto.

Week 4-5: Full Moon in Taurus/Lunar Eclipse conjunct Jupiter, opposing Mars, Mercury, and the Sun in Scorpio. All Hallow's Eve/Samhain.
Before we step fully into this complex web of energies, we might want to stock our spiritual toolbox with an assortment of items that we know will be helpful: a favorite guided meditation or two, aromatherapies and homeopathic remedies, books or sayings that we find meaningful, links to uplifting podcasts, a journal for recording dreams, plus anything else we find supportive and high-vibrational.
We will also want to be very gentle with ourselves and kind to others as we navigate this coming month. Not everyone is at their shiniest during Eclipse Season, especially with Mars and Pluto strongly activated, not to mention the many other stressful aspects also in effect. We are all likely, at times, to dip into some emotions, attitudes, or behaviors that are on the lower end of the frequency spectrum. We might consider these episodes as reminders of the need to love ourselves in all our humanness, and to show that same compassion and understanding for others.
MARS IN LIBRA: Mars, the planet of courage, assertiveness, and desire, is strongly activated in October — both at the start of the month while in Libra and at the end of the month, when it is in Scorpio. As the Red Planet transits the sign of The Scales (through October 11), we may tend to intellectualize instead of act, being somewhat indecisive primarily because we so readily see both sides of an issue. In the positive, we can use this Mars transit to initiate negotiations and help manage conflicts, but will also need to watch a tendency to be somewhat passive-aggressive.
Despite being in Libra, the sign of harmony and balance, Mars can still become the warrior when triggered by hard aspects. It may prefer to fight for equal rights, peace, and justice, but it can display force or defend as needed. It could also express itself through legal battles, since litigation is one of the areas ruled by the seventh sign.
This week, Mars opposes discordant Eris and conjoins the South Node on Wednesday, is quincunx Neptune on Thursday, and then squares Pluto next Sunday. With this combination of influences, we are likely to feel a compelling need to act in some way, but will benefit by considering where that sense of urgency is actually coming from.
The South Node, which Mars is activating, represents karmic patterns that we must dismantle if we are to make evolutionary progress. With this in mind, we will want to watch any ways that we are compulsively playing out the shadow side of Libra:
Are we feeling the urgent need to reestablish harmony, but at the cost of acknowledging our true feelings? Are we seeing the situation only through the other person's eyes, rather than trusting our own instincts? Is the balance between self and other truly healthy, and do we have good boundaries? Are our actions based on what will gain external approval and support, or are we able to take risks based on our internal knowing? And, are we delaying making a decision because we feel we need to "justify" our actions, or do we have the courage to follow our intuition?
Toward the end of the week, as Mars and Pluto enter their square aspect, we will want to be especially aware of unconscious behaviors that might be driven by fear and a need to be in control. Sometimes we benefit most by allowing a situation to play itself out, rather than trying to manipulate it. Decisions and actions motivated by fear usually manifest more fear in their wake.

DAILY ASPECTS: Here are my brief interpretations of this week's most important planetary aspects:

Monday
Mercury opposite Neptune: The line between fact and fiction is blurred today. We may be idealistic or even naïve with this aspect, which can lead to disillusionment once the fog clears.
Venus trine Eris: This aspect indicates a need for excitement, which can inspire us to take new risks in the areas of relationship, finances, or creative projects.

Tuesday
Mercury trine Pluto: Mental focus is strong today, and we seek truth, perhaps unflinchingly. This aspect supports honest conversations and may reveal information that had been kept hidden until now.
Venus quincunx Neptune: We may not accurately see another person or the value of an object. It may be best to delay decisions in relationship or financial areas.

Wednesday
Mars opposite Eris: Relationships may encounter challenges. We might seesaw between wanting to be conciliatory and "fair," versus needing to express our true feelings.
Mercury sesquiquadrate Jupiter: Communications are tainted by self-righteousness and the belief that we are "right" and another is "wrong."
Mars conjunct South Node: Be on the alert for old patterns of codependency and passive-aggressive behaviors.
Mercury enters Libra: As the Messenger Planet journeys through Libra (October 4 to 21), our minds are motivated by a desire for harmony and justice. This transit encourages diplomacy and can assist in mediation. However, we will need to watch for a tendency to adjust our ideas and plans to please another instead of ourselves. Discord or arguments may cause mental confusion.

Thursday
Mercury quincunx Saturn: Conversations could be awkward today. We may trip over our tongue more than usual, or feel unable to clearly express our thoughts.
Sun semisquare Venus: This aspect, although minor, increases the possibility of misinterpreting another's intentions.
Mars quincunx Neptune: It may be hard to know what we truly want, much less be able to make decisions or concretely express our needs.

Friday
Venus quincunx Pluto: Relationship issues that have been simmering could come to the surface. Some may be feeling disrespected or that they are not receiving adequate attention, while others can be stoic and emotionally removed.

Saturday
Sun quincunx Jupiter: We can tend to ignore red flags with this aspect, preferring to maintain harmony rather than deal with uncomfortable issues.

Sunday
Mars square Pluto: The effects of this aspect have been building for several days and will continue into the first part of next week. Self-control is minimal, resulting in dramatic displays of anger, impulsive actions, and compulsive behaviors. It is especially important to monitor where and when we feel an urgent need to act, and to consider whether the intensity we feel is actually due to a karmic pattern that is resisting transformation.
Venus enters Virgo: While the goddess of Love and Beauty is in Virgo (October 8 to November 8), we may be more reserved in our expressions of affection, and more practical in our creative pursuits and purchases. We tend to be more analytical in these areas, and are willing to do the work needed to improve a relationship or an art project.
Mercury sesquiquadrate Uranus: Nervous energy is heightened with this aspect. Thinking may be somewhat erratic, making it hard to concentrate for long.

*****
IF YOUR BIRTHDAY IS THIS WEEK: This year, you are likely to be looking at how relationships are working (or have played out) in your life, and considering what changes are needed for you to feel more fulfilled in this area. There may be a long-held belief that needs to be adjusted, regarding how partnerships are "supposed" to look, or about the "right" way to be in relationship. This is a good year to look at how you have (or have not) been true to yourself when in relationship, and whether or not you believe that you have a "right" to have and express your own needs, especially when they differ from another's. (Solar Return Sun semisquare Venus, quincunx Jupiter, opposite Chiron)
*****
WEBINAR REPLAY: If you missed my recent "Cosmic Initiation" webinar and want to learn about the energies we'll be working with for the rest of 2023, please let me know! The replay and materials are available for purchase. Just send an email with "Webinar Replay" in the subject to This email address is being protected from spambots. You need JavaScript enabled to view it., and I'll be happy to reply with details.

INSTAGRAM POSTS: If you frequent Instagram, please check out my daily astrological updates: https://www.instagram.com/pamyounghans/
*****
TRANSLATION and AUDIO/VIDEO VERSION: This weekly Journal is now recorded (in English) AND the text is transcribed into 30 languages! You'll see a row of flags under "Available Languages" in the upper right. And, there are options to listen to the audio (in English) or watch a video directly beneath the photo (see top of page).
The Journal entry is usually updated by Sunday evening, with the recordings appearing late Sunday or by Monday depending on your time zone. Please share this information with those who might benefit.
*****
For previous weeks of the Astrological Journal, click here.
*****
About the Author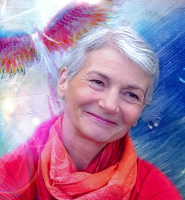 Pam Younghans is a professional astrologer, editor, and writer. She lives in a log home northeast of Seattle, Washington with her beloved animal companions. She has been interpreting charts professionally for over 25 years. If you are interested in an astrology reading, e-mail This email address is being protected from spambots. You need JavaScript enabled to view it., or leave a message at 425.445.3775.
For more information about NorthPoint Astrology offerings, please visit northpointastrology.com or visit her Facebook page.