Photo: Dark spots on Neptune. Credit: Voyager 2 Team, NASA
Written and Narrated by Pam Younghans.
Watch video version on YouTube
Current and previous weeks astrological overviews
Astrological Overview: June 26 - July 2, 2023
Astrologer Pam Younghans writes this weekly astrological journal based on planetary influences, and offers perspectives and insights to assist you in making the best use of current energies. This column is not intended as prediction. Your own experience will be more specifically defined by transits to your personal chart.

Aspects of Note this Week:

All times listed are Pacific Daylight Time. For Eastern Time, add 3 hours; For Greenwich Mean Time (GMT), add 7 hours.
Monday: Mars square Uranus, Mercury quincunx Pluto, Mercury enters Cancer
Tuesday: Mercury square Ceres, Mercury sextile North Node
Wednesday: Sun semisquare Uranus, Sun trine Saturn, Mercury semisquare Venus
Thursday: Venus trine Chiron, Mercury semisquare Uranus, Mercury trine Saturn
Friday: Neptune stations retrograde, Sun conjunct Mercury
Saturday: Mercury sextile Jupiter, Mercury semisquare Mars, Sun sextile Jupiter, Sun semisquare Mars
Sunday: Mars trine Eris, Venus square Uranus
****
TRANSCENDENT NEPTUNE: The other-worldly effects of outer planet Neptune are heightened this week. The mystical planet, whose work involves helping humanity transcend the dramas and limitations of the physical plane, is moving very slowly now and will station retrograde this Friday, June 30.
With Neptune's influence strong for the next two weeks, we ourselves can feel somewhat distant from the Earth, as if our feet are not truly touching ground. We may be lightheaded and spacey, finding it hard to concentrate on the details. At times it can feel as though a fog has descended, blurring our vision of this mundane world and drawing our attention to the nonphysical realms.
Watercolor Neptune's support can be invoked with good results for any activity that involves the imagination, such as visualization or the creative arts. The planet rules spiritual enlightenment and meditation, dreams and visions, psychic receptivity, film and photography, and activities that enable us to rise above the mundane. It is the planetary representative of the High Heart and Divine Love, and its gifts to humanity include the qualities of compassion, understanding, and mercy.
The shadow side of Neptune manifests when its positive qualities are taken to the extreme. The desire to transcend can become a need to escape, sometimes through substance abuse; compassion and mercy can devolve into self-sacrifice and martyrdom. Nonattachment can turn into apathy. The imagination can be used to deceive self or others, and living in a fantasy world can interfere with handling life responsibilities. The naive idealism of Neptune can lead to disillusionment, if our rose-colored glasses interfere with good decision making or we are drawn in by glamours. And, Neptune's sensitivity to energy, if not paired with good boundaries, can lead to being too impressionable, too easily affected by external influences.
These many qualities of Neptune, both the higher frequency and the lower, are more pronounced now. It will be important to keep one foot in reality even as we use Neptune's transcendent energies to step ever higher into the nonphysical realms. People who have personal planets or points within a degree or two of 27°41´ Gemini, Virgo, Sagittarius, or Pisces may feel this energy most directly.
And, if you were born around March 18-21, June 18-21, September 21-24, or December 19-22 of any year, Neptune is now working directly with the Sun in your natal chart to dissolve old patterns and self-definitions.

DAILY ASPECTS: Here are this week's most important planetary aspects, with my brief interpretations.

Monday
Mars square Uranus: As willful Mars forms a hard aspect with rebellious Uranus, people may be more impulsive in their actions and more reactive to any restrictions. We can feel quickly irritated with anything that goes against our desires or plans. With Mars in theatrical Leo, dramatic confrontations are possible. Working successfully with this influence requires that we be conscious of any underlying restlessness or agitation, and find safe ways to move and release the energy. This can be done through reasonable physical activity, especially something that uses the arms, such as the martial arts or hitting a punching bag.
Mercury quincunx Pluto: Our judgments may be extreme or we might obsess about an idea today. Be careful of being too rigid in your thinking.
Mercury enters Cancer: While Mercury is in protective Cancer, from June 26 to July 10, our minds turn to themes of our long-term security. Family and domestic issues become more central in our thoughts and we may feel nostalgic or emotional.

Tuesday
Mercury square Ceres and sextile North Node: Defensiveness can interfere with communications today, and we are especially sensitive to feeling patronized. However, staying calm and centered can help us rise above any melodrama.

Wednesday
Sun semisquare Uranus and trine Saturn: The emotional landscape may be unsettled early in the day, but by evening we are able to be more patient and rational.
Mercury semisquare Venus: Communications with a friend or loved one may not go smoothly, especially if someone is feeling unappreciated.

Thursday:
Venus trine Chiron: This aspect helps us mend bridges and to feel more supported within our relationships.
Mercury semisquare Uranus and trine Saturn: Conversations may not go as planned, and impatience can interfere with taking the time to fully listen to another. Restless minds eventually become more calm, enabling us to re-establish the lines of communication.

Friday
Neptune stations retrograde: It is important to go with the flow now, to follow our intuition, and to be in sync with the subtle energies as much as possible. Neptune's influence will continue to be strong for the next week to ten days.
Sun conjunct Mercury: We are especially empathetic with this alignment, and intuitive as well.

Saturday
Mercury and the Sun sextile Jupiter and semisquare Mars: The urge to share our thoughts and feelings is strong, but we can meet with resistance if we are too loquacious and do not give focused, respectful attention to the one who has listened to our side of the story. It can be easy to slip into defensive posturing, so remember that you always have the option to take a break and return to the discussion after emotions have calmed.

Sunday
Mars trine Eris: We are highly motivated to go after what we want today, perhaps without taking others' feelings or perspectives into account.
Venus square Uranus: Relationships could go through a period of instability with this aspect. The need for freedom is strong and there is a reluctance to make commitments that interfere with personal needs. Our ability to allow others their own space and autonomy is tested.
*****
IF YOUR BIRTHDAY IS THIS WEEK: There is a strong need to communicate your feelings this year, and you may be more impatient and irritable than usual, especially if you are used to downplaying your personal needs. This is an opportunity to understand your emotions and to shift any patterns of always being the caregiver, never being vulnerable and asking for care. Practical steps you take, such as journaling or taking a class in self-care and self-awareness, will bring great benefits. (Solar Return Sun conjunct Mercury, semisquare Mars, sextile Jupiter, trine Saturn, semisquare Uranus)
*****
CLASS OPPORTUNITY: I'm considering offering a new monthly class! The intention of the class would be to take a closer look at the astrological energies for the upcoming month and also to answer a few personal questions from participants about how the planets are impacting their natal charts during that time period. If you are interested in this class -- or if you have a request for another class theme -- please send me an email! (This email address is being protected from spambots. You need JavaScript enabled to view it.)
*****
TRANSLATION and AUDIO/VIDEO VERSION: This weekly Journal is now recorded (in English) AND the text is transcribed into 30 languages! You'll see a row of flags under "Available Languages" in the upper right. And, there are options to listen to the audio (in English) or watch a video directly beneath the photo (see top of page).
The Journal entry is usually updated by Sunday evening, with the recordings appearing late Sunday or by Monday depending on your time zone. Please share this information with those who might benefit.
*****
For previous weeks of the Astrological Journal, click here.
*****
About the Author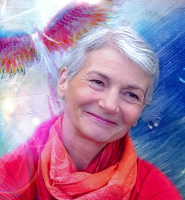 Pam Younghans is a professional astrologer, editor, and writer. She lives in a log home northeast of Seattle, Washington with her beloved animal companions. She has been interpreting charts professionally for over 25 years. If you are interested in an astrology reading, e-mail This email address is being protected from spambots. You need JavaScript enabled to view it., or leave a message at 425.445.3775.
For more information about NorthPoint Astrology offerings, please visit northpointastrology.com or visit her Facebook page.