Written and Narrated by Pam Younghans.
Current week's astrological overview
Astrological Overview: Sept. 27 - Oct. 3, 2021
Astrologer Pam Younghans writes this weekly astrological journal based on planetary influences, and offers perspectives and insights to assist you in making the best use of current energies. This column is not intended as prediction. Your own experience will be more specifically defined by transits to your personal chart.
Aspects of Note this Week:
All times listed are Pacific Daylight Time. (For Eastern Time, add 3 hours; For Greenwich Mean Time, add 7 hours.)
MON: Mars sesquiquadrate Jupiter
TUE: Last Quarter Moon 6:57 p.m. PDT
WED: Venus trine Neptune, Sun trine Saturn
THU: Sun sesquiquadrate Jupiter, Venus square Jupiter
FRI: Mercury opposite Eris, Mars opposite Chiron, Mercury square Pluto
SAT: Venus sextile Pluto, Venus quincunx Eris, Sun semisquare Venus
SUN: Mars trine Ceres, Venus sesquiquadrate Chiron, Sun opposite Chiron, Mercury trine Jupiter
****
WE ARE EMBARKING on one of the steepest sections of this "final ascent" that is the last four months of 2021. This is a highly volcanic period, both literally and symbolically. The next six to eight weeks will be profoundly pivotal and life-changing, for individuals and for the global community.

The primary influence we're working with throughout this time is the disruptive and eruptive Pluto-Eris square. This aspect was exact on August 27 and will perfect for the fifth and final time on October 8. We can imagine the August event as one peak in the mountain range, with next week's square being an even higher summit.

Although the aspect isn't exact to the degree until next week, this is one of those astrological influences that has effect for many months (and sometimes years) since it involves two planets that move very slowly through the zodiac. The first Pluto-Eris square occurred in early 2020, which means its lifeline has basically corresponded with the timeline of the pandemic. In fact, the dates of the exact square have correlated to times when the pandemic was at its greatest effect: January 2020 (when it first came into our awareness), June 2020, December 2020, August 2021, and now October 2021.

Pluto is said to "rule" viruses, which strengthens our belief that the Pluto-Eris square is closely involved in our pandemic experience. But it is in exploring the personal and social effects of this hard aspect that we gain a better understanding of its higher purposes.

TRANSITING PLUTO acts somewhat like a psychotherapist when it works with us. It digs deep into our psyches, revealing emotions and behaviors that have been running us from behind the scenes. The purpose of this often-uncomfortable process is to bring disempowering patterns into our awareness so that they no longer control us.

Meanwhile, transiting Eris draws our attention to...


Continue Reading at InnerSelf.com (plus audio/mp3 version of article)


Music By Caffeine Creek Band, Pixabay
*****
TRANSLATION and AUDIO/VIDEO VERSION: This weekly Journal is now recorded (in English) AND the text is transcribed into 30 languages! You'll see a row of flags under "Available Languages" in the upper right. And, there are options to listen to the audio (in English) or watch a video directly beneath the photo (see top of page).
The Journal entry is usually updated by Sunday evening, with the recordings appearing late Sunday or by Monday depending on your time zone. Please share this information with those who might benefit.
*****
For previous weeks of the Astrological Journal, click here.
*****
About the Author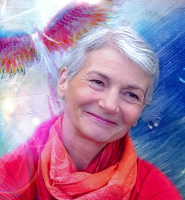 Pam Younghans is a professional astrologer, editor, and writer. She lives in a log home northeast of Seattle, Washington with her beloved animal companions. She has been interpreting charts professionally for over 25 years. If you are interested in an astrology reading, e-mail This email address is being protected from spambots. You need JavaScript enabled to view it., or leave a message at 425.445.3775.
For more information about NorthPoint Astrology offerings, please visit northpointastrology.com or visit her Facebook page.