Do you know your word is all-powerful in your life? That in fact, your word is the law of your life? Do you know that what you say – and especially what you say with FEELING – becomes your reality?

I am quite sure we would all be much more careful of what we say if we were aware of the power of the spoken word. If we understood that every word we speak or write is an affirmation. (To affirm literally means to make firm. To affirm is to manifest thoughts into material form.)
Unfortunately, far too many people, not realizing the power of their words, are affirming lack, poverty, illness, and unhappiness for themselves. By complaining and proclaiming misery, they are decreeing and creating the very misery, lack, pain, and sorrow they so dislike.

So wake up to the power of your words and take control of what comes out of your mouth! You can do this – and you can do this now – because you are the only person in your mind. So you can decide.
Taking Control of Your Words & Your Destiny
You can decide, right now, to take control of your words, both written and spoken, and thereby take control of your destiny. Just keep reminding yourself that you and no one else is responsible for what comes out of your mouth. No one else can force you to speak words of negativity. It's your decision. So if you want to change your life, take responsibility for your own words right now.
Once you become aware of the power of words, you can quickly see why other peoples' lives are as they are. Just listen to what they are saying, to their conversations. It's very revealing. People who complain all the time, who focus on misery, who are always moaning and groaning about how difficult their lives are, really do have difficult lives. Their lives are as they decree them to be. While those who are enthusiastic and filled with gratitude, joy and love – are living joyful, successful, interesting, loving lives.
My All-Time Favorite Affirmation / Mantra
If I would suggest one affirmation to use on a daily basis to change your life – here's the one I would suggest:
Every day
in every way
I am getting
better and better
This world-famous affirmation / mantra was created by the French physician Emile Coué (1857-1926) to help people heal themselves of all kinds of illnesses and psychological problems. Coué, who was a medical doctor in Nancy, France, successfully treated thousands of patients with this mantra.
This affirmation is so powerful because it's very general and covers EVERYTHING... all the situations in your life. Just think about what the words mean. And it also is so powerful because millions and millions of people have been saying this mantra for years and years... so it keeps gaining more and more power and momentum in the collective consciousness.
How To Use the Mantra
All you have to do is repeat these words aloud 15 times in a row – with FEELING! (Feeling is the key!) Do this at least three times a day, each and every day. For example, say the affirmation 15 times in a row in the morning when you wake up, then say the affirmation again during the middle of the day (for example on your lunch break), and then again in the evening before you go to bed.
Every day
in every way
I am getting
better and better
I love to say this out loud when I'm going for a walk or riding my bicycle. You can also use the affirmation anytime during your day when you feel you need a pick-up because it's a great way to change the flow of energy in your mind, especially if you are worrying or obsessing about someone or something in your life.
Just Do It!
So just do it and see what happens. Once you get started, you will quickly see the results of these powerful words beginning to manifest in the world around you. You will experience surprising demonstrations, unexpected changes, new Good, and an increased sense of control over your destiny.
So affirm that EVERY DAY IN EVERY WAY I AM GETTING BETTER AND BETTER and watch how things just get BETTER and BETTER! Enjoy your days!
©2016 Barbara Berger. All Rights Reserved.

Article Source
Are You Happy Now? 10 Ways to Live a Happy Life
by Barbara Berger.
Click for more info or to order this book on Amazon.


About the Author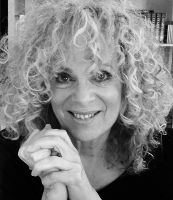 Barbara Berger has written over 15 self-empowerment books, including her international bestsellers "The Road to Power / Fast Food for the Soul" (published in 30 languages) and "Are You Happy Now? 10 Ways to Live a Happy Life" (published in 21 languages). She is also the author of "The Awakening Human Being – A Guide to the Power of Mind" and "Find and Follow Your Inner Compass". Her latest book, "Healthy Models for Relationships – The Basic Principles Behind Good Relationships" will be released in late 2022.

American-born, Barbara now lives and works in Copenhagen, Denmark. In addition to her books, she offers private sessions to individuals who wish to work intensely with her (in her office in Copenhagen or on Zoom, Skype and telephone for people who live far away from Copenhagen).

For more about Barbara Berger, see her website: www.beamteam.com