Photo: Auroras and Star Trails over Iceland; Image Credit & Copyright: Vincent Brady
Written and Narrated by Pam Younghans.
Watch video version on YouTube
Current and previous weeks astrological overviews
Astrological Overview: July 17 - 23, 2023
Astrologer Pam Younghans writes this weekly astrological journal based on planetary influences, and offers perspectives and insights to assist you in making the best use of current energies. This column is not intended as prediction. Your own experience will be more specifically defined by transits to your personal chart.

Aspects of Note this Week:

All times listed are Pacific Daylight Time. For Eastern Time, add 3 hours; For Greenwich Mean Time (GMT), add 7 hours.
Monday: Mercury square Jupiter, New Moon at 11:31 a.m. PDT, North Node enters Aries/South Node enters Libra, Sun square Eris
Tuesday: Mars sesquiquadrate Chiron
Wednesday: No major aspects are exact today
Thursday: Sun trine Neptune, Mars opposite Saturn
Friday: Eris stations retrograde, Sun opposite Pluto, Sun square nodal axis, Mercury trine Chiron
Saturday: Venus stations retrograde, Sun enters Leo, Pluto squares the nodal axis
Sunday: Chiron stations retrograde
****
"THE QUICKENING" ACCELERATES: We have a powerful and pivotal week ahead of us, with several upward shifts in gear. The action begins on Monday, when the Moon's nodal axis changes signs and we have a New Moon in Cancer. Exact on Thursday but in effect all week, Mars opposes Saturn. On Friday and Saturday, the Sun opposes Pluto and both planets are square the Nodes. Because of how the nodal axis moves through the zodiac, this will be the first of three times Pluto exactly squares the Nodes over the next two weeks.
Added to all this, three planets are very strong this week as they slow their pace and then turn retrograde. Eris stations retrograde on Thursday, Venus comes to a standstill on Saturday, and Chiron reaches its station on Sunday.

This is a lot to process! Let's break it down and see if we can digest it in bite-sized chunks.
NODAL AXIS SHIFT: The nodes of the Moon are signposts, pointing us in the direction of our highest evolutionary development and also showing us which paths represent detours. The North Node shows the next steps needed for our growth, while South Node indicates a default mode and the shadow qualities that could hold us back.
On Monday, July 17, the True North Node enters Aries and the South Node enters Libra. In brief, here is our new evolutionary directive, the qualities we are leaving behind and the ones that we must develop in their place:

From ... To
Codependence ... Independence, self-awareness

Seeing life through others' eyes ... Trusting own instincts

Prioritizing external harmony ... Prioritizing honesty and self-awareness

Obsession with reciprocity, "eye for an eye" justice ... Well-being not based on outer "fairness" but on inner alignment

Unhealthy, debilitating selflessness ... Moderation in giving, constructive self-interest, good boundaries

Need for outer approval and support ... Taking risks based on own feelings and knowing

Indecisive, need to justify decisions ... Acting on intuition, spontaneity
The Moon's nodes take about 18 months to transit each sign of the zodiac. The majority of the eclipses that occur during that time will be located in either the sign of the North Node or the sign of the South Node, and will strongly activate this evolutionary imperative.
NEW MOON: The Sun and Moon align at 11:31 a.m. PDT on Monday, July 17, when both of the Lights are at 24°56´ Cancer. The sign of The Crab is by nature empathetic and nurturing, as well as strongly intuitive and emotionally sensitive. These qualities are emphasized now and throughout the coming lunar cycle.
However, this New Moon strongly activates two of our more discomforting dwarf planets: Eris, the goddess of Discontent, and Pluto, the god of the Underworld. It also triggers the effects of Chiron, the Wounded Healer. With both Eris and Chiron stationing later in the week, their influence is even more potent than usual.
This activation can bring out the moody or defensive side of Cancer, and may awaken insecurities, anger, and a strong "fight or flight" instinct. Good boundaries are essential, as well as remembering not to take it personally if someone is self-absorbed, or does not treat us exactly as we wish they would. This is the perfect time to integrate and follow the directives of the newly-minted North Node in Aries.
On the helpful side, both Uranus and Neptune are in harmonious aspect to the New Moon. With Uranus sextile the lunation, we are open to change and are able to be flexible but also true to ourselves. And, with Neptune trine the New Moon, compassion, altruism, and forgiveness are easier to access, and our intuition is heightened.
MARS-SATURN OPPOSITION: On Thursday, but in effect all week long, Mars in Virgo is opposite Saturn in Pisces. People may be especially critical or demanding under this influence, both with self and with others. We can feel very frustrated when tasks are not completed as quickly, effectively, or perfectly as we believe is ideal.
In essence, Mars represents the gas pedal, while Saturn symbolizes the brake pedal. Both are necessary for good navigation. When used in appropriate balance, we drive safely and directly (although perhaps slowly) to our destination. We run into problems and delays when we try to control or micromanage, when we ignore our intuition because we're trying to get everything done in what our mind tells us is the "most efficient" way, or when we become so focused on the details that we lose sight of the big picture.
PLUTO SQUARE THE NODAL AXIS: Because the nodal axis moves backward through the zodiac, in a unique "two steps ahead, one step in reverse" pattern, Pluto will be precisely square (90 degrees away from) the nodal axis on three days between now and the end of July. The exact dates are July 22, July 25, and July 28, but we can consider this influence to be consistent from now through early August.
With Pluto "at the bending" of the nodes, we may see dramatic events occurring in the world. This aspect represents a critical turning point, when we may observe heightened power struggles, catalytic experiences, and major endings. The shadow side of the legal system, relationships, and alliances may be especially notable, and issues of equal treatment and justice are highlighted.
For clues of how this energy could manifest, we can read historical records of what happened 259 years ago, in 1764, which was the last time Pluto was in Capricorn and squared the Aries North Node (and the Libra South Node). At that time, the Currency Act and the Sugar Act, decreed into law by the British government, threatened the American economy. In reaction, merchants in Boston, Massachusetts, began a boycott of British goods. In essence, Pluto "at the bending" marked the beginning of the rebellion against "taxation without representation."
PLANETS STATIONING RETROGRADE: Three planets come to a standstill and start their retrograde (reverse motion) phases this week: Eris, Venus, and Chiron. When planets come to their stationary point, we tend to feel their influence more directly than usual.
Eris, as the goddess of Discontent, increases our awareness of injustice and can activate a strong resistance or anger to being treated unfairly. When Chiron's impact is heightened, we may be more conscious of feelings of insecurity or fear. Feeling vulnerable can cause some to withdraw and not stand up for their rights, whereas others may respond with aggression.
VENUS RETROGRADE: The planet Venus goes retrograde every 18 months or so. This year, it will be in Leo throughout its backward-motion phase, which begins on July 22 and lasts until September 3. This 42-day period is meant to be a time when we review and reassess what we value, both materially and in relationships.
For the next six weeks, the goddess of Love and Beauty beckons us to be reflective rather than active in the areas of love, finances, and aesthetics. During this time, our minds may dwell on relationships of the past, or we may even interact with someone that we knew and loved long ago. Dreams may involve those who were once significant to us, either in this lifetime or in other incarnations. Interactions with others may feel fated in some respect.
With the South Node just having entered Libra, the sign most associated with partnerships, it will be especially interesting to observe how we feel about existing and past romantic (or business) relationships while Venus is moving backward. This is a fertile time for reviewing the balance between self and other, and to catch ourselves before we fall into any old patterns of codependency.
While Venus is retrograde, astrological wisdom advises us to delay making financial or relationship decisions and commitments, since we are meant to be in a time of reassessment in these areas. This also includes any activity that qualifies as "beautification," such as cosmetic surgery and redecorating.

DAILY ASPECTS: Here are this week's most important planetary aspects, with my brief interpretations.

Monday
Mercury square Jupiter: People may be especially opinionated and vocal under this influence. Words are used for their dramatic effect.
New Moon: The Cancer New Moon occurs at 11:31 a.m. PDT today.
North Node enters Aries, South Node enters Libra: The nodal axis will transit through the Aries-Libra polarity from July 17, 2023 until January 11, 2025.
Sun square Eris: Defensiveness and reactivity may be strong today.

Tuesday
Mars sesquiquadrate Chiron: Perfectionism or criticism can aggravate old self-doubts today, triggering angry exchanges.

Wednesday
No major aspects are exact today.

Thursday:
Sun trine Neptune: Reconciliation and forgiveness are more possible today. We are also more psychically sensitive with these planets working together in water signs.
Mars opposite Saturn: People can be very demanding and critical, especially if things are not going "according to plan."

Friday
Eris stations retrograde: Feelings of discontent are heightened as Eris comes to a standstill. The dwarf planet will be retrograde from July 21, 2023 to January 11, 2024.
Sun opposite Pluto: A battle of wills is possible, if someone is trying to control or manipulate a situation. We may not feel it is safe to trust someone and may respond defensively.
Sun square the nodal axis: Circumstances require us to assess whether it is best to accommodate another's wishes or to follow our own instincts.
Mercury trine Chiron: We are more able to trust our own creative ideas with this influence.

Saturday
Venus stations retrograde: Venus' retrograde period lasts from July 22 to September 3.
Sun enters Leo: While the Sun travels through the sign of The Lion, from July 22 to August 23, we are encouraged to take risks and to be more spontaneous and playful. This is the zodiac month when people tend to be dramatic and enjoy being the center of attention. Work takes a backseat to enjoying life's pleasures.
Pluto squares the nodal axis: Pluto is at "the bending" of the nodes now through early August.

Sunday
Chiron stations retrograde: Latent fears and insecurities can arise when Chiron's influence is strong. At this time, it is very important and beneficial to connect with the inner child, who may be feeling vulnerable and in need of loving support. Chiron will be retrograde from July 23 to December 26, 2023.
*****
IF YOUR BIRTHDAY IS THIS WEEK: There are opportunities for great advancements in your spiritual practice or creative pursuits this year. Your heart is opening and your intuitive abilities are expanding, and you may feel especially sensitive to the subtle realms. If your birthday is in the first four days of the coming week, you are currently emerging from a period of profound change, and are still finding your balance in a new sense of who you are and what you want to achieve. If your birthday is Friday, Saturday, or Sunday, you are in the middle of a transitional time that will eventually enable you to feel more empowered in some area of your life. This is the hero's journey, which takes you through territory that may at times bring up strong emotions from deep within you. You are getting in touch with an essential aspect of your being; this process will ultimately enable you to more powerfully fulfill your personal mission in this lifetime. (Solar Return Sun trine Neptune, opposite Pluto, square Eris)
*****
NEW "SOLAR MONTH" CLASS: I'm excited about the new class I'm planning! This class is in addition to the three webinars I offer each year, which cover larger themes and guidance for a four-month period. My new "Solar Month" class will cover the transits occurring in upcoming zodiac month, and will include some teaching about transits and how they work. Attendees will be invited to ask questions about their personal transits, which will be addressed as time allows.
I've started a separate subscription list for people who are interested in the class, so that I can send details to you directly:
If you are interested in the class and would like to be added to the list: Please send me an email at This email address is being protected from spambots. You need JavaScript enabled to view it..
If you already sent me an email indicating your interest: I've already subscribed you to the new list, so hopefully you have received an email asking for you to confirm your subscription. Please click on the "Confirm my request" button in that email to activate your subscription. If you did not receive that confirmation email, please let me know.
*****
TRANSLATION and AUDIO/VIDEO VERSION: This weekly Journal is now recorded (in English) AND the text is transcribed into 30 languages! You'll see a row of flags under "Available Languages" in the upper right. And, there are options to listen to the audio (in English) or watch a video directly beneath the photo (see top of page).
The Journal entry is usually updated by Sunday evening, with the recordings appearing late Sunday or by Monday depending on your time zone. Please share this information with those who might benefit.
*****
For previous weeks of the Astrological Journal, click here.
*****
About the Author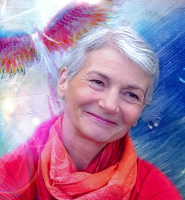 Pam Younghans is a professional astrologer, editor, and writer. She lives in a log home northeast of Seattle, Washington with her beloved animal companions. She has been interpreting charts professionally for over 25 years. If you are interested in an astrology reading, e-mail This email address is being protected from spambots. You need JavaScript enabled to view it., or leave a message at 425.445.3775.
For more information about NorthPoint Astrology offerings, please visit northpointastrology.com or visit her Facebook page.