Aurora borealis over Keipen, Harstad, Norway, on October 1, 2022 (photo by Marcus Rivers)


Written and Narrated by Pam Younghans.
Watch video version on InnerSelf.com or watch on YouTube.
Current and previous weeks astrological overviews
Astrological Overview: October 3 - 9, 2022
Astrologer Pam Younghans writes this weekly astrological journal based on planetary influences, and offers perspectives and insights to assist you in making the best use of current energies. This column is not intended as prediction. Your own experience will be more specifically defined by transits to your personal chart.

Aspects of Note this Week:

All times listed are Pacific Daylight Time. (For Eastern Time, add 3 hours; For Greenwich Mean Time, add 7 hours.)
MON: Moon in Capricorn square Eris and conjunct Pluto
TUE: No major aspects are exact today
WED: Moon in Aquarius square Uranus and conjunct Saturn
THU: Mercury trine Pluto
FRI: Sun opposite Chiron
SAT: Pluto stations direct
SUN: Full Moon 1:54 p.m. PDT 16°32´Aries
****
SOLAR FLARES: The Sun is once again very active with solar flares! In the last three days alone (as of Sunday, October 2), there have been six M-class flares, with one of these being almost X-class. M-class flares are medium large eruptions and X-class flares are the highest level.
Strong solar flares can affect us on many levels. According to a study by the National Institutes of Health, "sharp or sudden variations in geomagnetic and solar activity can act as stressors, which alter regulatory processes such as melatonin/serotonin balance, blood pressure, breathing, reproductive, immune, neurological, and cardiac system processes." It is especially important during heightened solar activity to practice good self-care, to get extra rest and fluids, and to support your physical body with healthy food and connecting to nature. As always, if you have physical symptoms that are causing you concern, be sure to contact a trusted healthcare provider.
Solar flares can also influence our emotional and mental states. Studies of solar cycles show that 80% of the most significant human events have occurred around the times of solar maximum, when the number and magnitude of solar flares are the highest. Since the brain and endocrine systems are affected, it follows suit that moods and behaviors may be more unpredictable during heightened solar activity. And, with the connection between the pineal gland (sixth chakra) and spiritual growth, we also find a link between strong solar flares and the potential for increases in consciousness.
Solar activity is likely to continue at higher levels for at least a couple of days, based on the magnetic signatures of the sunspot regions currently on the Earth-facing side of the Sun. If you are on facebook, please connect with my page since I monitor this solar activity on a daily (or hourly) basis. Otherwise, a good resource for monitoring solar flare and geomagnetic activity is the SpaceWeatherLive website.
ARIES FULL MOON: The astrological highlight of this coming week is the Full Moon that perfects next Sunday, October 9, at 1:55 p.m. PDT. The Moon will be at 16°32´ Aries, exactly opposite the Sun at the same degree of Libra. This Aries-Libra polarity, representing the archetypes of the Warrior and the Peacemaker, requires us to find a new balance between self-assertiveness and accommodation.
The Moon is closely conjunct Wounded Healer Chiron at the time of the Full Moon, while the Sun is closely conjunct Venus, the goddess of Love and Beauty. The themes of partnerships and alliances are activated, as well as the wounds that are needing to be addressed and healed in relationships. Full Moons always increase emotional reactivity, and Chiron's involvement means that people are likely to be feeling especially sensitive. Some may respond to relatively minor issues with strong anger and impulsive actions. With Chiron in Aries, these responses, while challenging to deal with, are based in the wound of believing that one has to yell or scream to be heard, that otherwise one's needs will not be acknowledged.
Venus is also the planetary ruler of values, the arts, and finances. These areas of concern, and fears about their ability to support us, are also energized with this lunation.
The good news is that Saturn will be acting as a stabilizing influence at the time of the Full Moon; the Ringed Planet will be in harmonious aspect to both the Sun and the Moon. However, Uranus will be in challenging aspect to the Sun, so we will likely be working with surprising events that require us to adjust our expected routines.
Next Sunday's lunation also marks our entry into eclipse season, since the New Moon on October 25 will be a partial solar eclipse. This gives us the next two weeks, as the Moon slowly wanes, to do some important release and clearing work, in anticipation of the significant shift point represented by that solar eclipse in Scorpio.
PLUTO AT STATION: Another factor affecting our reality this week is that Pluto is moving very slowly, and will station direct next Saturday. When a planet slows its pace, to go either retrograde or direct, its influence is heightened for a week or two on either side of the date of its station.
Pluto is the god of the Underworld, guardian of the major transition points in our lives. When Pluto's influence is strong, we ourselves go through a death and rebirth process in some way, most often on psychological levels. (Very seldom is this a literal, physical death.)
The dwarf planet will station at 26°06´ Capricorn on Saturday, October 8. You are likely to feel this energy on a very personal level if you have planets or points between 24 and 28 degrees of any of the cardinal signs – Aries, Cancer, Libra, or Capricorn – in your natal chart. And, if you have planets or points between 26 degrees of one of these cardinal signs and 0 degrees of the next fixed sign (Taurus, Leo, Scorpio, or Aquarius), this week marks the beginning of a very important period of metamorphosis in your life, that will play itself out over the course of 2023.
THIS WEEK'S DAILY ASPECTS: Here are this week's important planetary aspects, along with my brief interpretations of each. I am including the Moon's hard aspects to Saturn, Uranus, Pluto, and Eris since the Moon can act as a "trigger" for the energies of the longer-term Saturn-Uranus and Pluto-Eris squares.

Monday
Moon in Capricorn square Eris and conjunct Pluto: These aspects signify a dynamic conflict between the laws established by society and the needs of the individual.

Tuesday
No major aspects are exact today.

Wednesday
Moon in Aquarius square Uranus and conjunct Saturn: The conflict between the desire for stability and the need for change is heightened. People resist conformity and rebel against the status quo.

Thursday
Mercury trine Pluto: Deep conversations are possible today, as we are determined to get to the truth of any issues. We have an increased desire to explore the mysteries of life.

Friday
Sun opposite Chiron: People may be especially sensitive today, responding outwardly in anger due to inner feelings of insecurity or fear.

Saturday
Pluto stations direct: Dwarf planet Pluto comes to a standstill at 26°06´ Capricorn, at 2:55 p.m. PDT on Saturday, October 8.

Sunday
Full Moon 1:55 p.m. PDT: This Aries Full Moon may bring forward important relationship or financial issues for us to work with, as we unearth insecurities or fears that are needing to be healed.
*****
IF YOUR BIRTHDAY IS THIS WEEK: This year, your values, relationships, and perhaps financial status are in the spotlight. You have the inner strength and focus needed to make progress in these areas, but it is vital to also make the time for personal healing. Old insecurities may arise, inviting you to learn how to truly care for and care about the wounded inner child who believes it does not have the right to have personal needs and desires. Your loving attention and acceptance of this part of you will ultimately enable you to achieve greater success in many areas of your life. (Solar Return Sun conjunct Venus, trine Saturn, opposite Chiron)
*****
WEBINAR REPLAY: If you missed my recent "Walking the Tightrope" webinar, and you'd like to know what the planets have in store for the rest of 2022, please let me know! The video replay and class materials, including the calendars and a pdf of the slideshow, are available for purchase. Just send an email with "Webinar Replay" in the subject line to This email address is being protected from spambots. You need JavaScript enabled to view it., and I'll reply with details. Thanks!
*****
TRANSLATION and AUDIO/VIDEO VERSION: This weekly Journal is now recorded (in English) AND the text is transcribed into 30 languages! You'll see a row of flags under "Available Languages" in the upper right. And, there are options to listen to the audio (in English) or watch a video directly beneath the photo (see top of page).
The Journal entry is usually updated by Sunday evening, with the recordings appearing late Sunday or by Monday depending on your time zone. Please share this information with those who might benefit.
*****
For previous weeks of the Astrological Journal, click here.
*****
About the Author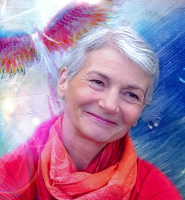 Pam Younghans is a professional astrologer, editor, and writer. She lives in a log home northeast of Seattle, Washington with her beloved animal companions. She has been interpreting charts professionally for over 25 years. If you are interested in an astrology reading, e-mail This email address is being protected from spambots. You need JavaScript enabled to view it., or leave a message at 425.445.3775.
For more information about NorthPoint Astrology offerings, please visit northpointastrology.com or visit her Facebook page.