Sunset over Tino Island on August 27, 2022. By Alberto Vacca, Marina di Massa, Tuscany, Italy.


Narrated by Pam Younghans.
Watch video version on InnerSelf.com or watch on YouTube.
Current and previous weeks astrological overviews
Astrological Overview: August 29 - September 4, 2022
Astrologer Pam Younghans writes this weekly astrological journal based on planetary influences, and offers perspectives and insights to assist you in making the best use of current energies. This column is not intended as prediction. Your own experience will be more specifically defined by transits to your personal chart.

Aspects of Note this Week:

All times listed are Pacific Daylight Time. (For Eastern Time, add 3 hours; For Greenwich Mean Time, add 7 hours.)
MON: Venus sesquiquadrate Jupiter, Mercury sesquiquadrate Uranus
TUE: No major aspects are exact today.
WED: Venus quincunx Neptune, Venus trine Eris
THU: Mercury sesquiquadrate Saturn, Mars sextile Jupiter, Venus quincunx Pluto
FRI: Mercury opposite Jupiter
SAT: Sun sesquiquadrate Pluto, Uranus square Ceres
SUN: Venus enters Virgo
****
WAKING UP: The Sun has become very active again in recent days! After several weeks of only minor solar activity, there have been four moderate M-class solar flares and seven C-class events in the past 17 hours (as of this writing, on Sunday morning, August 28). The strongest of these flares was very recent, an M6.73 event that peaked at 9:19 a.m. PDT (1619 UT). This is in addition to the four M-class flares and thirteen C-class flares that occurred in the previous 24 hours.
All of this means that we on Earth are receiving a significant amount of energy from the Sun, which can affect us on many levels. Scientific papers focus on the effects of solar flares and solar winds on heart rate, blood pressure, sleep cycles, the immune and neurological systems, and more. These studies also show correlation between extreme solar events and an increase in social unrest and emotional or mental volatility.
Meanwhile, metaphysical articles reveal that solar flares play a role in clearing cellular memories, breaking up old patterns, activating the pineal gland, and in other ways expanding human consciousness. The physical symptoms that we experience are usually linked to the issues that are being cleared, or perhaps to the chakra that is releasing stuck energy.
The space weather forecast is for continued activity in the next day or two at least – not only solar flares, but geomagnetic storms, too. These conditions always call for extra levels of self-care, so be sure to hydrate with electrolyte fluids, get good rest, connect with nature, eat lightly, and take other steps to ensure that your body and psyche are receiving good support.

DAILY ASPECTS: Here are this week's important planetary aspects, along with my brief interpretations of each. Although I don't usually include lunar aspects in this list, due to their transitory nature, I am including here the Moon's interactions with Saturn, Uranus, Pluto, and Eris. This is because the Moon can act as a "trigger" for the energies of the longer-term Saturn-Uranus square and Pluto-Eris square, both of which are currently in effect.

Monday
Venus sesquiquadrate Jupiter: This is a rather self-indulgent aspect, so it may be hard to focus on work or chores today.
Mercury sesquiquadrate Uranus: Nervous energy is heightened and attention spans are fairly short.

Tuesday
No major aspects are exact today.

Wednesday
Venus quincunx Neptune, Venus trine Eris: Confusion or disillusionment is possible in close relationships or in financial matters. However, this lack of clarity may not keep some from acting on impulse to fulfill their personal needs.
Moon in Libra opposite Eris and square Pluto: Peace-making efforts face an uphill battle today. People are easily irritated and feel that their individual rights are not being respected.

Thursday
Mercury sesquiquadrate Saturn: Closedmindedness and a tendency to judge leads to awkward conversations and other communication difficulties.
Mars sextile Jupiter: The need for space and freedom pairs with a positive self-confidence, making this a good day for physical activities.
Venus quincunx Pluto: Trust issues arise in relationship or financial matters.
Moon in Scorpio opposite Uranus and square Saturn: A general suspiciousness undermines the ability to accept guidance or to adapt to changing conditions.

Friday
Mercury opposite Jupiter: Opinions are strongly expressed today, making it hard to find solutions that work for both sides.

Saturday
Sun sesquiquadrate Pluto: Attempts to control a situation or manipulate other people backfire, leading to power struggles.
Uranus square Ceres: Alienation is possible due to the need for independence, especially from family relationships or in response to someone's over-mothering or micro-managing.

Sunday
Venus enters Virgo: Venus will be in Virgo from September 4 to 29. During this time, there is a stronger need for relationships to meet practical needs and for loved ones to live up to a certain standard of behavior. We may also tend to express our caring through serving in some way, doing chores, fixing healthy meals, or taking care of details.
*****
IF YOUR BIRTHDAY IS THIS WEEK: This year, you may feel a conflict between your need to do things efficiently and effectively and your desire for new and interesting experiences. Virgo likes to find the "best" way to achieve a goal, and then to repeat those steps each time the task is engaged. However, the part of you that wants variety and mental stimulation can become very bored with always going down the same, predictable, "perfect" path. As you open to new experiences this year, it may require you to let go of some controls, which can feel uncomfortable. But the fresh air that enters your life as a result most likely will be very rejuvenating, and you will feel a renewed sense of enthusiasm about life. (Solar Return Sun square Mars)
*****
TIGHTROPE WALKING: In my next webinar, entitled "Walking the Tightrope," I'll be talking about the planetary energies we'll be working with during the last four months of 2022. The class will air live on Wednesday, September 14, but it will be recorded for replay if you're not able to attend on that day. I hope you can join us!

For the full description and link to register, please visit https://tightrope2022.eventbrite.com.
*****
TRANSLATION and AUDIO/VIDEO VERSION: This weekly Journal is now recorded (in English) AND the text is transcribed into 30 languages! You'll see a row of flags under "Available Languages" in the upper right. And, there are options to listen to the audio (in English) or watch a video directly beneath the photo (see top of page).
The Journal entry is usually updated by Sunday evening, with the recordings appearing late Sunday or by Monday depending on your time zone. Please share this information with those who might benefit.
*****
For previous weeks of the Astrological Journal, click here.
*****
About the Author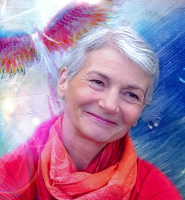 Pam Younghans is a professional astrologer, editor, and writer. She lives in a log home northeast of Seattle, Washington with her beloved animal companions. She has been interpreting charts professionally for over 25 years. If you are interested in an astrology reading, e-mail This email address is being protected from spambots. You need JavaScript enabled to view it., or leave a message at 425.445.3775.
For more information about NorthPoint Astrology offerings, please visit northpointastrology.com or visit her Facebook page.