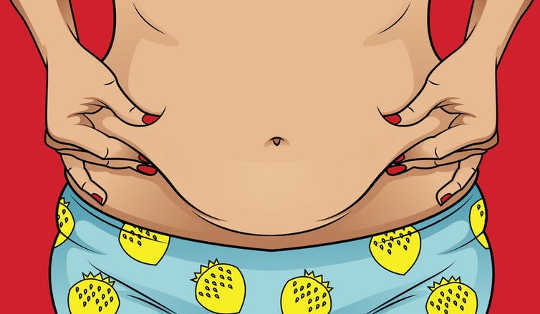 We can't target certain areas for weight loss, but losing it from anywhere is good. www.shutterstock.com
Excess storage of fat is linked to many different chronic diseases. But some areas of fat storage on the body are worse than others.

In general, women have greater absolute body fat percentages than men. Typically, women carry more fat around the legs, hip and buttocks, as well as the chest and upper arms. Women have more subcutaneous fat – the fat you can pinch under your skin – while men typically have more visceral fat, which is stored in and around the abdominal organs.
People who have greater fat stores around their butt and thigh (glutealfemoral) regions are at lower risk of chronic diseases, such as diabetes and heart disease, than those with greater fat stores around their middle.
Why is belly fat more dangerous?
Excess fat around the tummy is subcutaneous fat – which you can pinch – as well as visceral fat, which is in and around the organs in the abdominal cavity and only visible using medical scans. Researchers have found excess visceral fat storage is a significant risk factor for metabolic health complications of obesity such as type 2 diabetes, fatty liver and heart disease.
Fat cells in a healthy person are able to grow, recruit inflammatory cells to help reduce inflammation, and remodel themselves in order to allow for healthy body growth. But if there is excess fat tissue, these mechanisms don't function as well. And with excess fat, the body can become resistant to the hormone insulin – which maintains our blood sugar levels.
Visceral (belly) fat secretes greater levels of adipokines – chemicals that trigger inflammation – and releases more fatty acids into the bloodstream. Whereas the fat cells in the leg region, and the pinchable, subcutaneous layers of fat around the middle, store fatty acids within themselves, rather than pushing them into the circulation.
The fat around the hips and legs is more passive, meaning it releases fewer chemicals into the body.
Just try to lose fat, anywhere
A recent weight-loss study that looked at where fat mass was lost found the area of fat loss didn't change the risk factors for heart disease and stroke. The important thing was losing fat from anywhere. While diet and exercise are unable to specifically target regions of fat depots, fat mass loss from anywhere can improve risk factors.
Online ads might tell you a magic workout machine will reduce fat in one particular area, but adipose tissue is unable to be targeted in the same way that we can target a specific muscle group.
Total loss of fat mass, through a healthy diet and exercise, is the best outcome for overall health and reducing either the symptoms of chronic disease (such as diabetes) or the risk of developing disease such as diabetes or heart disease.

About The Author
Evelyn Parr, Research Fellow in Exercise Metabolism and Nutrition, Mary MacKillop Institute for Health Research, Australian Catholic University
This article was originally published on The Conversation. Read the original article.
Related Books:
Binding: Hardcover
Features:
Travis Stork Lose Your Belly Diet
Brand: Ghost Mountain Books
Studio: Ghost Mountain Books
Label: Ghost Mountain Books
Publisher: Ghost Mountain Books
Manufacturer: Ghost Mountain Books
Buy Now
Editorial Review:
We want to be healthy. We want to be lean. And we want to lose that annoying fat around our bellies!
We can achieve ALL of these goals with The Lose Your Belly Diet. Based on exciting new research about the dramatic benefits of vibrant gut health and a diverse gut microbiome, this plan nurtures your gut while helping you burn off excess weight and harmful belly fat.
This plan is built around a very clear, research-based concept: Eating food that nourishes and protects the microbes in your gut paves the way for weight loss, a slimmer middle, and better overall health.
It's not just about weight loss. Having great gut health is linked to good health throughout your body. Scientists in this rapidly growing field are finding connections between gut microbes and the immune system, weight loss, gastrointestinal health, , allergies, asthma, and even cancer. With every study that's published, scientists become more convinced that having a healthy gut leads to having a healthy body.
We're accustomed to thinking of bacteria as bad—and some are—but most of the bacteria and microbes in our guts do amazing things, like working with our immune system to fight disease and helping our bodies digest food. Not only can't we live without them, but as their numbers and diversity increase, so too does our health.
In this book, we look at all of the ways you can improve your own gut health, starting with the food you eat. My diet recommendations, meal plans, and recipes will help feed and protect your gut microbes. And we look at the many other steps you can take to support your beneficial bacteria, from avoiding unnecessary antibiotics to changing the way you think about dirt and germs. Even the choices you make about how you bring your children into the world can have an impact on your family's microbiomes.
In The Lose Your Belly Diet, we'll cover all the bases, giving you everything you need to know to make dramatic changes in your GI health, your weight, your belly fat, and your overall health.
Binding: Paperback
Features:
Brand: imusti
Studio: Hay House Inc.
Label: Hay House Inc.
Publisher: Hay House Inc.
Manufacturer: Hay House Inc.
Buy Now
Editorial Review: For years, experts have told you that you're tired and overweight because you eat too much and don't exercise enough. They were WRONG. The truth is that you are eating foods packed with hidden sweeteners that deliver a belly-fattening Sugar/Carb Value. This simple guide makes smart eating effortless and affordable. This revised edition is updated with a completely new chapter—Simply Fit™, with Belly-Burning Workouts—and includes more than 1,500 options customized for: carboholics, meat lovers, chicken and seafood fans, chocoholics, fast-food junkies, and even vegans! What are you waiting for? Dig in.
Binding: Hardcover
Format: Unabridged
Features:
Brand: Ballantine Books
Studio: Ballantine Books
Label: Ballantine Books
Publisher: Ballantine Books
Manufacturer: Ballantine Books
Buy Now
Editorial Review: NEW YORK TIMES BESTSELLER

Zero Belly Diet is the revolutionary new plan to turn off your fat genes and help keep you lean for life! Nutrition expert David Zinczenko—the New York Times bestselling author of the Abs Diet series, Eat This, Not That! series, and Eat It to Beat It!—has spent his entire career learning about belly fat—where it comes from and what it does to us. And what he knows is this: There is no greater threat to you and your family—to your health, your happiness, even your financial future.

Yes, you can: Change your destiny. Overcome your fat genes. Strip away belly fat and finally attain the lean, strong, healthy body you've always wanted.

With Zero Belly Diet, David Zinczenko reveals explosive new research that explains the mystery of why some of us stay thin, and why some can't lose weight no matter how hard we try. He explains how some foods turn our fat genes on—causing seemingly irreversible weight gain—and uncovers the nine essential power foods that act directly on those switches, turning them to "off" and allowing for easy, rapid, and sustainable weight loss. And he shows how these foods help heal your digestive system, keeping those gene switches turned off and setting you up for a lifetime of leanness.

Other diets can help you lose weight, but only the Zero Belly diet attacks fat on a genetic level, placing a bull's-eye on the fat cells that matter most: visceral fat, the type of fat ensconced in your belly. These fat cells act like an invading army, increasing inflammation and putting you at risk for diabetes, Alzheimer's, arthritis, heart disease, and cancer. Visceral fat can also can alter your hormone levels, erode muscle tissue, increase your chances of depression, and destroy your sex drive. But you can turn the odds in your favor.

Zero Belly Diet shows you how to deactivate your fat genes, rev up your metabolism, banish bloat, and balance your digestive health, allowing you to easily build lean, strong stomach muscle and strip away unwanted belly fat without sacrificing calories or spending hours at the gym. The result: weight loss that is easier, faster, more lasting, and more delicious than you'd ever imagine.

You'll be stunned and inspired by the results of an amazing 500-person test panel—men and women who lost weight quickly, and with ease, following the Zero Belly diet. In just the first 14 days:

Bob McMicken, 51, lost 16.3 pounds
Kyle Cambridge, 28, lost 15 pounds
Martha Chesler, 54, lost 11 pounds
Matt Brunner, 43, lost 14 pounds

Zero Belly Diet features a week-by-week menu plan, fifty tasty recipes, and a handy shopping list that leads to a minimum of cooking and plenty of feasting.

Best of all, Zero Belly Diet offers something more: freedom. Freedom from bloating, freedom from food deprivation, freedom from weight loss fads, freedom from stress. So say goodbye to your paunch and hello to a happier, healthier you!