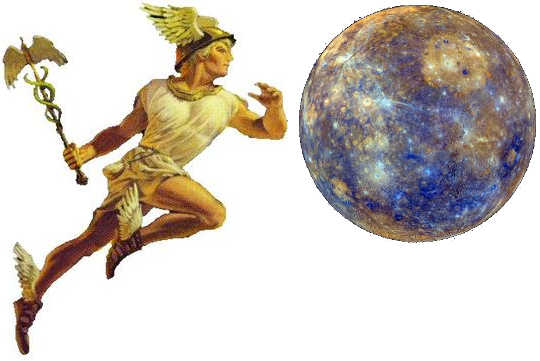 The cycle of the wing-footed messenger mercury represents our mental and communicative life processes. This companion dancer to the Sun (never traveling more than 28 degrees away) inspires mobility and adaptability within our environment. Through Mercury, we express ourselves with language, writing, speaking, and reasoning.
At times, Mercury emerges in us as nimble jester or creative genius, or when in retrograde, the coyote trickster/teacher within. To this Muse of the Mind, we give thanks for our ability to grow in symbolic and intellectual connection with each other, and with ourselves.
When It Occurs
March 5 – March 28, 2019 (in Pisces)
July 8 (in Leo) – August 1, 2019 (in Cancer)
October 31 – November 20, 2019 (in Scorpio)
Three or four times a year, Mercury loops Earthward (to our eye) in a retrograde cycle back over zodiacal territory. During this passage lasting 20-28 days, our attentions move towards unfinished business. Since all backward movement symbolizes a return to source, we can use these times to attend to our inner perceptions, and reconnect with the spiritual source of our thoughts. This introversion can bring about a critical purification process that can help us gain new insights based on prior knowledge.
These are good times for completing projects, connecting with old friends, and settling accounts. Delays often point towards the need for more attention to detail and rethinking priorities. Be patient and thorough. Take advantage of this ebb in the cycle. Daydream and rest more. When we linger longer to relish the ground beneath us, we can see the flowers blooming in the dust raised during our busy recent past.
It's during this time when Mercury reverses our synapses. While energies may feel scattered at times, refocus often, as this is a good time to reconnect with old friends and practice listening skills. Also, journaling or letter writing allows us to access memories, and express undercurrents. Allow for inner dialogue to retract intentions. Use process in your communications, entertain old lovers.
It's A Wise Tool
Used consciously, we can turn this change in polarity of our mental life towards healing and renewal. When Mercury goes direct we can move ahead with new plans and projects, and put any mental values gleaned into play.
Remember, Mercury is the channel through which we will send messages to our future Selves, and create the collaborative mental sharing to which we attribute our humanness.
The above was excerpted with permission from the book,
'We'Moon Gaia Rhythms for Womyn '95 Cycles'
copyright 1994 & 1995, P.0 Box 1395, Estacada, OR 97023.
Related book:
A New Look at Mercury Retrograde
by Robert Wilkinson
Anyone involved in communications can attest to short periods of time several times a year in which even the simplest message goes awry -- the result, some claim, of Mercury retrograde. Written for the general reader as well as astrologers, this unique and comprehensive work addresses the subject from a practical as well as a psychospiritual approach. Includes ephemeris.

Info/Order this book. Al;so available as a Kindle edition.
About The Author
Sandra Pastorius (AKA Laughing Giraffe) continues in awe and inspiration her practice of astro-counseling. Recently she has begun to write a metaphysical book. For more info contact Sandra at: P.O. 2344, Santa Cruz, CA 95063.