Photo: Auroras over Fort Frances, Ontario, Canada, on May 19, 2023. Taken by Lauri Kangas.

Written and Narrated by Pam Younghans.
Watch video version on YouTube
Current and previous weeks astrological overviews
Astrological Overview: May 22 -28, 2023
Astrologer Pam Younghans writes this weekly astrological journal based on planetary influences, and offers perspectives and insights to assist you in making the best use of current energies. This column is not intended as prediction. Your own experience will be more specifically defined by transits to your personal chart.

Aspects of Note this Week:

All times listed are Pacific Daylight Time. For Eastern Time, add 3 hours; For Greenwich Mean Time (GMT), add 7 hours.
MON: Mars square Jupiter
TUE: No major aspects are exact today
WED: Sun semisquare Chiron, Venus square Chiron
THU: Sun semisquare Venus
FRI: Venus sextile Uranus, Mars square nodal axis
SAT: Venus sesquiquadrate Saturn
SUN: Sun square Saturn, Mercury semisquare Neptune
****
SOLAR FLARES AND MORE: Over the past four days ‒ since the Jupiter-Pluto square on May 17 ‒ there have been an astounding 25 M-class solar flares, a moderate (G2) geomagnetic storm that gifted us with some beautiful auroral displays, and a powerful magnitude 7.7 earthquake in the South Pacific. While we cannot claim that the square "caused" this dynamic activity, such events qualify as the kind of "cosmic coincidence" that often accompanies major planetary aspects.
We continue to work with the Jupiter-Pluto square for the next week or more, with its effects now being activated by Mars in Leo. (The Red Planet was exactly opposite Pluto on Saturday, May 20, and will be precisely square Jupiter on Monday, May 22.) The T-square configuration formed by these three planets challenges us to move beyond places where we may have resisted change, and to uncover and dismantle patterns that have tied our self-confidence to whether or not we are appreciated or approved of by others.
We may also find long-held beliefs being questioned now, especially those that we feel passionately attached to. There is a new level of neutrality that is being asked of us, so that we might rise above human dramas, become more aligned with our Soul, and allow the Divine Self to guide us. As such, we will want to be very aware of any sense of urgency about stating a "truth" or taking an action now, since oftentimes that compelling urgency is indicating a pattern of behavior or belief that is ready ‒ and needs ‒ to be transmuted.
SUN IN GEMINI: The question of what is "true" ‒ as compared to what is either an overly generous interpretation of the facts or a complete fabrication ‒ may cross our minds many times over the next four weeks. The Sun is now in information-seeking Gemini, supporting a heightened curiosity about life, a willingness to explore new ideas, and a desire to teach and learn. The sign of The Twins is also intelligent, versatile, expressive, and adaptable.
However, every sign also has a shadow side; with Gemini, there can be a tendency to live too much in our heads when we would benefit from living more from our hearts. Or we might be so eager to pass on information that we don't take the time to verify the facts. And, in the desire to teach or share, we might not pause long enough to really hear what another person has to contribute to the conversation.
This week, communications and our perceptions of reality may be challenged as the Gemini Sun forms hard aspects with Wounded Healer Chiron (Wednesday), Venus (Thursday), and Saturn (next Sunday). Midweek, it will be especially important to notice when we are not breathing deeply, and instead are either speaking rapidly or moving quickly as a way to cover up some latent insecurities or fears.
By next weekend, when the stressful Sun-Saturn square is in effect, we will have an even clearer awareness of ways in which we lapse into patterns of nervous anxiety, fear, control, or criticism. While this aspect can be uncomfortable, it allows us to objectively observe whether we are successfully managing our mental state or if we are allowing the mind to control us.
DAILY ASPECTS: Here are this week's most important planetary aspects, with my brief interpretations.

Monday
Mars square Jupiter: This is a competitive aspect that can ignite or exacerbate a philosophical or legal battle. Drama is heightened as those who seek the spotlight act grandly or impulsively.

Tuesday
No major aspects are exact today.

Wednesday
Sun semisquare Chiron, Venus square Chiron: A lack of trust in relationships may surface now. It is important to take time for self-care, with the goal of understanding more fully how insecurities and a lack of self-worth may be affecting our ability to connect with friends and loved ones.

Thursday:
Sun semisquare Venus: Some may take words very personally with this aspect. A loved one's tendency to become distracted can feel hurtful and demeaning.

Friday
Venus sextile Uranus: We have greater empathy and tolerance today, helping us reconnect with a loved one. We can also more easily accept that no one person can meet all our needs all the time.
Mars square nodal axis: Frustrations and confrontations are possible, if we are too dependent on receiving appreciation from others and do not have a strong enough foundation of self-love. There may be anger or regrets about past actions, especially how we have expressed (or not expressed) our desires.

Saturday
Venus sesquiquadrate Saturn: Some may prefer to be alone today, to process recent relationship or financial developments. A tendency to be somewhat aloof or reserved may cause hurt feelings.

Sunday
Sun square Saturn: Restrictions in activity, problems in communication, or not feeling heard can dampen enthusiasm and even result in short-term feelings of depression. This is an opportunity for a reality check on our own mental state, knowing that we are ultimately responsible for what we think and how we feel.
Mercury semisquare Neptune: The mind might be somewhat foggy today. It can be easy to misread signals from others and to misinterpret messages.
*****
IF YOUR BIRTHDAY IS THIS WEEK: The desire to pursue a creative endeavor or to follow your passion is very strong this year, and you are likely to make good headway over time. However, things may not unfold as quickly or concretely as you would ideally prefer. It is best to think of this as a gestation year, in which you will see evidence of growth and change, but you are also honing qualities of patience, discipline, and careful planning. You are learning the lessons of Aesop's fable of "The Tortoise and the Hare": slow and steady wins the race. (Solar Return Sun sextile Mars, square Saturn, trine Pluto)
*****
"A QUICKENING" REPLAY: If you missed my recent webinar on the energies we're working with May through August, no worries! You can still purchase the video replay, slideshow, and monthly calendars that we used for the class. Just send an email to This email address is being protected from spambots. You need JavaScript enabled to view it. with "Webinar Replay" in the subject line, and I'll reply with details.
*****
TRANSLATION and AUDIO/VIDEO VERSION: This weekly Journal is now recorded (in English) AND the text is transcribed into 30 languages! You'll see a row of flags under "Available Languages" in the upper right. And, there are options to listen to the audio (in English) or watch a video directly beneath the photo (see top of page).
The Journal entry is usually updated by Sunday evening, with the recordings appearing late Sunday or by Monday depending on your time zone. Please share this information with those who might benefit.
*****
For previous weeks of the Astrological Journal, click here.
*****
About the Author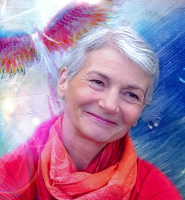 Pam Younghans is a professional astrologer, editor, and writer. She lives in a log home northeast of Seattle, Washington with her beloved animal companions. She has been interpreting charts professionally for over 25 years. If you are interested in an astrology reading, e-mail This email address is being protected from spambots. You need JavaScript enabled to view it., or leave a message at 425.445.3775.
For more information about NorthPoint Astrology offerings, please visit northpointastrology.com or visit her Facebook page.