Image: Zoomed-in view of Uranus, captured by Webb's Near-Infrared Camera (NIRCam) Feb. 6, 2023. Credits: NASA, ESA, CSA, STScI. Image processing: J. DePasquale (STScI)
Written and Narrated by Pam Younghans.
Watch video version on YouTube
Current and previous weeks astrological overviews
Astrological Overview: May 8 -14, 2023
Astrologer Pam Younghans writes this weekly astrological journal based on planetary influences, and offers perspectives and insights to assist you in making the best use of current energies. This column is not intended as prediction. Your own experience will be more specifically defined by transits to your personal chart.

Aspects of Note this Week:

All times listed are Pacific Daylight Time. For Eastern Time, add 3 hours; For Greenwich Mean Time (GMT), add 7 hours.
MON: No major aspects are exact today
TUE: Sun conjunct Uranus
WED: Venus semisquare Uranus
THU: Mars square Eris
FRI: Mercury sextile Saturn, Mercury sextile Venus, Venus trine Saturn
SAT: No major aspects are exact today
SUN: Mercury stations direct
****
THE UNEXPECTED: The planet Uranus is the nonconformist of our solar system. It appears to be tipped on its side, with its rings on the vertical instead of the horizontal plane. Uranus also spins opposite to most of the other planets, rotating clockwise instead of counterclockwise. Visually, it looks like it's spinning sideways as it orbits the Sun.
These unusual features correspond with how Uranus' influence manifests in our lives. When the planet is active, we tend to be more restless or rebellious. The need to be free to be fully ourselves and to express our uniqueness is heightened. These are some of the effects we might "expect" to see this week when the Sun aligns with Uranus, exact on Tuesday.
Very changeable conditions, or unusual or surprising events often occur with a Sun-Uranus conjunction. Earthquakes are one example of how this influence can manifest in the physical world, those sudden shake-ups that can literally alter lives. People who feel this energy can tend to act impulsively or rebelliously, especially in response to feeling restricted or controlled. One of Uranus' tasks is to shake us up in some way, to break us out of ruts and keep us flexible, and to make sure we are marching to the beat of our own drummer.
In addition to being the god of Chaos, Uranus is the planetary representative of Higher Mind or Universal Consciousness. If we are able to tap into this transpersonal aspect of the planet's energies, this week's Sun-Uranus conjunction can bring new insights and "aha" moments into our awareness. Intuition or psychic impressions may be especially strong. Keeping an open mind is essential, since the information we receive may feel disruptive or destabilizing at first, taking time for us to integrate.
Uranus is highly electrical, which we will also be feeling this week. Some may have unexpected anxiety or nervousness, and problems concentrating on one idea or task for very long. As the mind races, the body also feels an urge to move. It will be essential to stay grounded as we work with this energy, through physically connecting with nature or using the imagination to connect through our feet into the heart of Gaia.
GEOMAGNETIC ACTIVITY: On top of this week's enhanced Uranus effect, the Earth's magnetic field is predicted to be very active for the next 48 to 72 hours. The Sun hurled multiple CMEs (coronal mass ejections) into space over a three-day period (May 3, 4, and 5), and scientists expect the Earth to pass through the debris field and magnetic wake of those CMEs starting later today. Space weather is very hard to predict, even for the experts, but as of this writing (12 noon PDT on Sunday, May 7), the forecast is for geomagnetic storms ranging from minor (G1) to strong (G3).
Geomagnetic storms can affect us on all levels — physically, emotionally, mentally, and spiritually. An article on the Learning Mind website entitled "How Solar Storms Affect Human Consciousness and Wellbeing," by Andreea Vaduva, BSc (Hons), gives a helpful overview of the potential effects of solar storms.
DAILY ASPECTS: Here are this week's most important planetary aspects, with my brief interpretations.

Monday
No major aspects are exact today.

Tuesday
Sun conjunct Uranus: As Uranus and the Sun align, we may feel a strong restlessness or nervous energy. Sudden changes can occur, requiring us to be flexible and to open to alternate perspectives of reality.

Wednesday
Venus semisquare Uranus: The need for freedom is heightened today, which may necessitate changes in relationships that have become too restrictive or predictable.

Thursday:
Mars square Eris: The god of War and the goddess of Discord are in hard aspect today, exacerbating conflicts and differences of perspective.

Friday
Mercury sextile Saturn, Mercury sextile Venus, Venus trine Saturn: These three aspects work together to support communications and stability in relationships. Negotiations can be productive today, as people are feeling more grounded and willing to compromise.

Saturday
No major aspects are exact today.

Sunday
Mercury stations direct: Mercury changes direction today, having been retrograde in Taurus since April 21. Over the past three weeks, Mercury has asked us to review plans and projects to make sure they are viable and in keeping with our core values. As the Messenger Planet now begins to move forward and gradually picks up speed, we have its support for making progress in the areas that have been under review.
*****
IF YOUR BIRTHDAY IS THIS WEEK: If your birthday is on May 8 or 9, you may already have been feeling especially restless for many months. This unsettledness might have already begun or be just beginning for those with birthdays on May 10-14. At the heart of this feeling of instability is a sense that your core identity and sense of personal purpose are ready to shift. This is a time to experiment, to try on new hats, so that you can discover what you really need and want — what fits you now, as compared to what felt right in earlier stages of your life. This is a time of breaking away from the "shoulds" of your life. It may not be the best time to make a long-term commitment, as you are in the middle of reinventing yourself, and your needs may change. This period relates to previous phases in your life, in 2000-2001 and in 1978-1979. Once again, you have the opportunity to recreate your life as needed to more accurately reflect your independent and authentic self. (Solar Return Sun semisquare Venus, conjunct Uranus)
*****
A QUICKENING: It was great to see so many of you at our webinar last Thursday! Whether you attended live or will be watching the replay, I hope you find benefit in the information and insights I shared about the energies we'll be working with over the next four months. If you pre-registered for the class, you should have already received an email with the replay links. Please contact Elsie Kerns (This email address is being protected from spambots. You need JavaScript enabled to view it.) if you are not finding that email in your inbox.
If you missed the class and would like astrological guidance to support you now through August, the course materials — the video replay, slideshow, and calendars — are available for purchase. Just send an email to This email address is being protected from spambots. You need JavaScript enabled to view it. with "Webinar Replay" in the subject line, and I'll reply with details. Thank you!
*****
TRANSLATION and AUDIO/VIDEO VERSION: This weekly Journal is now recorded (in English) AND the text is transcribed into 30 languages! You'll see a row of flags under "Available Languages" in the upper right. And, there are options to listen to the audio (in English) or watch a video directly beneath the photo (see top of page).
The Journal entry is usually updated by Sunday evening, with the recordings appearing late Sunday or by Monday depending on your time zone. Please share this information with those who might benefit.
*****
For previous weeks of the Astrological Journal, click here.
*****
About the Author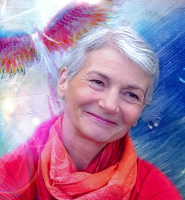 Pam Younghans is a professional astrologer, editor, and writer. She lives in a log home northeast of Seattle, Washington with her beloved animal companions. She has been interpreting charts professionally for over 25 years. If you are interested in an astrology reading, e-mail This email address is being protected from spambots. You need JavaScript enabled to view it., or leave a message at 425.445.3775.
For more information about NorthPoint Astrology offerings, please visit northpointastrology.com or visit her Facebook page.