Written and Narrated by Pam Younghans.
Watch video version on YouTube
Current and previous weeks astrological overviews
Astrological Overview: May 1 -7, 2023
Astrologer Pam Younghans writes this weekly astrological journal based on planetary influences, and offers perspectives and insights to assist you in making the best use of current energies. This column is not intended as prediction. Your own experience will be more specifically defined by transits to your personal chart.

Aspects of Note this Week:

All times listed are Pacific Daylight Time. For Eastern Time, add 3 hours; For Greenwich Mean Time (GMT), add 7 hours.
MON: Retrograde Mercury semisquare Neptune, Pluto stations retrograde, Sun conjunct retrograde Mercury
TUE: Sun semisquare Neptune, Venus sextile Eris
WED: Retrograde Mercury semisquare Venus, Mars sesquiquadrate Saturn
THU: Venus square Neptune, Venus sextile Jupiter
FRI: Full Moon/Penumbral Lunar Eclipse 10:33 a.m. PDT
SAT: No major aspects are exact today
SUN: Venus enters Cancer, Venus quincunx Pluto
****
A PIVOTAL WEEK: A very eventful week is opening before us, with catalytic Pluto stationing retrograde on Monday and a high-powered Scorpio Lunar Eclipse on Friday – and my webinar on Thursday, too! Elsie Kerns and I recorded a short video talking about this life-altering eclipse season, Mercury retrograde, and other current planetary events, along with a brief promo about the class. That video is now online.
PLUTO RETROGRADE: Pluto will come to a standstill at 00°21´ Aquarius on Monday, May 1. This is Pluto's first station since entering the sign of The Waterbearer on March 23. In a sense, this is our initial "test case" of the Pluto-in-Aquarius effect, since the influence of a planet is magnified when it stations and thus should be more tangible in our experience.
This week, we can expect to see specific evidence of how Pluto's transit of Aquarius will impact us, on both ends of the vibrational spectrum. In the positive, Pluto in Aquarius manifests as social progress, advances in human rights, technological developments that benefit the global community, and new levels of humanitarianism and cooperation between individuals. On the shadow side of the equation are extreme ideologies, exploitation, fears related to technology, radical expressions of power, and a lack of sympathy due to too much detachment.
On a personal level, we may feel an intensification of emotions or desires with Pluto stationing retrograde. (This may be especially true for people who have planets or points in their natal charts at 0 to 1 degree of Taurus, Leo, Scorpio, or Aquarius.) Pluto's job as the Psychotherapist Planet is to bring to the surface feelings or issues that have been in some way denied or suppressed; as we deal with these unconscious patterns more directly, we ultimately free ourselves from the control they have wielded in our lives and thus gain greater self-empowerment.
SCORPIO LUNAR ECLIPSE: This month's Full Moon, which will be accompanied by a penumbral Lunar Eclipse, perfects at 10:33 a.m. PDT on Friday, May 5. At that time, the Moon will be at 14°58´ Scorpio and the Sun will be at the same degree of Taurus.
A Full Moon is generally a time when we feel emotions more profoundly. Energetically, a Lunar Eclipse is like an oversized Full Moon, which means its emotional impact is increased. And, this eclipse is in Scorpio, arguably the most intense sign of the zodiac. Add to this the fact that Pluto, the planetary ruler of watery Scorpio, is basically at a standstill this week, and we have a "perfect storm" in effect.
Scorpio could be called the "all or nothing" sign; it feels everything very deeply, and is strongly motivated to act on those intense feelings. Once it has released the emotional tension through some form of expression, it experiences a catharsis of sorts. This is one reason we associate Scorpio with a process of detoxification or purification, as it often takes us through an uncomfortable phase of purging before we emerge, cleansed, on the other side of the process.
GALACTIC ASTROLOGY: In galactic astrology, the middle degrees of the fixed signs are called the "Points of Avatar." At the time of our eclipse this Friday, the Moon will be at the Scorpio Point of Avatar, with the Sun at the Avatar Point in Taurus. Knowing this gives us additional insights into the cosmic purposes of the eclipse.
Astrologer Mary Elizabeth Jochmans shares these insights into the meanings of these two Points of Avatar:
"The Scorpio Point of Avatar deals with true compassion without expectation. We have the ability to be aware of others, their feelings, wants, needs, desires, ego and spiritual drives, and more. This point is aligned with Divine Will, as compared to personal will, and carries the ability to transform and transmute low energy situations, places, and selves to higher vibrations. There is knowledge and the ability to communicate directly with the Angelic Realm to bring about changes for humanity and the Earth, weaving new patterns both etherically and physically."

"The Taurus Point of Avatar deals with unconditional love: learning to love self and others in a detached, unselfish way but without self-sacrifice. This is the point of service to humanity, of going with the flow of the Divine. It uses new sounds, symbols, and colors to create a global mandala, a vision of the ideal for a New Earth and a New Humanity, thus bringing new systems into manifestation."
THE URANUS EFFECT: Another important feature of Friday's Full Moon eclipse is that the Sun will be within four degrees of Uranus (at 18°41 Taurus) and also only six degrees away from retrograde Mercury (at 08°57 Taurus).
Whenever Uranus is involved in a planetary event, we are cautioned to "expect the unexpected," which primarily means to remain flexible and openminded. As we experience the influence of this week's eclipse – which will be building in the days leading up to the actual event – there may be surprises and detours we hadn't anticipated, that change our course and set us in a new and unfamiliar direction.
There is also heightened nervous energy associated with high-vibrational Uranus. Staying grounded and centered, as much as possible, will be helpful. However, some may respond to the Uranus effect with anxiety or sudden, erratic behaviors.
Ultimately, Uranus is an agent of liberation, intending to free us to be more fully authentic, especially if we have been living according to "shoulds." Sideways-spinning Uranus is also the planetary representative of Higher Consciousness. Changes that unfold under Uranus' watch disrupt our usual perceptions of reality so that our minds become open to a much higher perspective. The breakdown of old thought patterns and mental attitudes could be especially pronounced this week, due to retrograde Mercury's proximity to the Full Moon.
DAILY ASPECTS: Here are this week's most important planetary aspects, with my brief interpretations of each.

Monday
Retrograde Mercury semisquare Neptune: Dreams blend into waking reality with this aspect, perhaps making it hard to differentiate fact from fiction.
Pluto stations retrograde: Small-but-mighty Pluto comes to a standstill at 10:08 a.m. PDT today, at 00°21´ Aquarius.
Sun conjunct retrograde Mercury: We are now almost halfway through Mercury's retrograde phase. Today the Sun shines a light on issues that have been a source of confusion or discouragement since Mercury went retrograde on April 21. The extra light of the Sun helps us see more clearly what plans, ideas, and perspectives are needing to be altered if we are to achieve our goals.

Tuesday
Sun semisquare Neptune: Similar to yesterday morning, we may begin the day feeling somewhat foggy and unclear of our direction.
Venus sextile Eris: Some may strongly express controversial opinions today, as Venus in Gemini finds support from Eris in assertive Aries.

Wednesday
Retrograde Mercury semisquare Venus: Communications are more problematic today, and some may be rethinking their recent forthrightness.
Mars sesquiquadrate Saturn: Our own conscience or pressure from others may stall forward motion, giving us the opportunity to consider the longer-term ramifications of our actions.

Thursday
Venus square Neptune: Idealizing a relationship or a financial investment can cause problems and disillusionment.
Venus sextile Jupiter: This aspect supports an open exchange of ideas within relationships.

Friday
Full Moon/Lunar Eclipse: The Moon reaches fullness at 10:33 a.m. PDT. It is accompanied by a penumbral Lunar Eclipse, which is very subtle visually. Those who view the eclipse may see only a slight darkening of the Moon's surface. It will be most visible in parts of Asia and Australia.

Saturday
No major aspects are exact today.

Sunday
Venus enters Cancer: While Venus transits the sign of The Crab, from May 7 to June 3, we are more aware of a need for comfort and security in relationships. During these weeks, home is where the heart is, and the heart is most happy at home.
Venus quincunx Pluto: Trust could be an issue today, and some may feel protective or defensive if challenged.
*****
IF YOUR BIRTHDAY IS THIS WEEK: You may feel a strong need to break free from restrictions this year, and yet there could be some delays in implementing your plans. If this occurs, consider it an opportunity to spend more time in introspection, understanding what your core values are and how they may be best honored by your life choices. Keeping a journal or even jotting your thoughts down on post-it notes can help you sort through your options. This is a good year to try new experiences and to be open to alternative ideas and information sources. If you feel drawn to embark on a new life journey, be sure to include more than one possible route in your itinerary, since your self-understanding and ideas of what you want may continue to shift throughout the year. (Solar Return Sun conjunct retrograde Mercury, semisquare Venus, conjunct Uranus)
*****
THE QUANTUM SHIFT ACCELERATES: I hope you are able to join us this Thursday! I'll be talking in depth about the effects of the Jupiter-Pluto square in May, the change in our evolutionary directive in July, and other important events happening over the next four months. Details at https://events.humanitix.com/a-quickening and to register.
*****
TRANSLATION and AUDIO/VIDEO VERSION: This weekly Journal is now recorded (in English) AND the text is transcribed into 30 languages! You'll see a row of flags under "Available Languages" in the upper right. And, there are options to listen to the audio (in English) or watch a video directly beneath the photo (see top of page).
The Journal entry is usually updated by Sunday evening, with the recordings appearing late Sunday or by Monday depending on your time zone. Please share this information with those who might benefit.
*****
For previous weeks of the Astrological Journal, click here.
*****
About the Author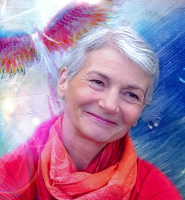 Pam Younghans is a professional astrologer, editor, and writer. She lives in a log home northeast of Seattle, Washington with her beloved animal companions. She has been interpreting charts professionally for over 25 years. If you are interested in an astrology reading, e-mail This email address is being protected from spambots. You need JavaScript enabled to view it., or leave a message at 425.445.3775.
For more information about NorthPoint Astrology offerings, please visit northpointastrology.com or visit her Facebook page.