Sea and Sky Glows over the Oregon Coast by Rudy Montoya.

Written and Narrated by Pam Younghans.
Watch video version on YouTube
Current and previous weeks astrological overviews
Astrological Overview: February 6 - 12, 2023
Astrologer Pam Younghans writes this weekly astrological journal based on planetary influences, and offers perspectives and insights to assist you in making the best use of current energies. This column is not intended as prediction. Your own experience will be more specifically defined by transits to your personal chart.

Aspects of Note this Week:

All times listed are Pacific Daylight Time. For Eastern Time, add 3 hours; For Greenwich Mean Time (GMT), add 8 hours.
MON: Mercury sextile Neptune, Mercury square Eris, Venus semisquare Pluto
TUE: Venus sextile Uranus
WED: No major aspects are exact today
THU: Mercury sesquiquadrate Mars
FRI: Mercury conjunct Pluto
SAT: Mercury enters Aquarius Mars sextile Chiron, Sun semisquare Jupiter
SUN: Sun sextile Eris
****
ONWARD & UPWARD: Now that Uranus has stationed direct, all the primary planets used in astrology are currently moving forward. Symbolically, the setting is right for us to likewise be taking steps into new territory, individually and collectively. The only technicalities are that Mars and Mercury are in their "post-retrograde shadow" zones, when they are still retracing steps originally taken before they stationed retrograde. While this places a "Caution: Proceed with Care" sign beside the road, it doesn't mean we need to come to a stop. Astrological wisdom simply advises us to continue to be very observant and to take our time with decisions and actions.
Mercury exits its shadow phase this week, on February 7, setting us free to consider new ideas and options. Mars' post-retrograde shadow period ends on March 15, loosening the reins on new actions and desires. It's serendipitous that courageous Mars will be supporting us as we adjust to the major shifts that will occur March: Saturn's ingress into Pisces (March 7) and Pluto crossing the threshold of Aquarius (March 23).
DAILY ASPECTS: Here are this week's most important planetary aspects, with my brief interpretations of each.

Monday
Mercury sextile Neptune, Mercury square Eris: Intuition is heightened and will serve us well, but we must remain cautious of making decisions too impulsively.
Venus semisquare Pluto: Secrecy, control, and a lack of trust can be issues in close relationships today.

Tuesday
Venus sextile Uranus: We are able to be less attached today. This makes it easier to give loved ones space and to allow more freedom within relationships.

Wednesday
No major aspects are exact today.

Thursday
Mercury sesquiquadrate Mars: Even small differences of opinion can quickly disintegrate into quarrels today.

Friday
Mercury conjunct Pluto: As Mercury and Pluto align, words are powerful, almost laser-like in their ability to cut to the heart of a matter. Tact, however, may be the missing ingredient in conversations today.

Saturday
Mercury enters Aquarius: Mercury will move quickly through the sign of the Waterbearer, its journey lasting only 19 days. From February 11 to March 2, the overall trend is a greater openness to inventive ideas and solutions and a strengthening of intuitive awareness. The caution of this transit is to be flexible in our thinking; since Aquarius is a fixed sign and its keywords are "I Know," some may be resistant to input, being stubbornly convinced that they have all the answers.
Mars sextile Chiron: This aspect helps us understand underlying reasons for fearful behaviors and attitudes.
Sun semisquare Jupiter: Difficulties arise if we are especially sure that our opinions and perspectives are "right" and others are "wrong."

Sunday
Sun sextile Eris: The desire to act independently is strong, based on a self-assuredness that we have all the answers we need.
*****
IF YOUR BIRTHDAY IS THIS WEEK: A restlessness and a willingness to take risks are heightened this year. These inner stirrings indicate an underlying need for change, even though a part of you is inclined to be more cautious or to stay the proven course. You may make some choices that you look back on later as being foolhardy; but even "errant" experiences will assist you in knowing more about what you do and do not want in your life. You are in the process of reinventing yourself based on who you are now, as compared to who you used to be. The themes of this year relate back to either 2000 or 2001, which was another significant time of self-discovery for you. (Solar Return Sun semisquare Jupiter, conjunct Saturn, square Uranus, sextile Eris)
*****
THERE'S STILL TIME: If you missed my "Quantum Shift" webinar, covering the first four months of 2023 (including Saturn's transit of Pisces and Pluto's first foray into Aquarius) – No worries! You can still purchase the video replay and monthly aspect calendars. Just send an email with "Webinar Replay" in the subject line to This email address is being protected from spambots. You need JavaScript enabled to view it. and I'll reply with details.
*****
TRANSLATION and AUDIO/VIDEO VERSION: This weekly Journal is now recorded (in English) AND the text is transcribed into 30 languages! You'll see a row of flags under "Available Languages" in the upper right. And, there are options to listen to the audio (in English) or watch a video directly beneath the photo (see top of page).
The Journal entry is usually updated by Sunday evening, with the recordings appearing late Sunday or by Monday depending on your time zone. Please share this information with those who might benefit.
*****
For previous weeks of the Astrological Journal, click here.
*****
About the Author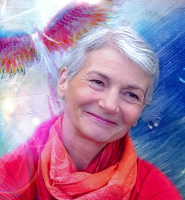 Pam Younghans is a professional astrologer, editor, and writer. She lives in a log home northeast of Seattle, Washington with her beloved animal companions. She has been interpreting charts professionally for over 25 years. If you are interested in an astrology reading, e-mail This email address is being protected from spambots. You need JavaScript enabled to view it., or leave a message at 425.445.3775.
For more information about NorthPoint Astrology offerings, please visit northpointastrology.com or visit her Facebook page.