Photo by YunFengQ (Unsplash)

Written and Narrated by Pam Younghans.
Watch video version on YouTube
Current and previous weeks astrological overviews
Astrological Overview: January 30 - February 5, 2023
Astrologer Pam Younghans writes this weekly astrological journal based on planetary influences, and offers perspectives and insights to assist you in making the best use of current energies. This column is not intended as prediction. Your own experience will be more specifically defined by transits to your personal chart.

Aspects of Note this Week:

All times listed are Pacific Daylight Time. For Eastern Time, add 3 hours; For Greenwich Mean Time (GMT), add 8 hours.
MON: No major aspects are exact today
TUE: No major aspects are exact today
WED: Sun sextile Chiron
THU: Venus semisquare Eris
FRI: Sun square Uranus
SAT: Venus square Mars
SUN: Jupiter opposite Ceres, Leo Full Moon at 10:28 a.m. PST
****
FULL MOON: The lack of major planetary events this week – and the current easing of solar flare activity – are more than made up for by the power and complexity of the Full Moon that occurs next Sunday. On February 5, at 10:28 a.m. PST, the Moon will be at 16 °40´ Leo, opposite the Sun at the same degree of Aquarius. While all Full Moons represent a climax of energies and a time when emotions and reactions are heightened, this lunation is significant because the Sun and Moon are in hard aspect to Uranus in Taurus. This creates an astrological configuration called a "fixed T-square."
To visualize a T-square, imagine a giant letter "T" in the sky, with the Sun and Moon positioned at the two ends of the crossbar and Uranus at the base of the stem. Energetically, a T-square indicates great tension that is looking for an outlet. And, with all three planets in "fixed" signs, we will be dealing with immovable desires, willful emotions, stubborn attachments, and rigidity.
The lessons of a fixed T-square all involve learning new ways to work with these tendencies. With next weekend's Full Moon, we will be asked to find new levels of detachment and objectivity. Our ability to be flexible in changing conditions will likely be tested.
THE URANUS EFFECT: Uranus, sitting at the base of the stem of the letter "T," is at the "apex" of the T-square configuration. The planet in this position indicates the manner in which the tension of the T-square is likely to be expressed.
With Uranus at the apex, people tend to ignore the rules, especially if those rules interfere in some way with their need for freedom of expression. New awareness is possible, but the insights received may cause turmoil in established relationships.
Uranus is known for manifesting through surprising events and sudden, unexpected changes. It is a highly electrical energy, and thus resists being controlled. It is also one of the "transpersonal" planets, lending an overtone of special karmic purposes to any events that manifest around the time of the Full Moon.
POINTS OF AVATAR: There is a point, midway through each of the fixed signs, called the "Point of Avatar." These points indicate specific work that must be done to assist humanity in our upward evolution. At the time of the Full Moon, the three planets in our T-square – the Moon, Sun, and Uranus – activate those points in Leo, Aquarius, and Taurus.
Here are brief descriptions of the energies represented by those three points, as explained by astrologer Mary Elizabeth Jochmans in her book Karmic Galactic Astrology:

Leo Point of Avatar (energized by the Moon): This point deals with the ability "to reach outward and upward toward the True Spiritual Self." This is the point of the Vision Holder, "who, by example, creates the Inner Sacred Space with meditation, through which energies and entities from other realms may assist and guide us as we recreate the planet." This point helps "anchor in the new energy grid" for planet Earth.

Aquarius Point of Avatar (energized by the Sun): "This point deals with innovative ideas for new etheric structures: new ways of being, seeing, feeling, knowing, hearing, and creating." We work with the ability "to see the threads of possible etheric structures and begin creating them on the etheric with mind imaging, sound, symbol, or word."

Taurus Point of Avatar (energized by Uranus): "This point deals with learning to love Self and others in a detached, unselfish, unconditional way ... giving and receiving love without expectation, cords, attachments, conditions, or demands." It also assists in "the creation of new symbols, sounds, colors, and structures" on the physical plane to help establish the new grid system on Earth.
With these three points being activated during next Sunday's Full Moon, in addition to the tensions of the T-square that will be playing out, it may be an eventful weekend. It's clear that we are at a very significant crossroads in our evolutionary timeline. No doubt we are laying the groundwork for the new energies to come in March, when Saturn enters Pisces and Pluto steps into Aquarius.
DAILY ASPECTS: Here are this week's most important planetary aspects, with my brief interpretations of each.

Monday
No major aspects are exact today.

Tuesday
No major aspects are exact today.

Wednesday
Sun sextile Chiron: We have an opportunity to focus on inner work, as we understand that insecurities are an indicator that an aspect of our being doesn't believe in itself and needs our loving attention and support.

Thursday
Venus semisquare Eris: Tensions arise in relationship if one party feels that their needs are discounted or ignored.

Friday
Sun square Uranus: The effects of Sunday's Full Moon are activated two days in advance as the Sun exactly squares Uranus today. Unsettled energies, restlessness, and even rebelliousness are expressed through unexpected actions and events.

Saturday
Venus square Mars: Relationships are tested. Tempers flare quickly if someone feels taken for granted.

Sunday
Jupiter opposite Ceres: We are aware of a strong need to express individuality and independence, but may also have difficulty saying "no" or even "maybe later" to loved ones.
Full Moon 10:28 a.m. PST: Emotions are strong and may be expressed in dramatic fashion.
*****
IF YOUR BIRTHDAY IS THIS WEEK: An inner restlessness drives you to make important changes this year. You have great energy at your disposal, once you figure out what you really want and thus can direct your vital energies with intention. Before that occurs, you may feel like you're spinning your wheels at times. Give yourself the space to try out different options before settling on a single course of action. This is also a year of healing, when you are more able to love all aspects of yourself, including any underlying insecurities you may discover. (Solar Return Sun trine Mars, sextile Chiron, square Uranus)
*****
WEBINAR REPLAY: If you missed my recent "Quantum Shift" webinar, covering the next four months and including insights into Saturn's transit of Pisces and Pluto's first steps into Aquarius – No worries! You can still purchase the video replay and monthly aspect calendars from the class. Simply send an email with "Webinar Replay" in the subject line to This email address is being protected from spambots. You need JavaScript enabled to view it. and I'll reply with details.
*****
TRANSLATION and AUDIO/VIDEO VERSION: This weekly Journal is now recorded (in English) AND the text is transcribed into 30 languages! You'll see a row of flags under "Available Languages" in the upper right. And, there are options to listen to the audio (in English) or watch a video directly beneath the photo (see top of page).
The Journal entry is usually updated by Sunday evening, with the recordings appearing late Sunday or by Monday depending on your time zone. Please share this information with those who might benefit.
*****
For previous weeks of the Astrological Journal, click here.
*****
About the Author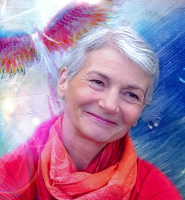 Pam Younghans is a professional astrologer, editor, and writer. She lives in a log home northeast of Seattle, Washington with her beloved animal companions. She has been interpreting charts professionally for over 25 years. If you are interested in an astrology reading, e-mail This email address is being protected from spambots. You need JavaScript enabled to view it., or leave a message at 425.445.3775.
For more information about NorthPoint Astrology offerings, please visit northpointastrology.com or visit her Facebook page.