Rainbow over Stonehenge on November 9, 2022 (by Stonehenge Dronescapes)


Written and Narrated by Pam Younghans.
Watch video version on YouTube
Current and previous weeks astrological overviews
Astrological Overview: November 14 - 20, 2022
Astrologer Pam Younghans writes this weekly astrological journal based on planetary influences, and offers perspectives and insights to assist you in making the best use of current energies. This column is not intended as prediction. Your own experience will be more specifically defined by transits to your personal chart.

Aspects of Note this Week:

All times listed are Pacific Daylight Time. (For Eastern Time, add 3 hours; For Greenwich Mean Time, add 7 hours.)
MON: Venus sesquiquadrate Chiron, Mercury sextile Pluto, Sun trine Neptune
TUE: Venus trine Jupiter, Mercury sesquiquadrate Chiron, Sun quincunx Mars, Venus enters Sagittarius, Moon in Leo square Uranus and opposite Saturn
WED: Mercury trine Jupiter
THU: Mercury enters Sagittarius
FRI: Sun sextile Pluto
SAT: Mars square Neptune, Sun sesquiquadrate Chiron
SUN: Sun trine Jupiter
****
ONWARD AND UPWARD: As the Moon wanes this week, we are both completing the current lunar cycle and wrapping up eclipse season. As such, we may be feeling a sense of urgency as we seek to clarify where we stand and what we understand. The focus is on tying up loose ends, clearing out the debris left by the storm, and more fully integrating the shifts that have occurred; and yet, we may perhaps settle for at least gaining a better perspective on recent changes, so that we feel more ready to begin the next lunar cycle.
While the greatest effect of the recent eclipses may be behind us, these cosmic events are known to influence human affairs for at least six months after their exact dates, until the next set of eclipses occurs. Because of this, we can expect to see and feel the ripple effects from these two late-2022 eclipses from now through the first quarter of 2023. In particular, there may be events that relate directly back to this eclipse season around the dates that the Sun squares the two eclipse degrees, on January 21 and February 4, 2023.
JUPITER'S STATION: The great planet Jupiter is now barely moving as it prepares to change direction next week, on November 23. When a planet comes to a standstill like this, we tend to feel its impact more profoundly.
Jupiter's current location in the final degrees of Pisces emphasizes both the positive and shadow qualities of the sign. On the one hand, spiritual and creative inspiration can be especially strong this week and next. It can be easier to feel compassion, to sense a oneness with the universe, and to tap into our intuitive knowing. However, the shadow side of Pisces may also be exaggerated: overidealism, escapism, and overindulgence.
Because of Jupiter's strength right now, all the daily aspects listed below that involve Jupiter could be underscored or put in bold print for emphasis.
DAILY ASPECTS: Here are this week's most important planetary aspects, with my brief interpretations of each.

Monday
Venus sesquiquadrate Chiron: Trust issues may surface in personal relationships today. Underlying these concerns could be a lack of trust in oneself, if we have been in a habit of not expressing our true wants and needs.
Mercury sextile Pluto: The urge to know truth is strong today. Serious conversations quickly get to the heart of the matter.
Sun trine Neptune: We are able to bring compassion and sensitivity into our interactions, even those that feel emotional or intense.

Tuesday
Venus trine Jupiter: We feel more optimistic about relationships and finances today. The only caution with this aspect is not to overpromise or over-expect, but to maintain a realistic perspective.
Mercury sesquiquadrate Chiron: Communications may not go smoothly today, if we have been holding in frustrations or do not feel free to express our opinions.
Sun quincunx Mars: Irritations are possible, especially if we do not feel someone truly understands our concerns.
Venus enters Sagittarius: Venus will be in the sign of The Archer from November 16 to December 9. During these weeks, we tend to be a bit more carefree and generous in our approach to relationships and finances. However, this transit also supports investing our hearts and monies in that which adds greater meaning to our lives, people or things that we truly believe in. The shadow side of Venus in Sagittarius is an unwillingness to commit to anything that might limit one's freedom to roam.
Moon in Leo square Uranus and opposite Saturn: We may see some fallout today related to events that occurred on November 8, when the Full Moon was conjunct Uranus and square Saturn.

Wednesday
Mercury trine Jupiter: We imagine great possibilities with this aspect. Similar to yesterday's Venus-Jupiter trine, the main caution is to keep one foot firmly based in reality as we plan for the future. A sense of humor lightens the load, as long as we do not take sardonic wit personally.

Thursday
Mercury enters Sagittarius: Mercury will be in the sign of The Archer from November 17 to December 6. This transit supports more optimistic and idealistic thinking. We are eager to discuss philosophies and what we believe, and to explore subjects that expand our minds beyond the concerns of daily life. On the shadow side of this transit, people may be more dogmatic or self-righteous about their opinions and beliefs.

Friday
Sun sextile Pluto: This aspect helps us focus on our longer-term goals and to not be distracted by matters of little consequence.

Saturday
Retrograde Mars square Neptune: Frustrations and confusion are possible today, as we may be uncertain about what we really want or where we are going. We may also feel disillusioned that we have not yet attained a desired outcome.
Sun sesquiquadrate Chiron: Old insecurities may arise about our right to have what we want. This can manifest as generalized frustration, or anger about specific issues.

Sunday
Sun trine Jupiter: With Jupiter basically at a standstill, this hopeful influence is especially strong, enabling us to sense the light even if we walk in a dark emotional place. This aspect also helps us forgive and release old attachments and resentments.
IF YOUR BIRTHDAY IS THIS WEEK: You are supported by the cosmos in many ways this coming year. Relationships or the creative arts are central to your personal experience, as are writing, communicating, teaching, and learning. Although you may deal with challenges and periodic setbacks, based on transits to your individual birth chart, your solar return chart for this year shows highly optimistic, creative, and uplifting energies are at work. And, you have the opportunities to apply yourself in ways that contribute to your sense of mission fulfillment. Enjoy! (Solar Return Sun conjunct Mercury, conjunct Venus, trine Jupiter, trine Neptune, sextile Pluto)
*****
TRANSLATION and AUDIO/VIDEO VERSION: This weekly Journal is now recorded (in English) AND the text is transcribed into 30 languages! You'll see a row of flags under "Available Languages" in the upper right. And, there are options to listen to the audio (in English) or watch a video directly beneath the photo (see top of page).
The Journal entry is usually updated by Sunday evening, with the recordings appearing late Sunday or by Monday depending on your time zone. Please share this information with those who might benefit.
*****
For previous weeks of the Astrological Journal, click here.
*****
About the Author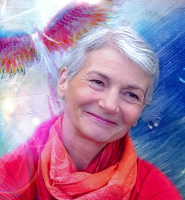 Pam Younghans is a professional astrologer, editor, and writer. She lives in a log home northeast of Seattle, Washington with her beloved animal companions. She has been interpreting charts professionally for over 25 years. If you are interested in an astrology reading, e-mail This email address is being protected from spambots. You need JavaScript enabled to view it., or leave a message at 425.445.3775.
For more information about NorthPoint Astrology offerings, please visit northpointastrology.com or visit her Facebook page.