Image of Jupiter from the James Webb telescope, processed by Judy Schmidt


Written and Narrated by Pam Younghans.
Watch video version on InnerSelf.com or watch on YouTube.
Current and previous weeks astrological overviews
Astrological Overview: September 26 - October 2, 2022
Astrologer Pam Younghans writes this weekly astrological journal based on planetary influences, and offers perspectives and insights to assist you in making the best use of current energies. This column is not intended as prediction. Your own experience will be more specifically defined by transits to your personal chart.

Aspects of Note this Week:

All times listed are Pacific Daylight Time. (For Eastern Time, add 3 hours; For Greenwich Mean Time, add 7 hours.)
MON: Mercury conjunct Venus, Sun sesquiquadrate Uranus, Sun opposite Jupiter, Sun sesquiquadrate Saturn
TUE: Mercury trine Pluto, Moon in Libra opposite Eris and square Pluto, Mars trine Saturn
WED: Jupiter semisquare Uranus
THU: Venus enters Libra, Moon in Scorpio opposite Uranus and square Saturn
FRI: No major aspects are exact today
SAT: Venus opposite Jupiter, Venus sesquiquadrate Uranus
SUN: Mercury stations direct, Venus sesquiquadrate Saturn
****
THE JUPITER EFFECT: Both the highs and the lows may seem more extreme than usual this week. The giant planet Jupiter is at perigee (closest proximity to the Earth) on Monday, at the same time that it opposes the Libra Sun and is activating the Saturn-Uranus square. This is the closest Jupiter has been to the Earth in fifty-nine years, making this event even more significant.
Jupiter's effect is to magnify whatever it touches, so conflicts are exaggerated now, situations develop rapidly, and time may seem to move especially quickly. With Jupiter in assertive/aggressive Aries, people can be easily irritated, and impulsive or rash behaviors are possible. Legal, moral, ethical, philosophical, and religious battles are likely to dominate headlines, since these are areas ruled by Jupiter. These manifestations may be especially pronounced in the first half of the coming week, but may extend into October as well.
TIGHTROPE WALKING: This time frame and its consequences are specifically why I chose the "walking the tightrope" metaphor as the theme for my recent class. When walking a tightrope, there are specific rules to follow to ensure safe passage. If we follow these rules now, symbolically, it will help us navigate the current landscape.
Walking a tightrope requires:
Focused attention

A good center of gravity

Calmness and courage

A relaxed body

Looking straight ahead, toward the endpoint, not down and not at the rope

Small steps, flexible knees
​It is also significant that a tightrope is actually the shortest distance between two points. This may be an example of "be careful what you wish for," since so many of us have been asking for increased personal and spiritual growth!
RELATIONSHIP AND FINANCIAL SHIFTS: Venus enters Libra on Friday. This is a transit that occurs once a year, and generally indicates a time when we focus on creating harmony and balance in partnerships and in our financial worlds. Skills of negotiation are enhanced and we aim for consensus as needed to maintain the peace.
However, next weekend, Venus will oppose Jupiter and be in hard aspect to Saturn and Uranus, all of which is likely to cause imbalance. Jupiter in Aries magnifies a need for independence and autonomy, making it hard to find true accord. At the same time, Venus' activation of the Saturn-Uranus square indicates both a reality check and perhaps unexpected changes in alliances and in the economy.
In essence, these hard aspects involving the planet of Love and Beauty require that we gain new clarity on what we truly value, both materially and in our personal relationships. On the road to that greater clarity, we may at first go to extremes, either being more acquiescent or more demanding than is true to our nature (Venus opposite Jupiter). Then, as Venus aspects Uranus, a restlessness sets in, an awareness of where we have not been authentic and must now make corrections. Finally, the Venus-Saturn aspect brings a greater objectivity to the situation, compelling us to make decisions about our best next steps.
THIS WEEK'S DAILY ASPECTS: Here are this week's important planetary aspects, along with my brief interpretations of each. I am including the Moon's hard aspects to Saturn, Uranus, Pluto, and Eris since the Moon can act as a "trigger" for the energies of the longer-term Saturn-Uranus and Pluto-Eris squares.

Monday
Retrograde Mercury conjunct Venus: Conversations with friends or loved ones may rehash issues that have been discussed before, but hopefully with a greater ability to communicate from the heart.
Sun sesquiquadrate Uranus, Sun opposite Jupiter, Sun sesquiquadrate Saturn: Restlessness, a desire for change, and a resistance to the new all converge today. Reactions can be extreme, so do your best to find and respond from your internal center of gravity.

Tuesday
Mercury trine Pluto: Secrets may be revealed, as we become clearer on our own and other's motivations. It is easier to be honest about our true feelings, which may result in a significant change in our plans.
Moon in Libra opposite Eris and square Pluto: Controversies and emotional upsets are likely, due to an inability to relinquish the need for control.
Mars trine Saturn: This harmonious aspect represents the ability to have both the courage and the stamina to "go the distance."

Wednesday
Jupiter semisquare Uranus: Jupiter is magnifying the Saturn-Uranus square energies with this aspect. We are impatient, tired of playing it safe. At the same time. we may also feel fear about taking a leap into the unknown.

Thursday
Venus enters Libra: The desire for equality and harmony within relationships is central throughout the twenty-four days that Venus is in the sign of Libra (September 29 to October 23).
Moon in Scorpio opposite Uranus and square Saturn: Deep emotions that have been repressed may arise suddenly today. Any outbursts are subject to immediate criticism or discipline.

Friday
No major aspects are exact today.

Saturday
Venus opposite Jupiter, Venus sesquiquadrate Uranus: If we promise more than we can authentically deliver, we will feel very restless and rebellious today.

Sunday
Mercury stations direct: With Mercury in practical Virgo, we are very focused now on what will be the most efficient and effective way to go forward.
Venus sesquiquadrate Saturn: This aspect represents a reality check regarding either relationship or financial concerns.
*****
IF YOUR BIRTHDAY IS THIS WEEK: This year, the Venus themes of relationships, aesthetics, or finances are central to your experience and your purposes. You are learning how to be true to your own values, and to truly value yourself, within these areas. Along the way, you may encounter some old wounds about self-belief and self-worth. If these arise, they are a signal that a part of you is needing your attention, the part of you that knows what is best for you. It may be that you have for too long said "yes" when your gut was telling you to say "no." Do your best to listen to that voice this year, and to honor and accept its messages. (Solar Return Sun conjunct Venus, opposite Jupiter, opposite Chiron)
*****
WEBINAR REPLAY: If you missed my recent "Walking the Tightrope" webinar, and you'd like to know what the planets have in store for the rest of 2022, please let me know! The video replay and class materials, including the calendars and a pdf of the slideshow, are available for purchase. Just send an email with "Webinar Replay" in the subject line to This email address is being protected from spambots. You need JavaScript enabled to view it., and I'll reply with details. Thanks!
*****
TRANSLATION and AUDIO/VIDEO VERSION: This weekly Journal is now recorded (in English) AND the text is transcribed into 30 languages! You'll see a row of flags under "Available Languages" in the upper right. And, there are options to listen to the audio (in English) or watch a video directly beneath the photo (see top of page).
The Journal entry is usually updated by Sunday evening, with the recordings appearing late Sunday or by Monday depending on your time zone. Please share this information with those who might benefit.
*****
For previous weeks of the Astrological Journal, click here.
*****
About the Author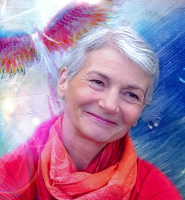 Pam Younghans is a professional astrologer, editor, and writer. She lives in a log home northeast of Seattle, Washington with her beloved animal companions. She has been interpreting charts professionally for over 25 years. If you are interested in an astrology reading, e-mail This email address is being protected from spambots. You need JavaScript enabled to view it., or leave a message at 425.445.3775.
For more information about NorthPoint Astrology offerings, please visit northpointastrology.com or visit her Facebook page.