Image by Ira Gorelick


Written and Narrated by Pam Younghans.
Watch video version on InnerSelf.com or watch on YouTube.
Current and previous weeks astrological overviews
Astrological Overview: September 19 - 25, 2022
Astrologer Pam Younghans writes this weekly astrological journal based on planetary influences, and offers perspectives and insights to assist you in making the best use of current energies. This column is not intended as prediction. Your own experience will be more specifically defined by transits to your personal chart.

Aspects of Note this Week:

All times listed are Pacific Daylight Time. (For Eastern Time, add 3 hours; For Greenwich Mean Time, add 7 hours.)
MON: Mercury sesquiquadrate Uranus, Venus trine Uranus
TUE: Moon in Cancer square Eris and opposite Pluto, Venus quincunx Saturn
WED: Jupiter semisquare Saturn
THU: Moon in Leo square Uranus and opposite Saturn, Sun enters Libra/Equinox, Sun conjunct retrograde Mercury
FRI: Mercury enters Virgo
SAT: Venus opposite Neptune
SUN: New Moon in Libra at 2:54 pm PDT, Venus trine Pluto
****
SOLAR ACTIVITY: The sun has been very active in the last three days, erupting in four major (M-class) solar flares within that short period. Solar activity such as this can have a strong effect on those who are sensitive; scientific studies show that the nervous and circulatory systems can be affected, resulting in both physical and behavioral symptoms.
Because solar flares also affect the pineal gland, known as the Third Eye in esoteric traditions, there are spiritual effects possible when we have major solar events, including an expansion of consciousness. Some resources state that solar flares help decalcify the pineal gland, which is one of the reasons for physical symptoms such as headaches that can accompany major flares. And, the heightened emotions that arise during strong solar activity are said to be part of a detox process being initiated at a cellular level, where we store unprocessed emotions.
If you are navigating any challenging symptoms right now, please be gentle with yourself, drink plenty of water, and take the time for some good, healthy, self-care activities. If any issues are concerning you, of course share them with a trusted healthcare provider.
LIBRA EQUINOX: Sacred sites across the globe are testament to humanity's long history of honoring the change of seasons: Machu Picchu, Stonehenge, Chichen Itza, the Sphinx, Chaco Canyon, Newgrange, and others. While the Sun's ingress into Libra this week is a worldwide event, it has a somewhat different meaning depending on whether we live in the Northern or Southern Hemisphere: north of the equator, the Libra Equinox on September 22-23 marks the first day of autumn; south of the Earth's equatorial line, people will be celebrating the beginning of spring.
The astrological chart drawn for the "birth" of either an equinox or a solstice is said to indicate general themes for humanity for the new season. The chart for this year's Libra Equinox, at 6:04 pm PDT on September 22, shows the Sun in very tight conjunction with retrograde Mercury. Introspection and review are thus essential over the next three months, since much will be revealed of importance as we go within and become more observant and mindful. We may realize an inner truth that we may not have seen before, which in turn will alter our perspectives and plans for the future. With the Sun also widely conjunct Venus at the equinox, relationships, the economy, and our personal values are specific areas of focus.
However, the Sun is also opposing Jupiter in Aries and Neptune in Pisces in the equinox chart. These polarizing aspects indicate strong philosophical differences, self-righteous tendencies, and impatience (Jupiter), along with a tendency not to see situations clearly, to be overly idealistic or seduced by glamor, and then to experience disillusionment (Neptune).
Thankfully, the Sun is also in harmonious trine aspect to Pluto in the equinox chart. This aspect carries the inspiration and determination to follow one's passion and to fully dedicate oneself to a higher mission.
NEW MOON: This month's New Moon occurs just three days after the equinox, and thus contains the same solar aspects just mentioned. Of special significance, however, is that the Sun and Moon are in a very tight opposition to Jupiter, with all three at the midpoint of Saturn and Uranus (Jupiter at the near midpoint, the Sun/Moon at the far midpoint of the zodiac wheel).
This means that the "convergence zone" I wrote about last week is being powerfully activated with next Sunday's New Moon. We can expect heightened social tensions, driven by the conflict between past and future, between governments and individuals, between that which is considered "reasonable" and that which is judged as "outlandish." And, with the New Moon conjunct Mercury, nervous energy is likely to be very high.
The lunation occurs at 2:54 pm PDT on September 25, 2022. At that time, the Sun and Moon will both be at 02°49´ Libra.
On a very positive note, this New Moon will activate the energies of the fixed star Iota Crateris. Astrologer Rodrick Kidston provides some background on this often-ignored star, writing in his book The Magic of the Stars:
"Iota Crateris is one of the stars of great blessing. There is great aspiration with this star, true spirituality, overflowing optimism and generosity. Although there can be unskillful, egoistic expressions of its gifts, usually it is about refining the soul and building up talents to their highest and best.

"Iota Crateris can bring much, but you will do best and brightest with this star if you remember to keep it real. Remember you are only a human, even as you reach for the stars. This star opens up the true High Road of Spirit, but it is beset by perils for the ill-prepared, arrogant and careless. When you figure out how to take this glory road with true understanding, skill and grace, the Divine Grace comes flooding down and lifts you up as high as you are able to rise."
THIS WEEK'S DAILY ASPECTS: Here are this week's important planetary aspects, along with my brief interpretations of each. I am including the Moon's hard aspects to Saturn, Uranus, Pluto, and Eris since the Moon can act as a "trigger" for the energies of the longer-term Saturn-Uranus and Pluto-Eris squares.

Monday
Mercury sesquiquadrate Uranus: This aspect may manifest as missed connections, miscommunications, or computer errors, especially with Mercury currently retrograde.
Venus trine Uranus: This aspect helps us be flexible and allowing of differences in personal relationships.

Tuesday
Moon in Cancer square Eris and opposite Pluto: Emotions that have been suppressed or repressed may abruptly surface today, resulting in impulsive actions and hurt feelings.
Venus quincunx Saturn: This aspect represents a reality check in either financial or relationship matters that reveals the need for an adjustment. This could be a need to tighten a budget or to change our expectations of another person.

Wednesday
Jupiter semisquare Saturn: Jupiter is magnifying the Saturn-Uranus square energies with this aspect. We may be tired of playing it safe but also fearful of taking a leap into the unknown.

Thursday
Moon in Leo square Uranus and opposite Saturn: Unexpected or dramatic events can bring up fears and uncertainties.
Sun enters Libra/Equinox: The Equinox occurs at 6:04 pm PDT, setting general themes for the next three months.
Sun conjunct Mercury: This conjunction activates our minds and a need to communicate. With Mercury retrograde, we may want to use this influence to engage in mindfulness meditations or to write our thoughts in a personal journal.

Friday
Retrograde Mercury re-enters Virgo: As Mercury revisits Virgo, we are being asked to reconsider the details of any plans and projects we are currently involved in.

Saturday
Venus opposite Neptune: Our perceptions of others or of a relationship may be foggy today. A desire to see only the best in another person can cloud the ability to see red flags. Be aware of a tendency to try to rescue another person, which may not be for their highest good. This opposition requires that we understand the true definition of unconditional love: the ability to hold the frequency of love under all conditions.

Sunday
New Moon: The Libra New Moon occurs at 2:54 pm PDT.
Venus trine Pluto: The desire to deepen a relationship with a significant other is strong, inspiring new levels of honesty and intimacy.
*****
IF YOUR BIRTHDAY IS THIS WEEK: This year, it will be important to pay close attention to your intuition, and to spend time in reflection before making major decisions or initiating important conversations. At the same time, idealism and impulsiveness are high, which can result in taking a leap of faith that may not land you exactly where you had anticipated. Do your best not to make decisions in haste or to because of a need to meet a deadline. Measured actions, after thoughtful review and taken in alignment with your soul's purpose and higher mission, should bring benefits. (Solar Return Sun conjunct retrograde Mercury, opposite Jupiter, opposite Neptune, trine Pluto)
*****
WEBINAR GRATITUDE: My thanks to everyone who registered and attended my "Walking the Tightrope" webinar last week! I hope you all enjoyed and will continue to benefit from my insights into the rest of 2022.

If you registered for the class, you should have received the replay links and materials by email, both Wednesday night late and again on Thursday morning. Please contact either me or Elsie Kerns if you're not finding those emails in your inbox.

If you missed the class, no worries! You can still purchase the video replay and class materials, including all the calendars. Just send an email with "Webinar Replay" in the subject line to This email address is being protected from spambots. You need JavaScript enabled to view it., and I'll reply with details.
*****
TRANSLATION and AUDIO/VIDEO VERSION: This weekly Journal is now recorded (in English) AND the text is transcribed into 30 languages! You'll see a row of flags under "Available Languages" in the upper right. And, there are options to listen to the audio (in English) or watch a video directly beneath the photo (see top of page).
The Journal entry is usually updated by Sunday evening, with the recordings appearing late Sunday or by Monday depending on your time zone. Please share this information with those who might benefit.
*****
For previous weeks of the Astrological Journal, click here.
*****
About the Author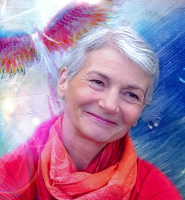 Pam Younghans is a professional astrologer, editor, and writer. She lives in a log home northeast of Seattle, Washington with her beloved animal companions. She has been interpreting charts professionally for over 25 years. If you are interested in an astrology reading, e-mail This email address is being protected from spambots. You need JavaScript enabled to view it., or leave a message at 425.445.3775.
For more information about NorthPoint Astrology offerings, please visit northpointastrology.com or visit her Facebook page.