Image by Erik Karits

Narrated by Pam Younghans.
Watch video version on InnerSelf.com or watch on YouTube.
Current and previous weeks astrological overviews
Astrological Overview: September 12 - 18, 2022
Astrologer Pam Younghans writes this weekly astrological journal based on planetary influences, and offers perspectives and insights to assist you in making the best use of current energies. This column is not intended as prediction. Your own experience will be more specifically defined by transits to your personal chart.

Aspects of Note this Week:

All times listed are Pacific Daylight Time. (For Eastern Time, add 3 hours; For Greenwich Mean Time, add 7 hours.)
MON: Sun quincunx Saturn
TUE: Venus sesquiquadrate Pluto
WED: Moon in Taurus conjunct Uranus and square Saturn
THU: Neptune quincunx Ceres
FRI: Venus square Mars, Sun opposite Neptune
SAT: Mars sextile Chiron
SUN: Mercury opposite Jupiter, Sun trine Pluto, Mercury sesquiquadrate Saturn
****
CONVERGENCE ZONE: We are headed into a planetary "convergence zone" as we enter the last half of September. The Saturn-Uranus square, which was exact to the degree three times in 2021, is once again in effect, only one degree shy of being exact this Wednesday, September 14.
The Saturn-Uranus square represents the tension between existing social and governmental laws and structures (Saturn) and the need for progress and individual freedoms (Uranus). This aspect has been a driving force behind much of the political divisiveness, restrictions and rebellions, and social unrest that were very strong throughout 2021. On a personal level, this square represents the inner conflicts we each deal with as we contemplate major life changes (Uranus) but also are aware of a need for stability and consistency (Saturn).
As we work with this influence, we may feel a lot of nervous energy and restlessness, and an urgent need to break free from some limitation, whether imposed by society or by our own egos. At the same time, we may be very aware of a resistance to change and a fear of unknown futures.
Magnifying the effects of this square, the great planet Jupiter, currently in Aries, is moving across the Saturn-Uranus midpoint. The midpoint is a sensitive point halfway between two planets. When activated, it triggers the energies of both of the planets, as well as any aspect those two planets might be making to each other.
Throughout this month and next – and especially for the next three to four weeks – one of our primary challenges will be to find a level of comfort with changing circumstances (Uranus in Taurus). At the same time, it will be important to be circumspect so that the future we create has a strong foundation and will not crumble when tested (Saturn in Aquarius). As we deal with these challenges, we will benefit by aligning our actions with what we believe in, that adds to our sense of meaning in life (Jupiter in Aries).

THIS WEEK'S DAILY ASPECTS: Here are this week's important planetary aspects, along with my brief interpretations of each. I am including the Moon's hard aspects to Saturn, Uranus, Pluto, and Eris since the Moon can act as a "trigger" for the energies of the longer-term Saturn-Uranus and Pluto-Eris squares.

Monday
Sun quincunx Saturn: We may feel that we are not as efficient or as effective as we would like today. Be aware of any tendency to be critical or self or other.

Tuesday
Venus sesquiquadrate Pluto: Relationships are challenged today by feelings of possessiveness or jealousy, or by attempts to manipulate or otherwise control a loved one.

Wednesday
Moon in Taurus conjunct Uranus and square Saturn: The urge for freedom and spontaneity conflicts with the need for consistency, resulting in erratic behaviors and frustrations.

Thursday
Neptune quincunx Ceres: Unrealistic expectations driven by emotional neediness can result in disappointment or disillusionment in relationships, especially within the family circle.

Friday
Venus square Mars: People may have strong reactions or be especially demanding today. This aspect represents a conflict between our assertive nature and a need for cooperation.
Sun opposite Neptune: We are very impressionable today, leading to confusion and misunderstandings if we do not maintain boundaries and objectivity.

Saturday
Mars sextile Chiron: Self-confidence comes more readily today, making this a good day to take independent action.

Sunday
Mercury opposite Jupiter and sesquiquadrate Saturn: With Mercury now retrograde, it will be important to take our time with any decisions or communications today, despite an urge to take a leap of faith.
Sun trine Pluto: We are very aware of our deeper motivations today, which can help us focus our energies and apply willpower as needed to achieve our goals.
*****
IF YOUR BIRTHDAY IS THIS WEEK: This year, the desire for new experiences is a strong factor in your decisions. For the most part, you are able to understand your deeper truth, which can help you align your actions with a knowing of your higher purpose. However, there is the possibility of disillusionment if you are expecting perfection in yourself, in others, or in the unfolding of your plans. The major lessons of your new year are primarily spiritual: can you let go of needing to be in control, needing to know all the details, or being assured of certain outcomes? Instead, can you strengthen your faith in higher purposes, increase your trust that you will be guided, and actively use your intuition instead of relying solely on logic? (Solar Return Sun trine Uranus, opposite Neptune, trine Pluto)
*****
CLASS THIS WEDNESDAY: If you want to know what the planets have to say about the rest of 2022, please join us for my "Walking the Tightrope" webinar this Wednesday, September 14! During the class, I'll talk about the major influences in effect for the next four months and also go through each month, week by week, to explain the shorter-term energies we'll be working with. You'll see a lot of dragonfly imagery in the class materials, symbolizing transformation and new perspectives.

I hope you can join us! The class will be recorded for replay, so no worries if you can't attend the class live. Here's the link to register, and you can also read the full description in the right-hand column: https://tightrope2022.eventbrite.com . See you on Wednesday!
*****
TRANSLATION and AUDIO/VIDEO VERSION: This weekly Journal is now recorded (in English) AND the text is transcribed into 30 languages! You'll see a row of flags under "Available Languages" in the upper right. And, there are options to listen to the audio (in English) or watch a video directly beneath the photo (see top of page).
The Journal entry is usually updated by Sunday evening, with the recordings appearing late Sunday or by Monday depending on your time zone. Please share this information with those who might benefit.
*****
For previous weeks of the Astrological Journal, click here.
*****
About the Author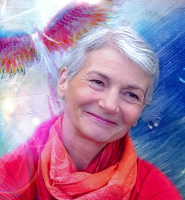 Pam Younghans is a professional astrologer, editor, and writer. She lives in a log home northeast of Seattle, Washington with her beloved animal companions. She has been interpreting charts professionally for over 25 years. If you are interested in an astrology reading, e-mail This email address is being protected from spambots. You need JavaScript enabled to view it., or leave a message at 425.445.3775.
For more information about NorthPoint Astrology offerings, please visit northpointastrology.com or visit her Facebook page.