Image by Prettysleepy Art


Narrated by Pam Younghans.
Watch video version on InnerSelf.com or watch on YouTube.
Current and previous weeks astrological overviews
Astrological Overview: September 5 - 11, 2022
Astrologer Pam Younghans writes this weekly astrological journal based on planetary influences, and offers perspectives and insights to assist you in making the best use of current energies. This column is not intended as prediction. Your own experience will be more specifically defined by transits to your personal chart.

Aspects of Note this Week:

All times listed are Pacific Daylight Time. (For Eastern Time, add 3 hours; For Greenwich Mean Time, add 7 hours.)
MON: Venus sesquiquadrate Chiron
TUE: Saturn opposite Ceres, Moon in Capricorn square Eris and conjunct Pluto
WED: Sun quincunx Chiron
THU: Moon in Aquarius square Uranus and conjunct Saturn
FRI: Mercury stations retrograde, Mars sesquiquadrate Pluto
SAT: Sun sesquiquadrate Pluto, Full Moon 2:58 a.m. PDT, 17 Pisces 41
SUN: Sun trine Uranus
****
HARVEST MOON: Our Full Moon for September, which occurs this Saturday at 2:58 a.m. PDT, is this year's Harvest Moon. This is the name traditionally given to the Full Moon that occurs nearest to the Libra Equinox. It is a time when farmers, aided by the bright light of the Moon as it rises just after sunset, are able to work late into the night to bring in the crops.
Saturday's lunation will occur when the Moon is at 17°41´ Pisces and the Sun is at the same degree of Virgo. The closest aspect in the Full Moon chart is a sextile to Uranus, encouraging us to embrace the changes that are underway, and helping us be flexible in our expectations. This will be important, because the Full Moon is also square warrior Mars in Gemini.
MUTABLE T-SQUARE: The placement of Mars in the Full Moon chart, square both the Sun and the Moon, creates a mutable T-square configuration. This type of T-square manifests as excessive mental energy and physical restlessness, which can result in nervous system overwhelm. Since we are already working with the increased energies provided by recent solar flares and the geomagnetic storm currently underway (on Sunday-Monday, September 4-5), it will be especially important to support our physical bodies and nervous systems around the time of this Full Moon.
Mars is at the powerful "apex" position of this T-square, being located at the bottom of the stem of the letter "T" that is formed by the three planets. With Mars in intellectual Gemini, conflicts that emerge are based in contrasting ideas and life perspectives, as well as in a disagreement over "facts" and how to interpret data. Overall, energies can feel very scattered and disorganized, making it hard to ground ourselves or to feel confident in what we are doing. People may be more irritable than usual, quickly getting to a point of overwhelm or exhaustion.
To manage this T-square influence, be sure to give yourself plenty of mental breaks on Friday and Saturday. Pausing the mind, giving your eyes and nervous system a rest, can diffuse much of the inner tension that could lead to outer conflicts. It will also help to focus on finishing one task at a time, instead of scattering our energies and fragmenting our minds by trying to "multi-task."

DAILY ASPECTS: Here are this week's important planetary aspects, along with my brief interpretations of each. I am including here the Moon's hard aspects to Saturn, Uranus, Pluto, and Eris since the Moon can act as a "trigger" for the energies of the longer-term Saturn-Uranus square and Pluto-Eris square.

Monday
Venus sesquiquadrate Chiron: Relationships and finances are unreliable today. Powers of discernment in these areas are undermined by latent insecurities.

Tuesday
Saturn opposite Ceres: A longing for attention and affection goes unsatisfied today, as loved ones can appear to be aloof and uncaring. Practical forms of nurturing are not acceptable to those who wish for more emotional demonstrations of caring.
Moon in Capricorn square Eris and conjunct Pluto: Emotions are intense as conflicts arise between authority figures and those who feel their individual rights are being ignored.

Wednesday
Sun quincunx Chiron: Resentments and anger are triggered if we feel criticized or controlled.

Thursday
Moon in Aquarius square Uranus and conjunct Saturn: It may seem that the progress we long for is taking too long or might never occur. A pessimistic attitude can trigger rebellious or erratic behaviors, based in the belief that "there's nothing left to lose."

Friday
Mercury stations retrograde: Mercury will be retrograde from September 9 to October 2. Until September 23, the Messenger Planet will be traveling backward through the early degrees of Libra; then, on the 23rd, Mercury will re-enter Virgo. While Mercury is retrograde in Libra, decisions may be especially hard to reach, as both (or all) sides of a question seem to have equal validity and value. This is also an opportunity to review relationships or relating patterns, helping us see and weed out any tendencies to codependency.
Mars sesquiquadrate Pluto: People are especially inflexible in their opinions today, making power struggles likely.

Saturday
Full Moon 2:58 a.m. PDT, 17 Pisces 41: We may feel especially idealistic or compassionate with this lunation in Pisces, but with the Sun in Virgo, it is wise to use discernment at this time, to find a balance between the spiritual and the practical perspectives.

Sunday
Sun trine Uranus: We are inspired to break free of old routines and to experiment with new possibilities today.
*****
IF YOUR BIRTHDAY IS THIS WEEK: This year, a need for greater freedom of expression inspires you to consider new alternatives in some area of your life. At first, you may deal with frustration when things don't go as "perfectly" as planned. Detours, although they may irritate you, provide an opportunity to break out of old patterns. Routine behaviors based in the need to be efficient and productive may actually have undermined your deeper fulfillment by limiting your options. This year is an opportunity to observe those habitual ways of acting and to incorporate more flexibility into your approach to life. (Solar Return Sun square Mars, trine Uranus)
*****
TEN DAYS FROM TODAY! My "Walking the Tightrope" webinar airs live in less than two weeks! Please join us on Wednesday, September 14, when I'll be talking about what we can expect from the planets from now until the end of 2022. The class will be recorded for replay, so no worries if you cannot attend live.

For the full description and link to register, please visit https://tightrope2022.eventbrite.com. I hope you can join us!
*****
TRANSLATION and AUDIO/VIDEO VERSION: This weekly Journal is now recorded (in English) AND the text is transcribed into 30 languages! You'll see a row of flags under "Available Languages" in the upper right. And, there are options to listen to the audio (in English) or watch a video directly beneath the photo (see top of page).
The Journal entry is usually updated by Sunday evening, with the recordings appearing late Sunday or by Monday depending on your time zone. Please share this information with those who might benefit.
*****
For previous weeks of the Astrological Journal, click here.
*****
About the Author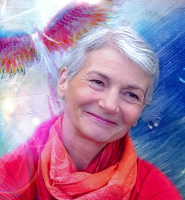 Pam Younghans is a professional astrologer, editor, and writer. She lives in a log home northeast of Seattle, Washington with her beloved animal companions. She has been interpreting charts professionally for over 25 years. If you are interested in an astrology reading, e-mail This email address is being protected from spambots. You need JavaScript enabled to view it., or leave a message at 425.445.3775.
For more information about NorthPoint Astrology offerings, please visit northpointastrology.com or visit her Facebook page.