Image by ekrem

Narrated by Pam Younghans.
Watch video version on InnerSelf.com or watch on YouTube.
Current and previous weeks astrological overviews
Astrological Overview: August 22 - 28, 2022
Astrologer Pam Younghans writes this weekly astrological journal based on planetary influences, and offers perspectives and insights to assist you in making the best use of current energies. This column is not intended as prediction. Your own experience will be more specifically defined by transits to your personal chart.

Aspects of Note this Week:

All times listed are Pacific Daylight Time. (For Eastern Time, add 3 hours; For Greenwich Mean Time, add 7 hours.)
MON: Mercury trine Pluto, Sun enters Virgo
TUE: Moon in Cancer square Eris and opposite Pluto
WED: Uranus stations retrograde, Venus trine Chiron
THU: Mercury enters Libra, Moon in Leo square Uranus and opposite Saturn
FRI: Venus square Uranus, Sun square Mars
SAT: New Moon, 1:17 a.m. PDT
SUN: Venus opposite Saturn
****
THE TIME OF THE HARVEST: Priorities change this week due to the Sun making ingress into Virgo on Monday. As the new solar month begins, the sunglasses of expressive, drama-seeking, fiery Leo go back into their case and we don the spectacles of discerning, analytical, earthy Virgo. This astrological shift coincides with the end of the growing season in the Northern Hemisphere, when the crops reach the peak of their creative self-expression (Leo) and are ready to be harvested (Virgo).
The new season we are entering is when the wheat is separated from the chaff, both literally and figuratively. For many, it may be time to return from vacations and get down to business or back to school, also reflective of the shift from playful Leo to work-and service-oriented Virgo.
VIRGO NEW MOON: This shift from fire to earth gains strength next Saturday, when the New Moon in Virgo begins a new lunar cycle. However, warrior planet Mars is precisely square the Sun and Moon at the time of the lunation, so the transition may not be a smooth one.
The Virgo New Moon occurs on August 27 at 1:17 a.m. PDT, when the Sun and Moon align at 04°03´ Virgo and Mars is at 04°00´ Gemini. While New Moons are always times to set new intentions and to begin new projects, the tight square to Mars warns against acting too impulsively. We will also want to be wary of letting anger make our decisions for us, and of too forcefully promoting a personal agenda. With Mars in communicative Gemini, it will be important to think before we speak, since words spoken in haste may return to haunt us, especially after Mars goes retrograde in late October.
CONSCIOUSNESS EXPANSION: Two events this week indicate a potential for new awakenings of consciousness. The first occurs on Wednesday, when the planet Uranus comes to a standstill to change direction. Uranus, while known for instigating rebellions and radical change, is also the planetary representative of Divine Mind. As such, when Uranus is stationary and thus a very strong influence on our lives, we can take advantage of opportunities to expand our awareness beyond the rational mind's usual perceptions of reality.
Reinforcing this theme, the Sabian symbol for the fifth degree of Virgo, the location of the New Moon, reads:
"Becoming aware of nature spirits and normally unseen spiritual agencies: The opening of new levels of consciousness. The consciousness is gradually reaching beyond physical characteristics and becoming aware of energy processes."
Also significant in this respect are aspects to Mercury in the New Moon chart. Mercury, as traditional ruler of Virgo, is said to be the ruler of this lunation, and so carries extra influence in the new lunar cycle. At the time of the New Moon, Mercury is opposite both Neptune and Jupiter and also trine Pluto. These aspects deepen the capability of our rational minds (Mercury) to process profound insights (Pluto) while engaging our subtle imagination (Neptune) and pushing the limits of personal belief systems (Jupiter).
While these influences sound (and are) very hopeful with respect to humanity's evolutionary progress, it is also worthwhile to note that for some, episodes of awakening can be very disconcerting. As shared through her latest channeling of The Arcturian Group, Marilyn Raffaele writes: "When the first spark of real truth touches and opens in consciousness, it causes a period in which the person feels emotionally and mentally traumatized." For this reason, please be very kind and gentle to everyone as we work with these energies this week.

DAILY ASPECTS: Here are this week's important planetary aspects, along with my brief interpretations of each. Although I don't usually include lunar aspects in this list, due to their transitory nature, I am including here the Moon's interactions with Saturn, Uranus, Pluto, and Eris. This is because the Moon can act as a "trigger" for the energies of the longer-term Saturn-Uranus square and Pluto-Eris square, both of which are currently in effect.

Monday
Mercury trine Pluto: Our minds are capable of deeper perceptions today, and conversations may be especially profound or psychologically insightful.
Sun enters Virgo: The Sun will be in Virgo from August 22 to September 22, the day of the Libra Equinox. During this solar month, our attention is drawn to areas of our lives that are in need of improvement and our powers of discrimination are enhanced. This is a good time to begin new self-care or nutritional habits, to organize and streamline processes, and to focus on how we can best be of service in the world. We will also want to be wary of the shadow side of Virgo, which can manifest as criticalness, perfectionism, or a need to rescue or control others instead of allowing them to manage their own lives.

Tuesday
Moon in Cancer square Eris and opposite Pluto: People may be especially sensitive or defensive today.

Wednesday
Uranus stations retrograde: Uranus will be moving backward in Taurus from August 24 to January 22, 2023. During this five-month period, when the planet is actually closer to the Earth than at other times of its yearly journey, both inner and outer changes can disrupt set routines. Uranus will station at 18°55´ Taurus, so has an especially strong effect right now for anyone who has planets or points in their natal chart between 16 and 22 degrees of one of the fixed signs: Taurus, Leo, Scorpio, or Aquarius.
Venus trine Chiron: This trine encourages us to build new bonds of trust with a friend or loved one.

Thursday
Mercury enters Libra: The gift of Mercury in Libra is being fair-minded, with an ability to see all sides of an issue. The shadow manifests as indecisiveness or not sharing our truth out of a desire to please another person. Mercury will be in Libra from August 25 to September 23, and then again from October 10 to 29. This is due to Mercury's retrograde period from September 9 to October 2, during which it returns to Virgo.
Moon in Leo square Uranus and opposite Saturn: We feel torn between staying consistent and working with the status quo versus throwing out everything and starting over from scratch.

Friday
Venus square Uranus: People don't want to be tied down or limited by a loved one, even if there is a genuine caring. This can be a time of either breakthrough or breakdown in relationships, requiring each person to give each other substantial freedom and space.
Sun square Mars: Arguments are possible today, which can descend into the realms of blaming and shaming if we're not careful. Be wary of impulsive actions or words that will be hard to rescind later.

Saturday
Virgo New Moon: The new lunar cycle begins at 1:17 a.m. PDT. Initiatives that are started now will in some way reach a climax with the Full Moon on September 10. However, since Mercury goes retrograde on September 9, there may be some details that won't be ironed out until mid-October.

Sunday
Venus opposite Saturn: It may be hard to feel close to others at this time, due to feeling unappreciated or not honored in some way. This aspect can represent a reality check in either relationship or financial matters.
*****
IF YOUR BIRTHDAY IS THIS WEEK: This year, it may be hard not to act or speak impulsively. Be sure to take the time to breathe and carefully consider your options before reacting to situations that arise. Your competitive, critical nature may also be very strong, making it hard to see issues from another's point of view. Once you analyze what you really want and need, and seek to understand what may be driving the perhaps headstrong behaviors, you have plenty of energy to pursue and attain your goals. (Solar Return Sun square Mars)
*****
WALKING THE TIGHTROPE: My next webinar, entitled "Walking the Tightrope," will cover the planetary energies we'll be working with for the rest of 2022. The class will air live on Wednesday, September 14, but it will be recorded for replay if you're not able to attend on that day. I hope you can join us!

For the full description and link to register, please visit https://tightrope2022.eventbrite.com.
*****
TRANSLATION and AUDIO/VIDEO VERSION: This weekly Journal is now recorded (in English) AND the text is transcribed into 30 languages! You'll see a row of flags under "Available Languages" in the upper right. And, there are options to listen to the audio (in English) or watch a video directly beneath the photo (see top of page).
The Journal entry is usually updated by Sunday evening, with the recordings appearing late Sunday or by Monday depending on your time zone. Please share this information with those who might benefit.
*****
For previous weeks of the Astrological Journal, click here.
*****
About the Author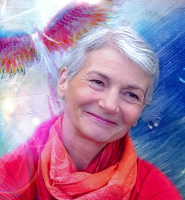 Pam Younghans is a professional astrologer, editor, and writer. She lives in a log home northeast of Seattle, Washington with her beloved animal companions. She has been interpreting charts professionally for over 25 years. If you are interested in an astrology reading, e-mail This email address is being protected from spambots. You need JavaScript enabled to view it., or leave a message at 425.445.3775.
For more information about NorthPoint Astrology offerings, please visit northpointastrology.com or visit her Facebook page.