Image by Moshe Harosh

Narrated by Pam Younghans.

Watch video version on InnerSelf.com or watch on YouTube.
Current and previous weeks astrological overviews
Astrological Overview: May 16 - 22, 2022
Astrologer Pam Younghans writes this weekly astrological journal based on planetary influences, and offers perspectives and insights to assist you in making the best use of current energies. This column is not intended as prediction. Your own experience will be more specifically defined by transits to your personal chart.

Aspects of Note this Week:

All times listed are Pacific Daylight Time. (For Eastern Time, add 3 hours; For Greenwich Mean Time, add 7 hours.)
MON: No major aspects are exact today
TUE: Mars conjunct Neptune
WED: Jupiter square Ceres
THU: Sun trine Pluto, retrograde Mercury sextile Jupiter
FRI: Sun enters Gemini
SAT: Sun conjunct retrograde Mercury
SUN: Mars sextile Pluto, retrograde Mercury re-enters Taurus
****
TOTAL LUNAR ECLIPSE: If weather and location allow, I hope you are able to view the Total Lunar Eclipse tonight! The effects of the event are strongest today and tomorrow, but will continue to play out as eclipse season continues over the next two weeks. This eclipse is also setting themes that will in some way be active in our lives for the next six months.

One theme to be aware of with this event is that it is activating a detox process that may not necessarily be comfortable. With the Moon conjunct the karmic South Node in Scorpio, this eclipse is making us aware of old emotional patterns and attachments that are no longer working and thus are best discarded.

Although we might think that "letting go of what no longer works" should be fairly straightforward, the shadow side of Scorpio is known for holding onto emotions and situations long past their expiration date. We become comfortable with what is and what has been, even if it is not healthy.
THE SCORPIO SHADOW: We have a profound example of this shadow side of Scorpio as we view the progress of an elephant rescue mission that is now unfolding. Two elephants, a mother and daughter, were transported from their cement pit in a zoo in Argentina to Elephant Sanctuary Brazil, a natural habitat of 2,800 acres for elephants who have been in captivity and need physical and emotional healing.
After a six-day transport across South America, the two arrived at the sanctuary last Thursday. One might expect that the elephants would enjoy their new freedom without hesitation. But mother Pocha has spent the majority of her 55 years in the cement pit, having been taken there in 1968. Daughter Guillermina, now 22 years old, has known only cement beneath her feet her entire life. As such, even once the doors on their transport containers were opened, it took almost eight hours for them both to be comfortable stepping out onto the earth.
When they finally left their containers, the first thing both of them did was to enjoy the elephant tradition of dirt bath, using the huge pile of dirt provided by the caregivers. To have lived in a cement world means that they did not have dirt or mud to bathe in, a necessity for elephants. To make up for decades of lost time, both girls spent a good portion of their first night throwing trunkfuls of dirt up over their backs, again and again and again.
Mother and daughter are currently in a very protected "barn" area of the sanctuary grounds, where there is structure around them that helps them feel safe. The barn has two openings to much larger fields, so the girls can run free as soon as they wish. But the Scorpio shadow is still at work, and while daughter Guille has stepped out onto the field a couple of times very briefly, she quickly returned to the safety and familiarity of the enclosed area. The humans who run the sanctuary are very savvy about the emotional wounds of elephants who have been in captivity, and thus provide opportunity for the girls to explore but do not insist that they do so before they are ready.

My point in telling this story, other than to share something that has deeply touched my heart, is to acknowledge how challenging it can be to move beyond what is familiar, even when the new promises to be much more fulfilling and life-affirming. And yet, tonight's Scorpio Total Lunar Eclipse is asking us to do this difficult task – to leave behind the old patterns and fears, to release attachment to what is familiar but toxic in our lives.

MARS-NEPTUNE CONJUNCTION: The uncertainty being demonstrated by Pocha and Guille also appears in the form of a Mars-Neptune conjunction that perfects on Tuesday this week. These two planets are not usually considered compatible, as Mars represents individuality and desire and Neptune is the planet of oneness and surrender. When they align, we may feel less confident than usual, unsure of what to do or even what we want.
However, there are also positive potentials in this alignment. It enables us to harness the courage and energy necessary to act (Mars) in accordance with our compassion and spiritual values (Neptune). Working well together, Mars and Neptune can inspire nonviolent resistance and help us initiate actions that will dissolve walls and bring people together.
DAILY ASPECTS: Here is a list of the noteworthy planetary aspects that are occurring this week, along with my brief interpretations:
Monday
No major aspects are exact today.
Tuesday
Mars conjunct Neptune: This conjunction in Pisces can help us initiate a new creative project. It also supports actions that are motivated by compassion and spiritual values.
Wednesday
Jupiter square Ceres: We may feel emotionally vulnerable this week. This can cause us to become overly protective in some way, or to react defensively. Healthy self-nurturing is very important now. Be aware of a tendency to use food as a source of comfort.
Thursday
Sun trine Pluto: Our values are aligned with our goals today, helping us accomplish important tasks.
Retrograde Mercury sextile Jupiter: With Mercury retrograde, this aspect is best used introspectively, helping us realize what we truly believe in.
Friday
Sun enters Gemini: A sharing of ideas and a variety of mental activities are central themes during the month of Gemini, which will last until the Sun enters Cancer at the solstice on June 21.
Saturday
Sun conjunct retrograde Mercury: This conjunction helps us focus inward, to discover more about what we define as our personal truth. A good day for journal writing.
Sunday
Mars sextile Pluto: Opportunities today for taking action on longer-term goals that are in sync with our creative or spiritual values.
Retrograde Mercury re-enters Taurus: This regress of Mercury to the previous sign indicates that there are practical matters we may need to attend to before we can proceed with certain projects.

*****
IF YOUR BIRTHDAY IS THIS WEEK: This year calls you to spend time in introspection, to clarify your truth and core values. Certain limitations may be in place that help you focus on this task. Once you gain internal clarity in these areas, there are significant opportunities for action. You will have both the courage and the compassion needed to take steps to manifest your larger life purpose. (Solar Return Sun conjunct retrograde Mercury, sextile Mars, square Saturn, trine Pluto)
*****
THANKS TO ALL! It was great to see so many of you at my "Metamorphosis" webinar last Monday! I hope you enjoyed the class, and will find the insights helpful as you journey through these next four months.

If you missed the class, no worries! You can still purchase the video replay and class materials. Just send an email with "Webinar Replay" in the subject line to [email protected] astrology.com, and I'll reply with details. Thanks!
*****
TRANSLATION and AUDIO/VIDEO VERSION: This weekly Journal is now recorded (in English) AND the text is transcribed into 30 languages! You'll see a row of flags under "Available Languages" in the upper right. And, there are options to listen to the audio (in English) or watch a video directly beneath the photo (see top of page).
The Journal entry is usually updated by Sunday evening, with the recordings appearing late Sunday or by Monday depending on your time zone. Please share this information with those who might benefit.
*****
For previous weeks of the Astrological Journal, click here.
*****
About the Author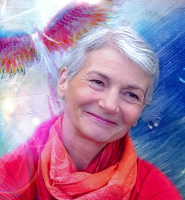 Pam Younghans is a professional astrologer, editor, and writer. She lives in a log home northeast of Seattle, Washington with her beloved animal companions. She has been interpreting charts professionally for over 25 years. If you are interested in an astrology reading, e-mail This email address is being protected from spambots. You need JavaScript enabled to view it., or leave a message at 425.445.3775.
For more information about NorthPoint Astrology offerings, please visit northpointastrology.com or visit her Facebook page.