Morning aurora over Læsø, Denmark. Photo taken by Ruslan Merzlyakov on April 28, 2022.

Narrated by Pam Younghans.

Watch video version at InnerSelf.com or watch on YouTube.
Current and previous weeks astrological overviews
Astrological Overview: May 2 - 8, 2022
Astrologer Pam Younghans writes this weekly astrological journal based on planetary influences, and offers perspectives and insights to assist you in making the best use of current energies. This column is not intended as prediction. Your own experience will be more specifically defined by transits to your personal chart.

Aspects of Note this Week:

All times listed are Pacific Daylight Time. (For Eastern Time, add 3 hours; For Greenwich Mean Time, add 7 hours.)
MON: Venus semisquare Uranus, Venus enters Aries, Mars semisquare Pluto
TUE: Jupiter sextile Pluto, Sun semisquare Jupiter
WED: Mars sextile Uranus
THU: Sun conjunct Uranus, Mercury sextile Venus
FRI: Saturn sextile Eris
SAT: Sun sextile Mars
SUN: No major aspects are exact today
****
WE NOW JOURNEY in the land between eclipses, a two-week period that always feels somewhat surreal. During this time, especially as we get closer to the Scorpio Total Lunar Eclipse on May 15, emotions may be intensified, with both highs and lows coming in waves. Like Alice after she goes through the looking glass, we can feel like a traveler in a very strange, moody land.

The Sun celebrated yesterday's partial Solar Eclipse by erupting with several significant solar flares. Over the course of two days, April 29 and 30, there were six moderate M-class flares and one major X-class flare.

Eclipses and solar activity are both agents of transformation, initiating a detox process on many levels of our beings. As we move through these events, we can experience physical, emotional, and mental symptoms that correspond with the energy patterns that these events are helping release and transmute. Be sure to employ good self-care throughout this eclipse season, and be gentle and kind with yourself and others!
TWO SEXTILE ASPECTS highlight our planetary aspects this week. Sextiles are harmonious aspects that occur when two planets are separated by 60 degrees. They are not usually considered strong influences. However, the two sextiles that occur this week both involve outer planets, giving them more significance. Since these aspects involve slower-moving planets, their influence is longer term, over weeks rather than just days.
The first such aspect perfecting this week is Tuesday's Jupiter-Pluto sextile. This influence provides opportunities for us to strengthen our beliefs and our understanding of life's meaning. It can increase idealism, providing access to optimism and hope (Jupiter in Pisces), especially in regard to our ability to accomplish our life's mission (Pluto in Capricorn). This sextile also enables us to move through a process of transformation with greater faith, a very supportive influence as we move through this eclipse season.
THE SECOND SEXTILE of note this week is between Saturn and the dwarf planet Eris. These two planets express very different qualities, making us wonder how exactly they might work well together. Saturn in Aquarius is the responsible one, practical and disciplined, focused on what needs to be done to achieve long-term goals and progress. Eris, the goddess of discord, tends to be more focused on its own individual needs as it moves through Aries. It is more impulsive, the maverick who often acts in ways that stir up controversy.
But, when in harmonious relationship, Saturn provides structure and patience, while Eris provides energy and initiative. This effect is somewhat like a sextile between Saturn and Mars, which helps us know when to step on the gas and when to apply the brake. The Saturn-Eris sextile perfects on Friday, providing opportunities for us to make steady progress that is in keeping with our personal goals. It also can strengthen our courage when making serious decisions about the future.
OVERALL, this week's planetary energies seem designed to energize us and to help us move forward. Most significant are the positive interactions between Mars, Uranus, and the Sun that occur in the second half of this seven-day period. During this time, the Sun and Uranus conjoin and both planets are sextile Mars.
At the center of this three-way cosmic dance is the Sun-Uranus alignment in Taurus, which is exact on Thursday. Any time Uranus is activated, we can "expect the unexpected," as events tend to happen that are both sudden and surprising. On a personal level, this Sun-Uranus influence can help liberate us in some way, breaking us free from restrictions and old habit patterns that we've clung to because they were comfortable (Taurus).
With Mars also on the dance floor, the tempo of the music speeds up. Mars is the planet of courage and initiative, the Energizer bunny that provides the fuel needed for making the changes being dramatized by the Sun-Uranus conjunction. The main caution with this combination of planets is that some people may be too impetuous, not truly considering long-term ramifications. However, Friday's Saturn-Eris sextile hopefully will help us channel these impulsive energies constructively, while keeping one eye on the future.

DAY BY DAY, here are this week's highlighted planetary aspects:
Monday
Venus semisquare Uranus, Venus enters Aries: Relationships are under pressure to change now, especially if they have been feeling too restrictive. While Venus is in Aries, from May 2 to 28, there's a stronger need for independence as well as extra energy for starting new creative endeavors.
Mars semisquare Pluto: Efforts to control a situation can cause frustration and irritation, although with Mars in Pisces, anger may be expressed indirectly, in passive-aggressive ways.
Tuesday
Jupiter sextile Pluto: This aspect helps us make transformative changes in keeping with our spiritual beliefs and priorities.
Sun semisquare Jupiter: We may have a tendency to go overboard in our enthusiasm, so remember to keep your feet on the ground.
Wednesday
Mars sextile Uranus: We have the courage required to make important changes of direction.
Thursday
Sun conjunct Uranus: We may surprise ourselves, or be surprised by a situation or by others. This is an aspect of breakthrough but also breakdown, depending on what is needed to help us make important life changes.
Mercury sextile Venus: New creative ideas, and the desire to communicate them to others.
Friday
Saturn sextile Eris: Independent actions are guided by a consideration of our longer-term goals.
Saturday
Sun sextile Mars: We have the courage to take practical steps (Sun in Taurus) that are spiritually guided (Mars in Pisces).
Sunday
No major aspects are exact today.
*****
IF YOUR BIRTHDAY IS THIS WEEK: This is a year when you are reinventing yourself, based on a new understanding of what you really value. This will likely manifest in a specific area of your life, based on the location of the Sun in your natal chart – but it is the inner process of self-discovery that is at the heart of any external changes. Use this time to try out different forms of expression, as your preferences may change as you break down old personality patterns. Try not to require yourself to have everything figured out at each turn of the road. This is a year to experiment with different directions, to allow yourself not to have all the answers right away, and to have faith that all will come together in time. (Solar Return Sun sextile Mars, conjunct Uranus, semisquare Neptune)
*****
ONLY ONE WEEK AWAY! My "Metamorphosis" webinar goes live on Monday, May 9! Please join us for insights into the planetary influences we'll be working with from now through August 2022.

I'll also talk a bit about solar flares and geomagnetic storms and how these events can affect us. If you feel like there's been a lot of solar activity lately, you're right! We've already surpassed the number of solar flares and sunspots that were predicted for this stage of the eleven-year solar cycle.

I hope you can join us! If you can't be there for the live taping, please know that all registrants receive a link to the replay, along with all the class materials.

Please see the class description to register and/or for more info. Once you register, please watch for a confirmation and follow-up emails from [This email address is being protected from spambots. You need JavaScript enabled to view it.].
*****
TRANSLATION and AUDIO/VIDEO VERSION: This weekly Journal is now recorded (in English) AND the text is transcribed into 30 languages! You'll see a row of flags under "Available Languages" in the upper right. And, there are options to listen to the audio (in English) or watch a video directly beneath the photo (see top of page).
The Journal entry is usually updated by Sunday evening, with the recordings appearing late Sunday or by Monday depending on your time zone. Please share this information with those who might benefit.
*****
For previous weeks of the Astrological Journal, click here.
*****
About the Author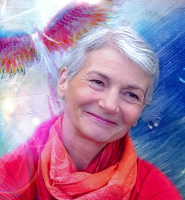 Pam Younghans is a professional astrologer, editor, and writer. She lives in a log home northeast of Seattle, Washington with her beloved animal companions. She has been interpreting charts professionally for over 25 years. If you are interested in an astrology reading, e-mail This email address is being protected from spambots. You need JavaScript enabled to view it., or leave a message at 425.445.3775.
For more information about NorthPoint Astrology offerings, please visit northpointastrology.com or visit her Facebook page.