The stages of the partial Solar Eclipse on August 21, 2017. Photo credit: NASA/Noah Moran

Narrated by Pam Younghans.

Watch video version at InnerSelf.com or watch on YouTube.
Current and previous weeks astrological overviews
Astrological Overview: April 25 - May 1, 2022
Astrologer Pam Younghans writes this weekly astrological journal based on planetary influences, and offers perspectives and insights to assist you in making the best use of current energies. This column is not intended as prediction. Your own experience will be more specifically defined by transits to your personal chart.

Aspects of Note this Week:

All times listed are Pacific Daylight Time. (For Eastern Time, add 3 hours; For Greenwich Mean Time, add 7 hours.)
MON: Venus square Ceres
TUE: Mercury sextile Jupiter
WED: Mars semisquare Eris, Venus conjunct Neptune
THU: Mercury trine Pluto
FRI: Pluto stations retrograde, Sun semisquare Neptune, Mercury enters Gemini
SAT: Taurus New Moon/Partial Solar Eclipse, Venus conjunct Jupiter, Saturn trine Ceres
SUN: Venus sextile Pluto, Neptune square Ceres
****
OUR FIRST ECLIPSE of 2022 occurs this week! The partial Solar Eclipse on Saturday, April 30, will be visible only from southwest South America, the Pacific Ocean, and Antarctica.

An eclipse of the Sun is also a New Moon, but it wields a greater influence than our regular monthly lunation. Instead of indicating themes for just the next month, a Solar Eclipse New Moon sets the stage for the next six months.

AT THE TIME of the New Moon, at 1:27 p.m. PDT on Saturday, the Sun and Moon will be at 10°28´ Taurus, with Uranus nearby (at 14°32´ Taurus). This means that the two "lights" are just four degrees away from being exactly conjunct the sideways-spinning planet, which infuses the eclipse with its highly charged energies. Since Uranus has a penchant for manifesting the unexpected, the day of the lunation — and the next six months! — should be full of breakthroughs and surprises that may upset the status quo but also launch us into a new, more liberated future.
At its highest vibration, Uranus is a transpersonal planet and the representative of Higher Mind. Its influence opens us to new understandings, innovative thinking, and radical insights. Our perceptions and perspectives are shifted, often through sudden events that work like an electric shock to rewire our brains.
The Sun and Moon are also in harmonious sextile aspect to Mars at the New Moon. This link provides access to the self-confidence and courage that are needed as we embrace the major new beginnings symbolized by a Solar Eclipse. And, with the Red Planet in Pisces, our actions are potentially more aligned now with our spiritual values of compassion and peace.
THE OMEGA AND CHANDRA SYMBOLS for the New Moon/Eclipse both provide very intriguing images, stirring the imagination and opening the mind. Here they are, as channeled by astrologer John Sandbach:
Omega symbol: "A man jumping into a river, melting, and flowing away."

Chandra symbol: "A woman with flames for hair."
In each of these images, there is a merging with the elements, representing the energies of the moment. As we become one with the changes that are occurring, we are not overwhelmed, we do not drown, and we do not perish in flames. This is good advice to follow as we work with the influence of Saturday's lunation. As Mr. Sandbach writes in his interpretation of these images:
"There is no reason to fear intensity. If we give in to the intensity of our vision, what is burned away is heavy karma that has kept us from manifesting our true self."
IN THE DAYS leading up to the eclipse, we are of course in the waning days of the current lunar cycle. This last week of the lunar month represents a time for completion and for letting go of attachment to what has been, so that we are ready for new directions to unfold. It is a time to trust and have faith, knowing that endings always precede new beginnings.
Encouraging this time of introspection and enhancing the heart opening that will assist us, goddess of love and beauty Venus is conjunct both Neptune and Jupiter in Pisces this week. These planetary alignments offer the sweet scent of honeysuckle blossoms to ease our way.
According to the Tree Frog Farm website, Orange Wild Honeysuckle "... helps you to slow down the pace of your life, feel more comfortable in your body, and peacefully and calmly engage life as your authentic self." And Pink Wild Honeysuckle essence "... restores childlike joy, playfulness, innocence, and openness. It encourages you to become enthralled with the magic in each moment." It may be very helpful and powerful to call in these flower energies to assist us over the coming week. We can work with these energies whether or not we have the essences in hand, either by finding photos to connect us to the flowers, or by just calling them in during meditation.
ALSO THIS WEEK, Pluto's influence is very strong, due to the dwarf planet going retrograde on Friday. When a planet comes to a standstill, it is like standing on the platform as the train comes in; as the train gets closer, the vibration gets stronger. When it is finally standing still in front of us, engine engaged, we feel its vibration most intensely.
It seems cosmically designed (imagine that!) that Pluto is stationing the day before the Solar Eclipse. Pluto is the agent of transformation, taking us through a symbolic process of death and rebirth. Its added strength this week should help us move through issues that need to be resolved before we enter the portal of the eclipse.

DAY BY DAY, here are this week's highlighted planetary aspects:
Monday
Venus square Ceres: Challenges may arise due to a conflict between family obligations and personal relationship needs.
Tuesday
Mercury sextile Jupiter: Communications flow easily, as we are able to express compassion in tangible ways.
Wednesday
Mars semisquare Eris: Frustrations can arise if others do not live up to our expectations.
Venus conjunct Neptune: Relationships are enhanced by a deepened understanding of each person's soul needs.
Thursday
Mercury trine Pluto: This is a day for speaking one's truth and revealing secrets, especially with Pluto coming to its station tomorrow. Be aware of the power of words to heal or harm.
Friday
Pluto stations retrograde: Pluto will be retrograde until October 8.
Sun semisquare Neptune: It may be hard to stay grounded today. Connecting with nature can be of particular benefit.
Mercury enters Gemini: Mercury in Gemini usually indicates a time of increased social interaction and communication, with a strong need for variety and mental stimulation. Due to the Messenger Planet going retrograde on May 10, plans we make now will be subject to review while Mercury is moving backward, until it goes direct on June 3.
Saturday
Taurus New Moon/Partial Solar Eclipse: Changes that occur at this lunation will likely play out over the next six months, until the partial Solar Eclipse in Scorpio on October 25.
Venus conjunct Jupiter: Compassion is enhanced today, and it is easier to connect with others on a soul level, rising above personality differences.
Saturn trine Ceres: We are able to give and receive tangible emotional support to loved ones.
Sunday
Venus sextile Pluto: Relationships can grow in depth and intimacy today, as each person's deeper spiritual needs are brought forward.
Neptune square Ceres: Be aware of a tendency to overidealize loved ones, as it may lead to disappointment.
*****
IF YOUR BIRTHDAY IS THIS WEEK: Recent changes have helped you understand your unique needs and perspectives, setting you on a new course to live a more authentic life. You have the courage and opportunity this year to take risks that will expand your life experience, but it will be important to be sure these choices are aligned with your core spiritual values. If you find yourself questioning your motives, be sure to take the time to meditate and ask for guidance from your higher self before taking action. (Solar Return Sun sextile Mars, conjunct Uranus, semisquare Neptune)
*****
ONLY TWO WEEKS! My "Metamorphosis" webinar covering May through August will air live on Monday, May 9! Please join us as we explore what we can expect from the planets over the next four months.

I'm also going to talk a bit about solar flares and geomagnetic storms and how these events affect us on physical, emotional, mental, and even spiritual levels. If you feel like there's been a lot of solar activity lately, you're right! We've already surpassed the number of solar flares and sunspots that were predicted for this stage of the eleven-year solar cycle.

I hope you can join us! Even if you can't be there for the live taping, registrants receive a link to the replay, along with all the class materials.

Please see the class description to register and/or for more info. Once you register, please watch for a confirmation and follow-up emails from [This email address is being protected from spambots. You need JavaScript enabled to view it.].
*****
TRANSLATION and AUDIO/VIDEO VERSION: This weekly Journal is now recorded (in English) AND the text is transcribed into 30 languages! You'll see a row of flags under "Available Languages" in the upper right. And, there are options to listen to the audio (in English) or watch a video directly beneath the photo (see top of page).
The Journal entry is usually updated by Sunday evening, with the recordings appearing late Sunday or by Monday depending on your time zone. Please share this information with those who might benefit.
*****
For previous weeks of the Astrological Journal, click here.
*****
About the Author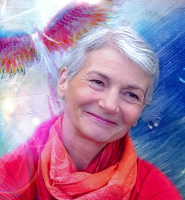 Pam Younghans is a professional astrologer, editor, and writer. She lives in a log home northeast of Seattle, Washington with her beloved animal companions. She has been interpreting charts professionally for over 25 years. If you are interested in an astrology reading, e-mail This email address is being protected from spambots. You need JavaScript enabled to view it., or leave a message at 425.445.3775.
For more information about NorthPoint Astrology offerings, please visit northpointastrology.com or visit her Facebook page.