Photo: Sunset over Stonehenge on January 21, 2022, by Stonehenge Dronescapes

Narrated by Pam Younghans.
Current week's astrological overview
Astrological Overview: January 24 - 30, 2022
Astrologer Pam Younghans writes this weekly astrological journal based on planetary influences, and offers perspectives and insights to assist you in making the best use of current energies. This column is not intended as prediction. Your own experience will be more specifically defined by transits to your personal chart.
Aspects of Note this Week:

All times listed are Pacific Daylight Time. (For Eastern Time, add 3 hours; For Greenwich Mean Time, add 8 hours.)
MON: Mars enters Capricorn
TUE: Mercury re-enters Capricorn, Sun semisquare Neptune
WED: Mercury trine North Node
THU: No major aspects are exact today
FRI: Sun sextile Chiron, Mercury conjunct Pluto
SAT: Venus stations direct
SUN: Sun square Uranus
****
IN CONTRAST to the seemingly relentless cosmic and solar activity we've experienced of late, the last full week of January begins with an apparently quiet Sun and a deceptively short list of astrological aspects on the agenda. It may be that we are in a period of integration right now. Our psyches and our physical, mental, and emotional bodies certainly need time to adjust to the recent influx of cosmic information and downloads.
And yet we are learning to "read between the lines" of lists and standard scientific measurements, turning inward to discern what is going on. When we do this, we realize that energy is never at a standstill, even when there seems to be a pause in the action.
In most years, this week's planetary activity might be considered fairly minor. However, three events are quite important, due to being directly tied to longer-term influences: The two "traveling conjunctions" I've been writing about – the Venus-Pluto conjunction and the Mercury-Pluto conjunction – both re-engage this week, and the Sun squares Uranus, reactivating the effects of the Saturn-Uranus square that perfected in late December.
MERCURY WENT RETROGRADE in early Aquarius last Friday (January 14), and will re-enter Capricorn on Tuesday (January 25). As it changes signs, it will be only three degrees (and three days) away from being exactly aligned with Pluto for the second time this season.
The first Mercury-Pluto conjunction occurred on December 30. A brief review of the headlines on that day shows that it was a day of significant meetings, decisions, communications, and data sharing – all of which are ruled by Mercury. As Mercury returns to Capricorn and reunites with Pluto this Friday (January 28), we can expect to see "next steps" related to whatever occurred four weeks ago.
WE WILL HAVE new perspectives to bring to those issues, due to Mercury having transited progressive Aquarius for two weeks, and thus we will not see things exactly as we did in late December. And, as always when Pluto is involved, revelations may occur this week that further alter our plans.
It will be important not to rush in with rash assessments or impulsive decisions this week, since Mercury is retrograde and we are still in a process of review. Remember that this is the information gathering phase, when we are storing the insights that we will utilize later. Our thinking will be clearer and plans will be more reliable after the Messenger Planet goes direct on February 3. We may be especially motivated to speak our truth or unveil a plan around the time of the third and final Mercury-Pluto conjunction on February 11.
VENUS has also been dancing with Pluto in Capricorn, having been conjunct the dwarf planet on December 11, stationing retrograde on December 19, and being conjunct Pluto again on December 25. Since early December, we may have been dealing with uncomfortable conditions in the Venus-ruled areas of relationships, finances, values, and material resources. With the help of the Venus-Pluto tango, we are undergoing a purification process in these areas of our lives.
Venus goes direct this Saturday (January 29), but will take until March 3 to catch up with Pluto for their final rendezvous. Throughout next month, we will be increasingly aware of how certain core values and relationships need to shift. Figuratively and literally, February will be a time to clear our closets and jewelry boxes of anything that is not in sync with our new values, or does not resonate with our refined definition of "love." The first week of March will be quite pivotal in this regard, since Venus and Pluto will also be conjunct proactive Mars and the dedicated asteroid Vesta when they align.
OUR FINAL DAYS of January will be strongly influenced by the Sun-Uranus square that is exact next Sunday (January 30). We may once again be working with powerful solar flares and geomagnetic storms, or perhaps earthquakes, volcanoes, and weather-related events. These are all areas we "expect" to see activated by a Uranus transit, which usually corresponds with surprising or sudden events – but since we are also warned to "expect the unexpected" with Uranus, please consider these potentials as symbolic.
On personal levels, a Sun-Uranus square correlates with a deep restlessness, an urgent need for freedom and independence, and highly nervous energy. Under this influence, some are very resistant to following the rules. Many compound words that start with "break" can be used when describing Uranus' impact: breakthrough, breakdown, breakaway, breakup, and breakout. It is worthwhile to note that sometimes we must experience a breakdown before we are open to the breakthrough that wants to occur in our lives.
Next Sunday's Sun-Uranus square gains importance because it links us back to the energies of the Saturn-Uranus square that reigned over 2021. This is the influence behind the conflict between social/governmental controls (Saturn) and individual rights (Uranus). Issues that arise next weekend will likely play out over the following week, and be especially strong at the Aquarius New Moon on January 31, and when the Sun conjoins Saturn on February 4.
HERE is the list of aspects we'll be working with this week, day by day:
Monday
Mars enters Capricorn: Mars will transit Capricorn from January 24 to March 5. During this time, we are supported in applying effort to achieve our longer-term goals. We are able to work hard, and may feel quite irritated when situations seem to be outside our control.
Tuesday
Mercury re-enters Capricorn: While Mercury is in Capricorn, until February 14, our minds are focused on the work that needs to be done. We may become irritated when too much information is provided, since it interferes with our ability to concentrate on what is most important and threatens to pull us off-course. This is a time when we may be more skeptical or judgmental about unusual or unfamiliar ideas.
Sun semisquare Neptune: A slight fogginess is possible, as we have trouble knowing what next steps to take.
Wednesday
Mercury trine North Node: We have support today in attending to practical concerns, especially those that help us feel grounded and calm.
Thursday
No major aspects are exact today.
Friday
Sun sextile Chiron: We have opportunities today to heal a lack of confidence in ourselves, if we apply self-understanding and self-love.
Mercury conjunct Pluto: Words are powerful today, and can cut like a surgeon's knife if we're not careful. However, this is an excellent day to explore our own inner landscape, to understand our deeper motivations and why we might feel a need to grasp control of a situation.
Saturday
Venus stations direct: Venus has been retrograde since December 19, giving us the chance to review relationships and values. As the planet now goes direct, we may be able to see more clearly what we truly need and want in these areas.
Sunday
Sun square Uranus: Frustrations are likely if we feel contained or controlled, either by circumstances or by other people. This is restless energy that can affect the nervous system. Be sure to take time to breathe before you take action.
*****
IF YOUR BIRTHDAY IS THIS WEEK: You have a strong need to take charge in some area of your life this year, and can accomplish a great deal. However, you are also dealing with a continually changing landscape and will need to adjust your course more often than you would ideally like. A primary challenge may come from a tendency to resist the knowledge and insights offered by others. Consider that it is time to heal the part of self that may be fearful of receiving outside input. (Solar Return Sun conjunct Saturn, square Uranus, sextile Chiron)
*****
WEBINAR REPLAY: If you missed my recent "Finding Ground" class covering the first four months of 2022, no worries! You can still purchase the video replay, slideshow, and calendars. Please send an email with "Webinar Replay" in the subject line to This email address is being protected from spambots. You need JavaScript enabled to view it. and I'll reply with details.
*****
TRANSLATION and AUDIO/VIDEO VERSION: This weekly Journal is now recorded (in English) AND the text is transcribed into 30 languages! You'll see a row of flags under "Available Languages" in the upper right. And, there are options to listen to the audio (in English) or watch a video directly beneath the photo (see top of page).
The Journal entry is usually updated by Sunday evening, with the recordings appearing late Sunday or by Monday depending on your time zone. Please share this information with those who might benefit.
*****
For previous weeks of the Astrological Journal, click here.
*****
About the Author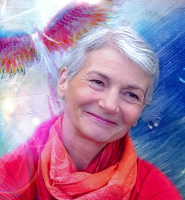 Pam Younghans is a professional astrologer, editor, and writer. She lives in a log home northeast of Seattle, Washington with her beloved animal companions. She has been interpreting charts professionally for over 25 years. If you are interested in an astrology reading, e-mail This email address is being protected from spambots. You need JavaScript enabled to view it., or leave a message at 425.445.3775.
For more information about NorthPoint Astrology offerings, please visit northpointastrology.com or visit her Facebook page.