Written and Narrated by Pam Younghans.
Current week's astrological overview
Astrological Overview: January 10 - 16, 2022
Astrologer Pam Younghans writes this weekly astrological journal based on planetary influences, and offers perspectives and insights to assist you in making the best use of current energies. This column is not intended as prediction. Your own experience will be more specifically defined by transits to your personal chart.

Aspects of Note this Week:

All times listed are Pacific Daylight Time. (For Eastern Time, add 3 hours; For Greenwich Mean Time, add 8 hours.)
MON: Venus semisquare Jupiter, Sun sextile Neptune, Eris stations direct
TUE: Mars square Neptune
WED: No major aspects are exact today
THU: Sun square Eris
FRI: Mercury stations retrograde
SAT: Mars trine Eris
SUN: Sun conjunct Pluto, Mercury semisquare Mars
* * * * *
THE "TRAVELING CONJUNCTIONS" of Venus-Pluto and Mercury-Pluto are affecting us in profound ways right now. Any time we work with Pluto's influence, we can feel somewhat upended, overwhelmed at times, and more emotional than usual. We tend to experience circumstances that feel outside of our control, which of course brings up many reactions.

As the "psychotherapist planet," one of Pluto's jobs is to bring issues that have been hidden or ignored into our awareness, so that they may be transmuted. Because of this, we may be dealing with a lot of negative thought patterns and information (Mercury) and unresolved relationship or financial issues (Venus) right now. The challenge is not to give our power away to darker emotions that arise, but to claim back our sovereignty (Capricorn) through a calm knowing that we have the strength to handle whatever situations we might encounter.
OUR AWARENESS of Pluto's catalytic effects will grow stronger over the course of this coming week, due to the Sun moving closer and closer to the dwarf planet. This means we may feel more reactive than usual, as emotions we've been repressing or suppressing are triggered and come to the surface. People may be especially reactionary on Thursday, when the Sun is square discordant Eris.

Emotional responses may be quite powerful by next weekend, since the Sun and Pluto exactly align very early on Sunday. This is a time when we will want to be very aware of any ways in which we let fears and other shadow emotions control our actions, which is a form of giving our power away.
THERE IS USUALLY a sense of urgency that accompanies Pluto aspects, a feeling that convinces us that we "have to" respond in some way. If this happens, it is valuable to ...


Continue Reading this article at InnerSelf.com (plus audio/mp3 version of article)
Music By Caffeine Creek Band, Pixabay
*****
WEBINAR THIS WEEK! The New Year is only a week old, and it's already clear that 2022 is going to be quite a year! I'm excited for our webinar this Wednesday and looking forward to sharing with you what is "in the stars" for the next four months.
Elsie and I have recorded a short (17-minute) interview, talking about the energies in play as we begin 2022 and about the webinar, too. Here's the link to that video: https://youtu.be/cjjYzLkcb68
If you're not able to attend the class live: No worries! Everyone who registers will receive the replay and all the materials after the class airs.
If you've already registered for Wednesday's class: You should have received a confirmation and the monthly calendars by email. If you haven't received these emails or for questions about registration or payment, please contact Elsie Kerns (This email address is being protected from spambots. You need JavaScript enabled to view it.).
To learn more about the class: Please click here. I hope to see you in the Zoom gallery on Wednesday!
*****
TRANSLATION and AUDIO/VIDEO VERSION: This weekly Journal is now recorded (in English) AND the text is transcribed into 30 languages! You'll see a row of flags under "Available Languages" in the upper right. And, there are options to listen to the audio (in English) or watch a video directly beneath the photo (see top of page).
The Journal entry is usually updated by Sunday evening, with the recordings appearing late Sunday or by Monday depending on your time zone. Please share this information with those who might benefit.
*****
For previous weeks of the Astrological Journal, click here.
*****
About the Author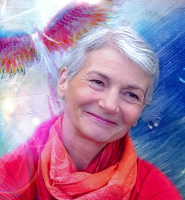 Pam Younghans is a professional astrologer, editor, and writer. She lives in a log home northeast of Seattle, Washington with her beloved animal companions. She has been interpreting charts professionally for over 25 years. If you are interested in an astrology reading, e-mail This email address is being protected from spambots. You need JavaScript enabled to view it., or leave a message at 425.445.3775.
For more information about NorthPoint Astrology offerings, please visit northpointastrology.com or visit her Facebook page.