Stonehenge sunset. Photo by Stonehenge Dronescapes.

Narrated by Pam Younghans.
Current week's astrological overview
Astrological Overview: December 20 - 26, 2021
Astrologer Pam Younghans writes this weekly astrological journal based on planetary influences, and offers perspectives and insights to assist you in making the best use of current energies. This column is not intended as prediction. Your own experience will be more specifically defined by transits to your personal chart.
Aspects of Note this Week:

All times listed are Pacific Daylight Time. (For Eastern Time, add 3 hours; For Greenwich Mean Time, add 8 hours.)
MON: Mercury trine Uranus
TUE: Sun enters Capricorn (Solstice) 7:59 a.m. PST
WED: Mercury semisquare Jupiter
THU: Saturn square Uranus, Jupiter quintile Uranus
FRI: No major aspects today
SAT: Mars trine Chiron, Venus conjunct Pluto, Jupiter square Ceres, Mars sesquiquadrate Eris
SUN: Mercury sextile Neptune
****
WE NOW ENTER yet another pivotal week in this last month of 2021, another steep section in our final ascent of this transformational year. The main events on this week's calendar are the solstice on Tuesday (when the Sun enters Capricorn), the third Saturn-Uranus square on Thursday, and the second Venus-Pluto alignment on Saturday.
The Capricorn solstice occurs at 7:59 a.m. PST on December 21. The word solstice is derived from two Latin words: "sol," meaning sun, and "sistere," which means to stand still. On this day, when the Sun appears to stand still in the sky, it is either the darkest night or the longest day of the year, depending on whether you live north or south of the equator.
The dictionary defines solstice as "a furthest or culminating point; a turning point." Whether this is the first day of winter or the beginning of summer in your part of the world, the solstice represents a time of climax and transition, an ending of one phase and the beginning of a new.
Like the Sun, we will benefit from taking a pause on the solstice. It is a time to cease action momentarily, to surrender to the stillness that resides within, to understand the cyclical nature of our earthly existence, and to reinforce our trust that all is in divine order.
THROUGHOUT 2021, we have been working with the dramatic effects of the Saturn-Uranus square. In essence, this pairing of planets represents the contrast between old traditions and new paradigms, and the battle that is waged between the proponents of each. The square also manifests as a breakdown of existing structures as a necessary step in creating a new, more progressive world. The effects of the square are also evident in the restrictions (Saturn) that have been put in place worldwide and the rebellions that have resulted (Uranus).
While we certainly see this influence at work in the world around us, each of us is also dealing with these pressures in our personal lives. In some way, all of us are at a crossroads between the familiar past (Saturn) and an unknown future (Uranus), and perhaps dealing with inner conflicts about how to proceed. The question beats like a consistent drumming: What structures and ideologies of the past need to be released, and what visions of the future are we ready and willing to embrace?
The Saturn-Uranus square has already been exact two times in 2021, on February 17 and on June 14. This third square on December 23 marks an important culmination point for the issues raised by the square. As such, we are likely to see many of the manifestations of this square reaching a climax this week.
A note about 2022: Although Saturn and Uranus will not be exactly square next year, they will be within two degrees of the aspect next September and October. Both planets will also be in hard aspect to the nodal axis throughout the year. This means we're not quite done with this influence! I'll talk more about this in my webinar on January 12.
THE TENSION of the Saturn-Uranus square may be diverted somewhat by a Jupiter-Uranus quintile that also perfects on Thursday. Jupiter and Uranus in any combination can increase restlessness and a need for freedom, so we may observe defiance occurring in surprising ways. But this quintile also contains very creative energy, with potentials for "aha" moments and spiritual insights.
One of my favorite quotes about quintile aspects comes from astrologer Bil Tierney, who writes that the quintile symbolizes "an aspirant's creative soul alignment with the Will of the Cosmos." However, he also warns that "the Will of the awesome, inscrutable Cosmos is not easily channeled through the normally fragmented consciousness of the average individual still bound by the limited confines of a personality-centered will."
In other words, divine inspiration is possible with this aspect, but the mind must be sound and the focus upward if we are to make positive use of any revelations. And, with Jupiter in Aquarius, representing advanced thought, and Uranus in Taurus, the sign of physical manifestation, the insights received through this quintile can have very practical applications.
VENUS IS CONJUNCT PLUTO for the second time on Saturday, December 25. We are in a three-month period where this Venus-Pluto square is powerfully activated. Its effects should be very strong this week, due to Venus just having stationed retrograde. As a reminder of its impact, here's a paragraph from my Journal for December 6 to 12:
"Over the next three months, as Venus and Pluto weave their way across the cosmic dance floor, humanity is scheduled go through a process of deep revelation and cleansing in the areas that Venus rules. Some relationships will go through a metamorphosis, as will core values. Along the way, we will slowly unwrap the gifts of this therapeutic process, gifts that include a more open, empowered heart and a much greater capacity for love and compassion."
On the bright side, this Venus-Pluto alignment offers a path to deeper honesty and intimacy with loved ones. Its shadow leads us down the back alleyways of suspicion, manipulation, and even power struggles.
WEBINAR IN THREE WEEKS! My webinar covering the first four months of 2022 is on Wednesday, January 12! Please see the full description of "Finding Ground" here:
​https://findingground2022.eventbrite.com

HERE is my list of this week's other important aspects, with my brief interpretations:
Monday
Mercury trine Uranus: This harmonious aspect between the planet of rational thought and the planet of Higher Mind can offer many insights today. Ideas may appear as if "out of nowhere," helping us suddenly see a situation from a different perspective.
Tuesday
Sun enters Capricorn 7:59 a.m. PST: See above.
Wednesday
Mercury semisquare Jupiter: In our exuberance, we may not be sensitive to how our words are affecting others. Tactlessness and misplaced humor are possible results of this aspect.
Thursday
Saturn square Uranus: See above.
Jupiter quintile Uranus: See above.
Friday
No major aspects are exact today.
Saturday
Mars trine Chiron and sesquiquadrate Eris: While we may understand the reasons for certain insecurities, it may still be hard to rein in anger when we feel slighted by others.
Venus conjunct Pluto: See above.
Jupiter square Ceres: Differing belief systems can cause rifts in family relationships. The need to keep everyone calm may deplete your energy, while certain family members could complain of feeling smothered. Be careful of overeating due to feeling stressed (Ceres in Taurus).
Sunday
Mercury sextile Neptune: This is a much better day for conversations, as Neptune helps us access a level of compassion and understanding that may have eluded us yesterday.
*****
IF YOUR BIRTHDAY IS THIS WEEK: This year, it is easier for you to lighten up and to even laugh at yourself. This more optimistic attitude can work wonders in helping you reach the goals that you are working on. You will also benefit from making sure that your ambitions are aligned with your beliefs, and that achieving your end-goal will contribute to your sense of life's meaning. (Solar Return Sun sextile Jupiter)
*****
TRANSLATION and AUDIO/VIDEO VERSION: This weekly Journal is now recorded (in English) AND the text is transcribed into 30 languages! You'll see a row of flags under "Available Languages" in the upper right. And, there are options to listen to the audio (in English) or watch a video directly beneath the photo (see top of page).
The Journal entry is usually updated by Sunday evening, with the recordings appearing late Sunday or by Monday depending on your time zone. Please share this information with those who might benefit.
*****
For previous weeks of the Astrological Journal, click here.
*****
About the Author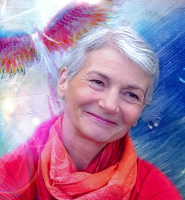 Pam Younghans is a professional astrologer, editor, and writer. She lives in a log home northeast of Seattle, Washington with her beloved animal companions. She has been interpreting charts professionally for over 25 years. If you are interested in an astrology reading, e-mail This email address is being protected from spambots. You need JavaScript enabled to view it., or leave a message at 425.445.3775.
For more information about NorthPoint Astrology offerings, please visit northpointastrology.com or visit her Facebook page.