Image by Gerd Altmann

Narrated by Pam Younghans.
Current week's astrological overview
Astrological Overview: December 6 - 12, 2021
Astrologer Pam Younghans writes this weekly astrological journal based on planetary influences, and offers perspectives and insights to assist you in making the best use of current energies. This column is not intended as prediction. Your own experience will be more specifically defined by transits to your personal chart.
Aspects of Note this Week:

All times listed are Pacific Daylight Time. (For Eastern Time, add 3 hours; For Greenwich Mean Time, add 8 hours.)
MON: Mars sextile Pluto
TUE: Venus square Eris, Mercury square Neptune, Mars square Jupiter
WED: No major aspects today
THU: Mercury trine Eris
FRI: Mercury semisquare Saturn
SAT: Mercury sesquiquadrate Uranus, Venus conjunct Pluto, Mercury sextile Jupiter, Sun square Neptune
SUN: No major aspects today
****
TIME IS A BLUR in this last month of 2021. We are moving through yet another powerfully transformational stage in our "final ascent" journey.
Each week of December provides yet another significant impulse of energy, each working in its own way to move us forward:
Last week, we entered a portal created by the Total Solar Eclipse, which represented the opportunity for a major shift.
This week, Venus and Pluto begin a lengthy tango, which I'll talk more about today.
Next week's Full Moon occurs as the Sun exactly aligns with the Galactic Center, activating a "defrag and download" process.
The following week, the third Saturn-Uranus square perfects, reinforcing the core lessons of this life-changing year.
And, on the last two days of 2021, Mars crosses the degree of the Total Solar Eclipse, reactivating its evolutionary influence.
VENUS AND PLUTO usually rendezvous just once a year, with the effects of their conjunction lasting perhaps two or three days. This year, however, Venus will be going retrograde (backward) while moving through Capricorn, and so will cross paths with Pluto three times between now and early March 2022. Here are the dates of most significance:
December 11: Venus conjunct Pluto
December 19: Venus stations retrograde
December 25: Venus conjunct Pluto
January 29: Venus stations direct
March 3: Venus conjunct Pluto
This long-term merging of the energies of these two planets will have profound effect on our lives. It will also work on many different levels, ranging from the mundane to the divine.
AS A TRANSPERSONAL PLANET, Pluto is the agent of Divine Will. Its ultimate purpose is to bring humankind into its true empowerment, which is found through alignment with the Divine. Venus is a personal planet, representing humanity's feminine, receptive qualities. As these two join forces over the next three months, it represents an opportunity for the power of the Divine Feminine to further awaken in the hearts of all.
Pluto is also the god of the underworld in Roman myth, known as Hades to the Greeks. In mundane reality, the planet Pluto has domain over the literal process of death and rebirth, as well the smaller ways in which we die and are reborn throughout our lives. As Pluto conjoins Venus, everything that the goddess of love rules is made available for transmutation, as needed for our growth: personal relationships, values, financial and material comfort, pleasures and entertainment, and the arts.
IN PERSONAL READINGS, I often talk of Pluto as being the Psychotherapist Planet. In a psychotherapy session, we often must divulge secrets or unearth feelings that we have buried because they were uncomfortabl for us to face directly. As we bring what has been hidden into the light, we reap the gifts of the therapy process: healing, growth, and empowerment.
When we work with transiting Pluto, we may find ourselves in situations that evoke strong emotions, feelings that we've been either repressing (keeping unconscious) or suppressing (avoiding). Repressed feelings can lead to many problems; research links emotional repression to lower immune system function and to mental health conditions. Suppressed emotions can lead to symptoms such as high blood pressure, memory problems, and low self-esteem.
ALTHOUGH a Pluto transit can be uncomfortable because of the deep emotions it elicits, our first step is to acknowledge and accept the feelings that we may have been repressing or suppressing. Our task is then to allow the feelings to move through us without attaching to them. In this way, they can be released as energy into the light.
Over the next three months, as Pluto and Venus weave their way across the cosmic dance floor, humanity is scheduled to go through a process of deep revelation and cleansing in the areas that Venus rules. Some relationships will go through a metamorphosis, as will our core values. Along the way, we will slowly begin to unwrap the gifts of this therapeutic process, which include a more open, empowered heart and a much greater capacity for love and compassion.
BESIDES Venus and Pluto, other planets are also out on the dance floor this week. Here are other important aspects that occur over the next seven days, with my brief interpretations:
Monday
Mars sextile Pluto: This empowering aspect helps us have the emotional courage to take steps toward a goal that we feel very passionate about.

Tuesday
Venus square Eris: Relationships can run into problems if either party feels the other does not respect or acknowledge their needs.
Mercury square Neptune: Minds tend to wander today, making conversations circuitous. We may also miss a turn in the road due to a lack of concentration. This is a better time for introspection and journaling than in trying to figure out a plan.
Mars square Jupiter: In our exuberance to gain freedom from restriction, we may not consider all the ramifications of our actions. This is a "leaping before you look" aspect, which can result in a fall.

Wednesday
No major aspects are exact today.

Thursday-Friday
Mercury trine Eris and semisquare Saturn: We are more able to express our needs with these aspects but may not take the time to fully listen to or understand another's concerns.

Saturday
Mercury sesquiquadrate Uranus and sextile Jupiter: Nervous tension due to beliefs being challenged. Flexibility and conscious breathing are key and will help us access a more hopeful perspective.
Venus conjunct Pluto: See above.
Sun square Neptune: People are very impressionable and sensitive today, but not very practical. A lack of clarity can result in misjudging a situation.

Sunday
No major aspects are exact today.
*****
IF YOUR BIRTHDAY IS THIS WEEK: This year, you are in the process of dissolving old beliefs, thought patterns, and self-images that may have defined you for most of your life. Introspection is especially necessary and rewarding now, as is a spiritual practice or creative/visionary project. Your imagination is heightened but ideas may be fleeting, much like dream images, so be sure to capture them before they fade. Writing and other forms of communicating your thoughts are highlighted, but your actual words may not always be easily understood by others. Intuition may be stronger than logic now. (Solar Return Sun conjunct Mercury, square Neptune)
*****
TRANSLATION and AUDIO/VIDEO VERSION: This weekly Journal is now recorded (in English) AND the text is transcribed into 30 languages! You'll see a row of flags under "Available Languages" in the upper right. And, there are options to listen to the audio (in English) or watch a video directly beneath the photo (see top of page).
The Journal entry is usually updated by Sunday evening, with the recordings appearing late Sunday or by Monday depending on your time zone. Please share this information with those who might benefit.
*****
For previous weeks of the Astrological Journal, click here.
*****
About the Author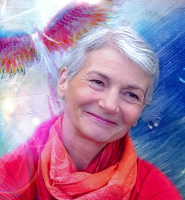 Pam Younghans is a professional astrologer, editor, and writer. She lives in a log home northeast of Seattle, Washington with her beloved animal companions. She has been interpreting charts professionally for over 25 years. If you are interested in an astrology reading, e-mail This email address is being protected from spambots. You need JavaScript enabled to view it., or leave a message at 425.445.3775.
For more information about NorthPoint Astrology offerings, please visit northpointastrology.com or visit her Facebook page.