Aurora photo taken by Valerie Pond on October 8, 2021, Yellowknife, NT Canada

Narrated by Pam Younghans.
Current week's astrological overview
Astrological Overview: October 11 - 17, 2021
Astrologer Pam Younghans writes this weekly astrological journal based on planetary influences, and offers perspectives and insights to assist you in making the best use of current energies. This column is not intended as prediction. Your own experience will be more specifically defined by transits to your personal chart.
Aspects of Note this Week:

All times listed are Pacific Daylight Time. (For Eastern Time, add 3 hours; For Greenwich Mean Time, add 7 hours.)
MON: Mercury quincunx Uranus
WED: Venus sextile Saturn, Sun quincunx Neptune
FRI: Sun trine Jupiter, Venus semisquare Pluto
SAT: Venus trine Chiron, Mars quincunx Neptune, Mercury sextile Venus
SUN: Sun opposite Eris, Sun square Pluto, Jupiter stations direct 10:30 p.m. PDT
****
THERE IS A GRADUAL but certain shift underway. Within the space of two short weeks, four planets that have been retrograde are ending their backward phase and beginning to move forward once again.
Pluto began moving direct last Wednesday (October 6), Saturn stations direct tonight (October 10, at 7:17 p.m. PDT), Jupiter stations direct next Sunday (October 17), and Mercury follows suit on Monday, October 18. As these planets complete their retrograde phase and begin to move forward, we are likewise supported in making progress in various ways, especially in areas that may have seemed delayed or blocked for a while.
OUR SUCCESS going forward from here will be built on the insights that we gained during the retrograde phase of each of these planets. This is not about "picking up where we left off"; instead, it is about honoring the deeper awareness we now have, and allowing it to guide our next steps.
During Pluto's backward phase, which began on April 27, we were compelled to re-examine the fears and darker or hidden emotions that have been controlling us from behind the scenes. Since these have been revealed and we are now aware of them, we can now release and heal those shadowy emotions, which then enables us to be and feel more empowered in some area of our lives.
Since Saturn went retrograde on May 23, we have been called to reconsider the plans and strategies we had employed to help us reach a certain goal. Progress has been stalled or reversed while we "went back to the drawing board" in some respect, or completed some unfinished business that was interfering with our ultimate success. If we did our inner work over the past four months, we now have greater maturity, patience, and wisdom to apply to areas of concern. These are the qualities that ultimately help us gain the mountaintop we have in our sights.
Jupiter's retrograde phase began on June 20. Over these past four months, the Great Planet has drawn us inward to discover what we truly believe and have faith in. As a result, we may have experienced a crisis of faith in some respect, due to our deeper questioning. In the days and weeks after Jupiter goes direct, if we have done the soul-searching that was needed, a new attitude and more enlightened perspective can begin to guide our steps. This serves not only to inspire greater optimism, but also enhances our understanding of our life's meaning and purpose.
Mercury's three-week backward phase began on September 26 (PDT). Throughout this time, we are meant to revise, rethink, and reconsider plans and decisions. I like to think of Mercury retrograde as being somewhat like a "living dream," where we benefit most by considering events symbolically rather than literally. Once Mercury starts to move direct on October 18, we begin to have greater clarity on our best choices from here.
THE FINAL PLUTO-ERIS SQUARE was exact just two days ago (on Friday, October 8), so we are still very much within its influence. Since both dwarf planets move very slowly, it will take weeks or months for them to finally be out of range of this confrontational aspect. And, when other planets interact with Pluto and Eris – as the Sun does next Sunday, October 17 – the effects of the square are again strongly activated.
As mentioned in previous issues of this weekly journal, the Pluto-Eris influence is tightly woven into our shared global experience over the past two years. It has corresponded with the lifespan of the coronavirus pandemic, as well as all the social and personal unrest related to feeling unseen, disrespected, and more. These issues will be with us for a while yet, and will likely be headline news again next weekend.
A VERY HOPEFUL NOTE about Jupiter's station next Sunday, which occurs when the giant planet reaches 22°19´ Aquarius: A fixed star called Nashira is located at 22°05´ Aquarius, so Jupiter will be at the same degree as the star when it comes to a standstill.
Jupiter is known as a Great Magnifier, and its conjunction with Nashira will amplify that star's qualities. Since this alignment occurs when Jupiter stations, it also infuses the planet's new forward-motion phase with Nashira's energies. If we were to draw an astrological chart for the "birth" of Jupiter's new direct phase, we would see Jupiter conjunct Nashira as a part of its "birth plan."
And this is where the news gets very good! Nashira is called "the Bearer of Good Tidings" and is said to promote openmindedness, innovation, and communication. It also encourages us to focus on the future instead of the past.
While we will be dealing with the disruptive Pluto-Eris energies for a while yet, and there is still one more occurrence of the frustrating Saturn-Uranus square to come (December 23 PST), we will also be able to call upon these higher-frequency, forward-seeking qualities of the Jupiter-Nashira pairing to assist us throughout the coming months.
HERE is a list of the most significant aspects that perfect this week, with my brief interpretations of each:
Monday
Mercury quincunx Uranus: Communications do not go according to plan, compelling us to rethink how we approach certain subject areas.

Tuesday
No major aspects perfect today.

Wednesday
Venus sextile Saturn: We find it easier to be true to our core values today, and also to find common ground with others.
Sun quincunx Neptune: We encounter some moments of disillusionment when others do not live up to our expectations. As a result, relationships can feel unsettled and unsettling.

Thursday
No major aspects perfect today.

Friday
Sun trine Jupiter: This encouraging aspect helps us feel more hopeful and optimistic, perhaps despite outward circumstances. It is easier now to see the deeper meanings in all that is unfolding.
Venus semisquare Pluto: Judgments and minor power struggles can arise, especially if we are attached to having others see things from our perspective.

Saturday
Venus trine Chiron, sextile Mercury: It may be easier to have a heart-to-heart talk with a loved one today, especially if we keep in mind that everyone is going through their own challenges right now.
Mars quincunx Neptune: We may feel confused about what to do next, not seeing our next steps as clearly as we'd like. With Mercury going direct on Monday, it may be best to delay concrete decisions until Tuesday.

Sunday
Sun opposite Eris, square Pluto: The Libra Sun triggers the Eris-Pluto square today, reigniting issues of justice, the law, and fair treatment.
Jupiter stations direct (10:30 p.m. PDT): See above.
*****
IF YOUR BIRTHDAY IS THIS WEEK: Your life has gone through profound shifts recently, and your experiences have altered your self-concept in significant ways. Because the changes have been so deep, ripple effects will continue into your new year as you consider your options going forward. There are a few obstacles yet to overcome, especially when dealing with disillusionment and residual anger. Still, there are plenty of opportunities for progress, if you remain open to them and have faith in yourself. (Solar Return Sun semisquare Venus, conjunct Mars, trine Jupiter, quincunx Neptune, square Pluto, opposite Eris)
*****
TRANSLATION and AUDIO/VIDEO VERSION: This weekly Journal is now recorded (in English) AND the text is transcribed into 30 languages! You'll see a row of flags under "Available Languages" in the upper right. And, there are options to listen to the audio (in English) or watch a video directly beneath the photo (see top of page).
The Journal entry is usually updated by Sunday evening, with the recordings appearing late Sunday or by Monday depending on your time zone. Please share this information with those who might benefit.
*****
For previous weeks of the Astrological Journal, click here.
*****
About the Author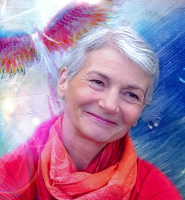 Pam Younghans is a professional astrologer, editor, and writer. She lives in a log home northeast of Seattle, Washington with her beloved animal companions. She has been interpreting charts professionally for over 25 years. If you are interested in an astrology reading, e-mail This email address is being protected from spambots. You need JavaScript enabled to view it., or leave a message at 425.445.3775.
For more information about NorthPoint Astrology offerings, please visit northpointastrology.com or visit her Facebook page.