Image by Todd Kay

Narrated by Pam Younghans.
Current week's astrological overview
Astrological Overview: October 4 - 10, 2021
Astrologer Pam Younghans writes this weekly astrological journal based on planetary influences, and offers perspectives and insights to assist you in making the best use of current energies. This column is not intended as prediction. Your own experience will be more specifically defined by transits to your personal chart.
Aspects of Note this Week:

All times listed are Pacific Daylight Time. (For Eastern Time, add 3 hours; For Greenwich Mean Time, add 7 hours.)
MON: Sun trine Ceres
TUE: Mercury quincunx Neptune
WED: Mars quincunx Uranus, New Moon 4:05 a.m. PDT, Venus semisquare Mars, Pluto stations direct 11:28 a.m. PDT, Sun quincunx Uranus
THU: Venus enters Sagittarius, Sun conjunct Mars
FRI: Pluto square Eris
SAT: Mercury semisquare Venus, Sun conjunct Mercury, Venus conjunct South Node, Mercury conjunct Mars
SUN: Saturn stations direct 7:17 p.m. PDT
****
WE HAVE REACHED a major shift point. There is an incredible lineup of powerful planetary events on the agenda this week. Highlights include an invigorating and impetuous New Moon, two planets – transformational Pluto and serious Saturn – at heightened effect due to turning direct, and the fifth and final Pluto-Eris square.
At first, it may be difficult to see how we are going to navigate this very challenging section of the "final ascent" of 2021. The sides of the canyon are steep and the trail appears perilous. And yet throughout, if we shift our gaze, we notice that a light shines from above, illuminating the shadows and our path forward.
OUR NEW LUNAR CYCLE begins on Wednesday, October 6, at 4:05 a.m. PDT, when the Sun and Moon align at 13°24´ Libra. This New Moon is very tightly conjunct Mars (at 13°58´ Libra) and widely conjunct retrograde Mercury (at 20°17´ Libra). This proximity of other planets – and Mars, especially – affects how we interpret the effects of this lunation, and how we understand the unfolding of the next few weeks.
By nature, Libra is diplomatic, eager to build relationship, and motivated by a need for harmony. But as the sign of The Scales, it is also strongly invested in relationship equality and in all parties being treated fairly. Some of the areas within Libra's domain are the law and litigation, as ideally these forms are meant to ensure fairness and order.
WITH WARRIOR MARS conjunct this week's New Moon, the more assertive side of Libra is engaged, the part that fights for a just cause and for equal rights under the law. This means we are likely to see a focus on legal issues and the courts throughout the new lunar cycle. And, where the direct expression of this Mars energy is blocked, it can emerge in other ways, through passive-aggressive behaviors.
But we must acknowledge that Mercury is also conjunct the New Moon, albeit widely, and that the Messenger Planet is currently retrograde (moving backward). This means that whatever actions may be taken, or communications initiated at the start of this new lunar cycle, there may be some delays in reaching resolution. This waiting period may last until Mercury goes direct on October 18, or until it leaves its retrograde "shadow period" on November 2.
OTHER PLANETARY ENERGIES are also integrated into the effects of this week's New Moon. Uranus will be at 13°55´ Taurus on Wednesday, making a very tight quincunx aspect to the lunation – and to Mars. This is a very restless energy, but not usually in a productive way.
This Uranus quincunx means we will need to be flexible and patient if we want to achieve our goals this lunar cycle. Impulsive actions will only lead to frustration as we hit roadblocks and end up feeling drained. Frustrations are especially strong when individual desires do not coincide with the expectations of others or of society. Throughout this time, despite the sense of urgency, remember that slow and steady actions will ultimately win the race.
Chiron is also activated by the New Moon, as the Wounded Healer opposes the lunation from its position at 10°31´Aries. Feelings are especially sensitive with this opposition, and we can take things very personally. If this occurs, know that true healing comes when we take the time to lovingly hold the part of us that is feeling ignored or discounted, opening our hearts in love and understanding to the wounded aspect of our own inner self.
WHEN PLANETS come to their "station," when they come to a standstill in preparation for either going retrograde or going direct, their influence is magnified in our experience. This heightened effect occurs not only for the day of the station, but for at least a week or two on either side of that date.
This week we have not one, but two planets standing still, ready to complete their retrograde phase and begin moving direct again. Both planets are "heavy hitters," in that they have strong effect on our human experience.
FIRST TO REACH its station is Pluto, which stalls at 24°18´ Capricorn on Wednesday. Mythical Pluto was the god of the Underworld; as the powerful agent of Transformation and Regeneration, the planet takes us through a process of symbolic death and rebirth.
Often with Pluto, we experience circumstances that we feel are beyond our control. Situations arise that test the very fiber of our beings, that can feel disempowering. But the higher purposes of Pluto include helping us find true empowerment – not based on whether we feel we can control outer events, but on how well we remain in charge of our inner emotional and mental landscape.
SATURN also stations direct this week, coming to a standstill next Sunday, October 10, at 06°52´ Aquarius. The Saturn effect is that of a reality check. It asks us to consider what goals we are willing to work harder for, and which ones have outlived their usefulness in our lives.
I like to use the analogy of pruning a tree for how to best use Saturn's influence. The visual is that of a tree that represents a certain area of effort and ambition in our lives. Under Saturn's tutelage, we are asked to look at that tree with new objectivity:
Does it have any dead branches that need to be removed? Are there root suckers growing around the base of the tree that should be removed – and did they grow because the tree was damaged, and needs support? And what about "extra" branches that are not dead, but perhaps need to be removed? This might be either because those branches are pulling the tree off-balance, or simply because we want more of the tree's energy to go into growing tall or in a different direction.
THE THIRD major event this week occurs on Friday, when dwarf planets Pluto and Eris are exactly square for the fifth and final time. This is an energy that has been with us since at least October 2019, when Pluto went direct and began moving into position to be square Eris.
(For your reference, here are the dates of the exact square: January 26, June 14, and December 10, 2020; and August 27 and October 8, 2021. You may find specific issues that have been significant in your life for the past two years, with times of greatest impact around these dates.)
The influence of this square is quite contentious. Basic issues include the power of the authority (Pluto in Capricorn) in conflict with individual rights (Eris in Aries). There is a strong "us versus them" theme that can erupt between peoples and can manifest on a wider scale through social upheaval, civil unrest, and rebellion.
On more personal levels, this square is also making us more aware of our own shadow traits and behaviors. Perhaps you consider yourself a very compassionate, loving person, but conditions over the past two years have brought out strong judgments and a deep anger toward others. As these discomforting responses come to the surface, we have the opportunity to use the powerful energy they represent in positive, life-affirming ways – or to waste our energies in complaining and blaming.
THIS WEEK – and really, for much of October – it is vital to have your personal toolkit nearby, to support yourself on physical, emotional, mental, and spiritual levels. Here are some tools I'm finding helpful right now, that I share with you in case you are drawn to them:
It's very important to support our adrenal glands (ruled by Libra) at this time, due to the heightened stress. My favorite adaptogen supplement is ashwagandha and I also use bacopa.
Vitamins and minerals to reach for now include the B vitamins, vitamin C, calcium/magnesium in proper balance, and vitamin E.
For crystals to work with, I've been holding black tourmaline and pink kunzite, and this morning added smoky quartz to my close-at-hand group.
And, if you are able, a good night's sleep and daily, restful walks in nature. Unplugging from the world of electronics and the news for at least part of the day.

OTHER SIGNIFICANT aspects this week include the following, with my brief interpretations of each:
Monday
Sun trine Ceres: Caring for loved ones is heightened and we feel a strong need to connect with those we call family.

Tuesday
Mercury quincunx Neptune: Confused thinking, especially if we feel we need to make a decision and the timing is not yet right.

Wednesday
Mars quincunx Uranus: See above.
New Moon 4:05 a.m. PDT: See above.
Venus semisquare Mars: Difficulty in understanding another's motivations can cause discord in relationships.
Pluto stations direct 11:28 a.m. PDT: See above.
Sun quincunx Uranus: See above.

Thursday
Venus enters Sagittarius: We are drawn to friends and lovers who share our beliefs, life perspective, and deeper values while Venus is in Sagittarius, until November 5.
Sun conjunct Mars: We feel energized and are perhaps more impulsive than usual. We can call on the courage of our convictions to support our actions.

Friday
Pluto square Eris: See above.

Saturday
Mercury semisquare Venus: Miscommunications with loved ones occur if we don't take the time to truly listen.
Sun conjunct retrograde Mercury: A good day for introspection and review. Journal writing may be the perfect outlet for this influence.
Venus conjunct South Node: Someone from the past may enter our awareness, or an old relationship pattern may resurface to be addressed.
Mercury conjunct Mars: A strong urge to share our thinking and desires with others. With Mercury retrograde, conversations may not lead to immediate resolution, but are rather laying the groundwork for follow-up talks.

Sunday
Saturn stations direct 7:17 p.m. PDT: See above.
*****
IF YOUR BIRTHDAY IS THIS WEEK: You will benefit from deeper introspection this year, especially before you take on new endeavors. After a review of all your options, you have the confidence, optimism, and self-belief you need to accomplish a great deal. However, be aware of being overly reliant on the feedback you receive from others. One of your lessons this year is learning to support and nurture yourself, especially if your usual tendency is to put others first. (Solar Return Sun conjunct retrograde Mercury, semisquare Venus, conjunct Mars, trine Jupiter, opposite Chiron)
*****
LAST CHANCE! If you missed my "Final Ascent" webinar covering the rest of 2021 and wish to purchase the replay and materials, let me know this week! Just send an email to This email address is being protected from spambots. You need JavaScript enabled to view it. with the subject line "Webinar Replay" and I'll reply with details.
*****
TRANSLATION and AUDIO/VIDEO VERSION: This weekly Journal is now recorded (in English) AND the text is transcribed into 30 languages! You'll see a row of flags under "Available Languages" in the upper right. And, there are options to listen to the audio (in English) or watch a video directly beneath the photo (see top of page).
The Journal entry is usually updated by Sunday evening, with the recordings appearing late Sunday or by Monday depending on your time zone. Please share this information with those who might benefit.
*****
For previous weeks of the Astrological Journal, click here.
*****
About the Author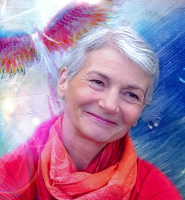 Pam Younghans is a professional astrologer, editor, and writer. She lives in a log home northeast of Seattle, Washington with her beloved animal companions. She has been interpreting charts professionally for over 25 years. If you are interested in an astrology reading, e-mail This email address is being protected from spambots. You need JavaScript enabled to view it., or leave a message at 425.445.3775.
For more information about NorthPoint Astrology offerings, please visit northpointastrology.com or visit her Facebook page.