Photo of Messier M27 nebula by Alessandro Bianconi, September 5, 2021, Dolianova, Italy

Narrated by Pam Younghans.
Current week's astrological overview
Astrological Overview: September 13 - 19, 2021
Astrologer Pam Younghans writes this weekly astrological journal based on planetary influences, and offers perspectives and insights to assist you in making the best use of current energies. This column is not intended as prediction. Your own experience will be more specifically defined by transits to your personal chart.
Aspects of Note this Week:

All times listed are Pacific Daylight Time. (For Eastern Time, add 3 hours; For Greenwich Mean Time, add 7 hours.)
MON: Mars sesquiquadrate Uranus
TUE: Sun opposite Neptune, Mars enters Libra, Sun sesquiquadrate Saturn
THU: Sun quincunx Jupiter, Venus sesquiquadrate Neptune, Sun trine Pluto, Venus square Saturn
FRI: Mercury quincunx Neptune
****
THE FIRST QUARTER MOON occurs this Monday, September 13, at 1:39 p.m. PDT. It marks the beginning of the second phase of the Moon cycle, a phase that will last until the Pisces Full Moon perfects next Monday, September 20.

As we move through this week, we will see evidence of how the goals we set with last week's Virgo New Moon are unfolding. Our tasks include initiating action to fulfill our vision, facing fears or doubts that may arise, and clearing away any obstacles that may present themselves. The qualities associated with this phase of the Moon include focus on the goal, determination, reassessment, and decisive movement.
Although stepping into the unknown can be unnerving, our job now is to more fully commit to the direction we have chosen. With the strength of our knowing to guide us, we then realize that the feeling in our bellies that we have been calling "fear" can also be interpreted – and felt – as excitement and anticipation for the new adventure that lies ahead.
A SHIFT OCCURS on Tuesday this week when Mars leaves Virgo and makes ingress into Libra. The Red Planet, named for the god of War, represents what we desire, how we pursue those desires, and how we use our assertive nature.
Mars will be in the sign of The Scales until October 30. Over the next six weeks, a desire for justice, equality, and fairness becomes a primary motivation. Although Libra is usually slow to anger, unfair treatment will motivate extreme reactions during this time, especially toward the end of September and early October, when the temperamental Pluto-Eris square is at its greatest effect.
During this time, we may also observe the shadow side of Mars in Libra, which includes being indecisive and codependent, unwilling to face issues directly due to the discomfort it will cause. We will especially want to watch passive-aggressive tendencies, where we might try to manipulate a situation or another person through procrastination, avoidance, withdrawal, or refusing to communicate.
WE HAVE quite a mixed bag of planetary energies to work with this week! Here is a list of the most significant aspects and my brief interpretations of each:
Monday
Mars sesquiquadrate Uranus: This aspect contains a lot of nervous and erratic energy. We feel easily irritated, and may snap at others if we're feeling controlled or just because life isn't going "according to plan." It's best to find ways to release the anger that won't cause us to regret our actions later.
Tuesday
Sun opposite Neptune and sesquiquadrate Saturn: In trying to be simultaneously hopeful and practical, we can at times be disillusioned and hypercritical today. Neptune can wear rose-colored glasses, while Saturn represents the often harsh voice of reality. We may swing between the two extremes now, but are challenged to utilize the best qualities of both planets, having faith but also doing our work.
Mars enters Libra: See above.
Wednesday
No major aspects are exact today.
Thursday
Sun quincunx Jupiter and trine Pluto: Once we adjust our perspective so that we can observe both the details and the larger picture, we can apply ourselves with great determination to accomplishing our goals today.
Venus sesquiquadrate Neptune and square Saturn: Relationships are challenged as some may be overly sensitive and defensive today. Old resentments may resurface, requiring concentrated effort to resolve them.
Friday
Mercury quincunx Neptune: Indecision and confused thinking are the major obstacles today. With Mercury in people-pleasing Libra and Neptune in selfless Pisces, be careful not to promise more than you can deliver. Pay attention to when your mouth says "yes" while your gut is saying "no." Self-sacrifice in an attempt to rescue another does not serve either person.
Saturday-Sunday
No major aspects are exact on these two days.
*****
IF YOUR BIRTHDAY IS THIS WEEK: You are highly energized and determined this year to get your work out into the world, and your strong knowing of your mission is profoundly motivating. However, be careful of overidealizing a situation, ignoring red flags, or not taking care of all the practical details. Faith and hard work both have their place, and this year you are required to find a healthy balance between the two. You may also need to give up some controls so that you can focus your efforts in the areas where you are most essential and productive. (Solar Return Sun conjunct Mars, opposite Neptune, trine Pluto)
*****
WEBINAR LAST WEEK: IT WAS GREAT to see everyone who attended our "Final Ascent" webinar last week! Thanks to all who joined us, either live or by replay. I hope you enjoyed the class and are finding benefit in my perspectives on the next four months.

If you missed the class – no worries! You can still purchase the replay and calendars. Simply send an email with the subject line "Webinar Replay" to This email address is being protected from spambots. You need JavaScript enabled to view it. and I'll reply with details.
*****
TRANSLATION and AUDIO/VIDEO VERSION: This weekly Journal is now recorded (in English) AND the text is transcribed into 30 languages! You'll see a row of flags under "Available Languages" in the upper right. And, there are options to listen to the audio (in English) or watch a video directly beneath the photo (see top of page).
The Journal entry is usually updated by Sunday evening, with the recordings appearing late Sunday or by Monday depending on your time zone. Please share this information with those who might benefit.
*****
For previous weeks of the Astrological Journal, click here.
*****
About the Author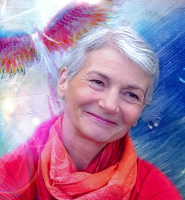 Pam Younghans is a professional astrologer, editor, and writer. She lives in a log home northeast of Seattle, Washington with her beloved animal companions. She has been interpreting charts professionally for over 25 years. If you are interested in an astrology reading, e-mail This email address is being protected from spambots. You need JavaScript enabled to view it., or leave a message at 425.445.3775.
For more information about NorthPoint Astrology offerings, please visit northpointastrology.com or visit her Facebook page.