Written and Narrated by Pam Younghans.
Astrological Overview: May 31 - June 6, 2021
Astrologer Pam Younghans writes this weekly astrological journal based on planetary influences, and offers perspectives and insights to assist you in making the best use of current energies. This column is not intended as prediction. Your own experience will be more specifically defined by transits to your personal chart.

IN THIS TIME between eclipses, it may be hard to find our bearings in physical reality. Life seems a bit surreal throughout this two-week period. It may feel as if we're floating above the timeline, and we have a sense of waiting for something to occur, for "the other shoe to drop."

And, of course, we are somewhat of a "wait and see" mode as we anticipate the second major event of this eclipse season, the partial Solar Eclipse on June 10. We are also moving through the waning half of the lunar cycle now, when our work is less about forward motion and more about review and release. The understanding of what we need to discard, and what shifts we are ready to make, will deepen once we enter the Last Quarter phase of the Moon this Wednesday.

IT MAY SOUND like a quieter week is about to unfold, but other planetary activity on the calendar tells us otherwise.


Continue Reading at InnerSelf.com (plus audio/mp3 version of article)


Music By Caffeine Creek Band, Pixabay

About the Author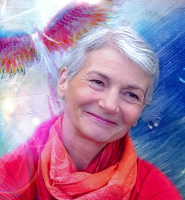 Pam Younghans is a professional astrologer, editor, and writer. She lives in a log home northeast of Seattle, Washington with her beloved animal companions. She has been interpreting charts professionally for over 25 years. If you are interested in an astrology reading, e-mail This email address is being protected from spambots. You need JavaScript enabled to view it., or leave a message at 425.445.3775.
For more information about NorthPoint Astrology offerings, please visit northpointastrology.com or visit her Facebook page.