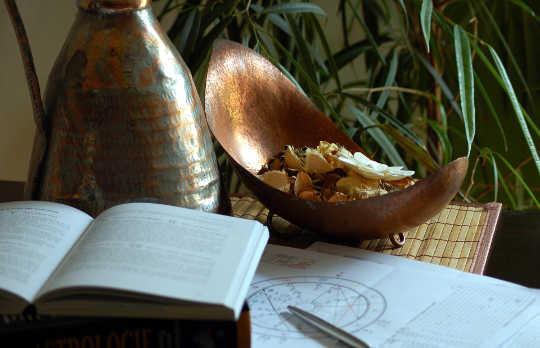 Image by anti_hh.

Narrated by Pam Younghans.
Astrological Overview: May 10 - 16, 2021
Astrologer Pam Younghans writes this weekly astrological journal based on planetary influences, and offers perspectives and insights to assist you in making the best use of current energies. This column is not intended as prediction. Your own experience will be more specifically defined by transits to your personal chart.
Highlighted Aspects for This Week:

All times listed are Pacific Daylight Time. (For Eastern Time, add 3 hours; For Greenwich Mean Time, add 7 hours.)
MON: Mercury conjunct North Node, Mercury sextile Chiron
TUE: Mercury sequiquadrate Pluto, New Moon 11:59 a.m. PDT, Mars square Chiron, Mars sextile Uranus
WED: Mercury trine Saturn, Sun sextile Neptune
THU: Jupiter enters Pisces
SAT: Mars quincunx Saturn
SUN: Sun semisquare Chiron
****
OUR NEW MOON this week marks the start of a lunar cycle that reaches its climax in two weeks with a powerful Total Lunar Eclipse. This means that we enter "eclipse season" this week, a time when life can be especially eventful. We are, in a sense, opening a magical box that contains great treasures. While we may not fully understand the value of all that the box contains, we can be assured that the gifts of eclipse season will be instrumental in moving us forward on our evolutionary journey.
You'll find differing opinions about when eclipse season begins and ends, since it's not an officially defined astrological term. My perspective is that this particular eclipse season begins with this Tuesday's New Moon (since it is part of the lunar cycle that includes an eclipse). It then continues into the next lunar cycle that begins with a Solar Eclipse on June 10, and completes at the regular New Moon on July 9. This means we have a full two months to work with some very potent energies, and to make significant strides forward.
THE SUN AND MOON will align for the New Moon on Tuesday, May 11, at 11:59 a.m. PDT (6:59 p.m. GMT). This is an inspired and creative New Moon, being sextile Neptune and the asteroid Pallas Athene in Pisces. But it is also grounded in reality and purpose with its trine to Pluto in Capricorn. During this new lunar cycle, we have the opportunity to make gains both spiritually and materially.
However, the New Moon is also conjunct Black Moon Lilith, a point in space that marks the farthest point of the Moon's orbit around the Earth (apogee). This conjunction activates a sense of being in the void; our comfort level with that nothingness will affect how we will experience the lunation. The void is empty and formless, but it is also vastly creative, filled with potentials.
Some of the keys to being at peace with the void are trust and faith, and a willingness to let go of the ego. Thankfully, these are qualities that Neptune and Pallas Athene are offering to us through their sextile to the New Moon.
THE LOCATION of the New Moon is at 21°17´ Taurus. The Omega and Chandra symbols for that degree, as channeled by astrologer and mystic John Sandbach, provide some additional insights into the energies we will be working with:
Omega symbol: "A man drinking a tonic that causes rainbow colors to spread throughout his body." The ability to both heal and nurture the self.
Chandra symbol: "A blindfolded woman who sees the future." The ability to tune out the outer world so that the direction in which energy is moving can be felt.
How synchronistic to see the reference to "a blindfolded woman," which reminds us of being in the void. And the creative potentials of that void are beautifully described by the "rainbow colors spreading throughout the body."
IF WE TUNE IN, we may feel a subtle but significant shift when Jupiter enters Pisces on Thursday. The Great Giant of the planets, Jupiter's transit through a sign corresponds with an amplification of that sign's energies.
Pisces is the sign of transcendence, nonattachment, creative visioning, compassion, and spiritual growth. Our opportunities for expansion in these areas are magnified while Jupiter travels through the twelfth sign. At its highest vibrational level, Jupiter in Pisces expands the high heart and our capacity for unity consciousness. But, we may also see a magnification of Pisces' shadow, which can manifest as escapism and drug use, oversensitivity and a lack of boundaries, disillusionment and existential angst.
Jupiter will be in Pisces from May 13 to July 28, then will backtrack into Aquarius before re-entering Pisces on December 28. We'll experience a similar back-and-forth in 2022, as Jupiter enters Aries on May 10, then backtracks into Pisces from October 28 to December 20.
HERE ARE OTHER INFLUENCES we'll be working with this week, with my brief interpretations of each:
Monday-Tuesday
Mercury conjunct North Node, Mercury sextile Chiron, Mercury sequiquadrate Pluto: Our minds may be very "mercurial" to begin the week. On the one hand, we may be thinking very optimistically, and have great new ideas of what we want to aim toward. At the same time, circumstances or conditions may seem to be restricting our progress, activating a more pessimistic perspective. In frustration, we can speak impulsively without considering the effects of our words on others.
New Moon: See above.
Mars square Chiron, Mars sextile Uranus: Old insecurities and fears can cause us to erupt suddenly in anger and defensiveness. If this occurs, it is an opportunity to turn our attention to the fearful part of us, and apply self-nurturing principles. If we take this step, we can surprise ourselves by an unexpected growth in courage and confidence.
Wednesday
Mercury trine Saturn: Our mental state is more stable with this trine, helping us think and communicate more clearly.
Sun sextile Neptune: An opportunity to find the inner peace we are longing for, perhaps supported by a walk in nature, or listening to uplifting music.
Thursday
Jupiter enters Pisces: See above.
Friday
No major aspects are exact on Friday.
Saturday
Mars quincunx Saturn: We may feel like we're spinning our wheels, without making progress. The challenge here is to slow down and reassess the balance between self-care and accomplishment. Once you get in sync with the best balance for you, you will get better results for your efforts, and also have to work less hard.
Sunday
Sun semisquare Chiron: A lack of confidence or a feeling of not deserving can interfere with our ability to slow down and simplify our lives. Take the time to nurture the part of you that feels it must always be active in order to prove its worth.
*****
IF YOUR BIRTHDAY IS THIS WEEK: The desire for expansion is strong in you this year, helping you take new risks that you may not have considered previously. You are supported by a greater awareness of your intuitive and creative natures, if you choose to access them. You are also able to focus your intentions on your higher purpose, helping you manifest certain aspects of your larger mission. Make sure that whatever steps you take are well-reasoned, and that your end goal meets the criteria of adding more meaning to your life. (Solar Return Sun square Jupiter, sextile Neptune, trine Pluto)
*****
"Riding the Rapids" Webinar: Wednesday May 12, 2021
I HOPE YOU CAN JOIN US for my webinar this week! I'm busy putting the finishing touches on the slideshow for this Wednesday's "Riding the Rapids," and I'm excited to share with you what will be unfolding over the next four months. Remember that you can either attend live or watch the replay, which will be sent to all registrants.

To learn more about the class, please see the announcement -- here's a quick link for info and/or to register:
https://ridingtherapids.eventbrite.com

If you've already registered: You should have received a confirmation email from (This email address is being protected from spambots. You need JavaScript enabled to view it.) and the monthly calendars and Zoom link from (This email address is being protected from spambots. You need JavaScript enabled to view it.). If you don't find these emails in your inbox, please check your junk/spam folder. For help with registering or payment, contact This email address is being protected from spambots. You need JavaScript enabled to view it..
*****
TRANSLATION and AUDIO/VIDEO VERSION: This weekly Journal is now recorded (in English) AND the text is transcribed into 22 non-English languages! You'll see a row of flags under "Available Languages" in the upper right. And, there are options to listen to the audio or watch a video directly beneath the photo (see top of page).
The Journal entry is usually updated by Sunday evening, with the recordings appearing late Sunday or by Monday. Check it out and let me know what you think! And, please share this information with those who might benefit.
*****
For previous weeks of the Astrological Journal, click here.
*****
About the Author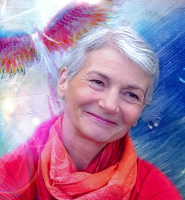 Pam Younghans is a professional astrologer, editor, and writer. She lives in a log home northeast of Seattle, Washington with her beloved animal companions. She has been interpreting charts professionally for over 25 years. If you are interested in an astrology reading, e-mail This email address is being protected from spambots. You need JavaScript enabled to view it., or leave a message at 425.445.3775.
For more information about NorthPoint Astrology offerings, please visit northpointastrology.com or visit her Facebook page.