Written and narrated by Pam Younghans.
Astrological Overview: May 3 - 9, 2021
Astrologer Pam Younghans writes this weekly astrological journal based on planetary influences, and offers perspectives and insights to assist you in making the best use of current energies. This column is not intended as prediction. Your own experience will be more specifically defined by transits to your personal chart.
****
THE "MERRY MONTH OF MAY" provides a wide range of planetary energies for us to work with, from new potentials for spiritual expansion to lessons in discipline and responsibility, to major turning points that can set us moving in entirely new directions. We've already been feeling something of an uplift, building up to this week's inspirational Jupiter-Uranus quintile. We also anticipate new mental stimulation and social interactions throughout the month, as Mercury, Venus, and the Sun all enter expressive Gemini over the next three weeks.
A major contributor to the energy shifts of May, Jupiter makes ingress into Pisces on May 13, throwing open doors to new spiritual growth and creativity, and helping expand the heart's capacity for compassion. But, in sharp contrast, back-to-reality Saturn will also be strong this month, due to stationing retrograde on May 23, just three weeks before squaring unpredictable Uranus for the second time.
And last – but by no means least – we'll be entering eclipse season with the Taurus New Moon on May 11. The Full Moon on May 26 will be both a powerful Total Lunar Eclipse and...
Continue Reading at InnerSelf.com (plus audio/mp3 version of article)


Music By Caffeine Creek Band, Pixabay
About the Author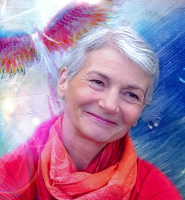 Pam Younghans is a professional astrologer, editor, and writer. She lives in a log home northeast of Seattle, Washington with her beloved animal companions. She has been interpreting charts professionally for over 25 years. If you are interested in an astrology reading, e-mail This email address is being protected from spambots. You need JavaScript enabled to view it., or leave a message at 425.445.3775.
For more information about NorthPoint Astrology offerings, please visit northpointastrology.com or visit her Facebook page.