Written and narrated by Pam Younghans.
Astrological Overview: April 26 - May 2, 2021
Astrologer Pam Younghans writes this weekly astrological journal based on planetary influences, and offers perspectives and insights to assist you in making the best use of current energies. This column is not intended as prediction. Your own experience will be more specifically defined by transits to your personal chart.

All times listed are Pacific Daylight Time. (For Eastern Time, add 3 hours; For Greenwich Mean Time, add 7 hours.)

OUR FULL MOON this week promises to be spectacular, in more ways than one. Firstly, it is one of only a small number of Supermoon Full Moons that will grace our skies in 2021. "Supermoon" is a term coined by astrologer Richard Nolle, and refers to a lunation that occurs when the Moon is at its closest orbital proximity to the Earth.

Visually, this week's Full Moon will appear "14% bigger and 30% brighter than lesser Full Moons of 2021" (Spaceweather.com). It will also appear big and bright for about three nights, from Sunday through Wednesday. Energetically, since the Moon will be so close to the Earth, we can assume that emotional reactivity will be heightened above and beyond the usual "lunacy" we experience with a Full Moon.

Adding to that intensity, Luna will be at 07°06´ Scorpio at the time of the lunation, which occurs on Monday, April 26, at 8:32 p.m. PDT. Scorpio is a very complex sign emotionally and psychologically, and is known for being passionate and perceptive. As the Moon opposes the Sun in Taurus, the sign known for its love of peace, beauty, and simplicity, we are asked to find the balance in our own lives between these two polarities.

OTHER PLANETS are also contributing to the impact of this Full Moon...
Continue Reading at InnerSelf.com (plus audio/mp3 version of article)


Music By Caffeine Creek Band, Pixabay


About the Author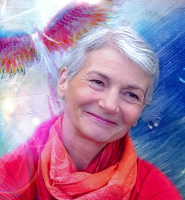 Pam Younghans is a professional astrologer, editor, and writer. She lives in a log home northeast of Seattle, Washington with her beloved animal companions. She has been interpreting charts professionally for over 25 years. If you are interested in an astrology reading, e-mail This email address is being protected from spambots. You need JavaScript enabled to view it., or leave a message at 425.445.3775.
For more information about NorthPoint Astrology offerings, please visit northpointastrology.com or visit her Facebook page.