Written by Joyce Vissell and Narrated by Marie T. Russell.
Do you ever find yourself looking at certain people and thinking to yourself, "Surely that person's life is totally incredible and they are not hurting like I am." This is something most people do; they look at others, compare themselves to them, and conclude that the other person's life is better. Whereas you are so aware of the hurt and problems in your life.

My news for you, coming from 47 years of counseling people, is that everyone hurts sometimes. People can look totally together and happy on the outside, and on the inside, there is a hurt that they are feeling, but just not showing.
Everybody Hurts Sometimes
Sometimes I watch small clips on YouTube of the winners of "Britain's Got Talent." I think the best one I ever saw was a sixty-four-year-old priest by the name of Father Ray Kelly from a small city in Ireland. He sang a song called, "Everybody Hurts." I believe it was the first time that a priest was on the show, and he got a standing ovation. Before he sang, he told the judges that he wanted to sing this song for all of his parishioners to comfort them as he knows they all hurt sometimes...


Continue Reading this article at InnerSelf.com (plus audio/mp3 version of article)
Music By Caffeine Creek Band, Pixabay
Copyright 2022.
Book co-authored by Joyce Vissell:
Heartfullness: 52 Ways to Open to More Love
by Joyce and Barry Vissell.
Heartfulness means so much more than sentimentality or schmaltz. The heart chakra in yoga is the spiritual center of the body, with three chakras above and three below. It is the balance point between lower body and higher body, or between body and spirit. To dwell in your heart is therefore to be in balance, to integrate the lower three chakras with the higher three.
Click here for more info and/or to order this book.
Also available as a Kindle edition
About the Author(s)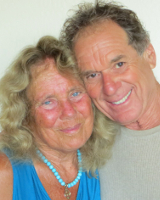 Joyce & Barry Vissell, a nurse/therapist and psychiatrist couple since 1964, are counselors, near Santa Cruz CA, who are passionate about conscious relationship and personal-spiritual growth. They are the authors of 9 books and a new free audio album of sacred songs and chants. Call 831-684-2130 for further information on counseling sessions by phone, on-line, or in person, their books, recordings or their schedule of talks and workshops.

Visit their website at SharedHeart.org for their free monthly e-heartletter, their updated schedule, and inspiring past articles on many topics about relationship and living from the heart.