Joyce's mother who has "graduated from life and moved on to her higher education in heaven"

Do you ever feel inferior to others because they have more education? Or do you ever feel superior to someone who has very little education?
In my family, including my brother, his wife and four children, and my family of Barry and three children, there are three PhD's, three college degree nurses, one master's degree, and the rest have college educations. My father had an engineering degree from a very good college and my mother was proud to have graduated from high school, the first one of her poor immigrant family with eight siblings. With all of the education in our family it was my mother, with her high school education, that we all went to for wisdom and understanding.
Wisdom does not come from education...
Wisdom comes from living a life with gratitude and being open to learning from each experience, whether hard or good, and allowing it to teach you. My mother allowed life to teach her, and there were many difficult aspects to her life. Her mother died when she was six years old, leaving behind a new born baby to be raised by the older siblings. Her father died when she was just sixteen. She had twin boys that died one week after birth. She had to support our whole family with her little church secretary job when my father got a recurrence of his childhood polio.
There of course were many amazing positive aspects to her life as well. But in the good times and in the challenging times, she learned from it all and trusted God. So when the rest of the family had challenges, we all turned to my mother for her wisdom. It did not matter that she only had a high school education. She had allowed life to teach her, and drew upon this well of wisdom.
My parents moved from Buffalo, New York to live right next door to us when my mother was 75 and my father was 82. My mother lived here until her death at the age of 90 and my father until he was 89. It was wonderful having them live so close. Barry and I carried on our counseling practice in a small room close to where they lived. My mother would sit in her living room each week and watch a young man come to see Barry for counseling. She noted that he seemed so sad.
One day as he was walking by her apartment, she called out to him, "I just made brownies. After seeing Barry, you could come up and have one." Well, he did and then each time he came for his appointment, he went up to my mother's apartment for fresh brownies and coffee. He would spend one hour with Barry and then one hour with my mother.
One day, he came to see Barry and announced that he felt he did not need further counseling as he was doing so much better in his life. Then very shyly he asked, "Is it alright if I continue to come and see your mother-in-law? She is giving me so much right now, just what I am needing." And so he continued to come and see my mother each week for perhaps two more months. We teased my mother that she was going to run Barry out of business.
Having a lot to give...
Ten years ago, a couple came to me for counseling. The man had two PhD's from Harvard and Stanford and the woman was a highly accomplished medical doctor with fellowships from Stanford in three different areas. They were the most educated people I had ever met. I started to feel inferior. What could I say to help them? I have a master's degree, but it seemed like nothing compared to all of their education.
Then I reminded myself that the wisdom I had learned from my life experience, as well as my decades of counseling experience, were what they needed from me. Once I realized that and stopped feeling inferior, the session went very well and I realized that I had a lot to give them that their education had not.
When our older daughter, Rami, graduated from her PhD program, we took my mother to see the graduation. At the close, when we were congratulating Rami, my mother asked if she could put on her black robe and the scarf of the PhD graduate. She explained to us that she had never worn a graduation gown as her high school was too poor to afford something like that.
We helped her on with the robe and took her photo. She looked so proud. Then she said, "When I die, I want this photo used at my memorial. And I want you to tell people that I have graduated from life and have moved on to my higher education in heaven." And so we did just that, and surely my mother had learned enough in this life to grant her a PhD in wisdom.
Dying with accumulated wisdom...
When the Hospice nurse came to help me dress my mother after she had died, she spent a long time studying the wrinkles on her face. Then she said to me, "I have been a hospice nurse for a very long time and I study the wrinkles on each person's face. Your mother lived a good life and she did not have resentments or regrets. She learned from each experience whether it was challenging or easy. She died with much wisdom." Then she pointed out to me the wisdom lines on her face.
May we all learn from life and die free of regrets and resentments, truly grateful for it all, and may the lines on our faces reflect a life well lived.
* Subtitles by InnerSelf
Copyright 2023. All rights reserved.
Book by this Author(s)
Heartfullness: 52 Ways to Open to More Love
by Joyce and Barry Vissell.
Heartfulness means so much more than sentimentality or schmaltz. The heart chakra in yoga is the spiritual center of the body, with three chakras above and three below. It is the balance point between lower body and higher body, or between body and spirit. To dwell in your heart is therefore to be in balance, to integrate the lower three chakras with the higher three.

Our goal is to lead you into your heart. Our goal is to give you a feeling experience of the heart in its many dimensions. We could say each piece will make you feel good. And this may be true. But each will also challenge you to grow in spiritual awareness, for there is often a certain risk that must be taken before the heart can open. Sometimes we need to leave our comfort zone to really live from the heart.
Click here for more info and/or to order this book. Also available as a Kindle edition.
About the Author(s)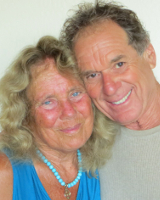 Joyce & Barry Vissell, a nurse/therapist and psychiatrist couple since 1964, are counselors, near Santa Cruz CA, who are passionate about conscious relationship and personal-spiritual growth. They are the authors of 9 books and a new free audio album of sacred songs and chants. Call 831-684-2130 for further information on counseling sessions by phone, on-line, or in person, their books, recordings or their schedule of talks and workshops.

Visit their website at SharedHeart.org for their free monthly e-heartletter, their updated schedule, and inspiring past articles on many topics about relationship and living from the heart.