Written and Narrated by Marie T. Russell
Just like everything in nature, we are growing. While our growth and changes may not be as obvious as the lawn that we have to mow regularly, or the weeds we pull from our garden, we nevertheless are continuing to grow.
Seeking Knowledge
Our growth may be more internal, and less obvious to people walking by, than the grass or weeds in our front yards. However, by continually seeking new experiences, new knowledge, and gaining new wisdom, we continue to grow towards the true fulfilment of our being and our purpose.

We may look at the people around us and think they are not growing, but since many changes occur internally, we are not privy to what growth is taking place inside of them. It's just like the seeds we plant in the spring. It can take weeks for the seeds to sprout and burst through the surface. There is a bromeliad in Bolivia that takes from 80 to 150 years to flower.

Let us remember that we all are seeds of light and love, and we are growing, whether visibly or not. We grow every time we have a new experience and a new ah-ha moment! We grow every time we experience a loss or a sorrow. We grow every time we feel joy and love for ourselves and for others. We grow with every breath we take...


Continue Reading at InnerSelf.com (plus audio/mp3 version of article)


Music By Caffeine Creek Band, Pixabay



This article was inspired by:
Messages from Heaven Communication Cards
by Jacky Newcomb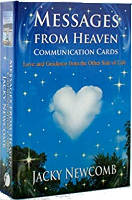 Messages from Heaven cards fills a gap between the hugely popular 'Angel Cards' and the new fascination for 'Afterlife Communication'. This distinctive 44 color card deck helps people to reach out to the other side of life in a familiar way. The deck can be used in numerous ways to connect with direction from loved-ones in heaven and for continued, positive and uplifting guidance and support.

The deck has been created with a 'safe' feel; beautiful images enhance the purposefully easy-to-use format. Simply select a card when you need divine inspiration or pick several to create readings for yourself and your friends. The enclosed booklet will give you the deeper meanings behind each card and enlighten you as to the continued connection between the realms.

Info/Order this card deck.

More Inspirational Card Decks
About The Author
Marie T. Russell is the founder of InnerSelf Magazine (founded 1985). She also produced and hosted a weekly South Florida radio broadcast, Inner Power, from 1992-1995 which focused on themes such as self-esteem, personal growth, and well-being. Her articles focus on transformation and reconnecting with our own inner source of joy and creativity.
Creative Commons 3.0: This article is licensed under a Creative Commons Attribution-Share Alike 4.0 License. Attribute the author: Marie T. Russell, InnerSelf.com. Link back to the article: This article originally appeared on InnerSelf.com