Written and Narrated by Barry Vissell.
This month (May 2021), both Joyce and I turned 75. May 18 for Joyce, and May 27 for me. Three quarters of a century! It's a milestone for sure.

When I was younger, 75 years old seemed ancient. The house-mother in Joyce's dormitory at Hartwick College, when we were 18 years old, seemed ancient. And she might have been a bit younger than us right now. One of her jobs was to vigilantly watch the young couples returning from their dates by the 10pm curfew, to make sure all was appropriate in the little lobby, and nothing more than kissing was happening. It was under her watchful eyes that Joyce and I had our first kiss, a kiss that truly blew our minds.

They say you are only as old as you think. In some ways, Joyce and I are still those 18-year-old children, discovering new ways to love, learning the lessons this world will teach us. If we remain open to learning and discovering, we remain youthful. And yes, the reverse is also true. We become old when we stop wondering at the world, or learning new things.
A Magic State of Wonder
Last week, as part of our birthday gift to ourselves, we were in Yosemite National Park, truly one of the most beautiful places on this earth. We biked throughout the valley, stopping to take in the sheer rock walls, the waterfalls in their spring fullness, the dogwoods in full bloom, all the majestic trees, my favorite the majestic Yellow Pines (Ponderosa Pines), over two hundred feet high. We explored the banks and beaches of the Merced River and Tenaya Creek, finding our own little power spots to rest, or dip for a moment in the frigid water.

As long as we touch upon that magic state of wonder...


Continue Reading at InnerSelf.com (plus audio/mp3 version of article)


Read by the author, Barry Vissell.

Music By Caffeine Creek Band, Pixabay
About the Author(s)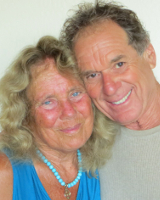 Joyce & Barry Vissell, a nurse/therapist and psychiatrist couple since 1964, are counselors, near Santa Cruz CA, who are passionate about conscious relationship and personal-spiritual growth. They are the authors of 9 books and a new free audio album of sacred songs and chants. Call 831-684-2130 for further information on counseling sessions by phone, on-line, or in person, their books, recordings or their schedule of talks and workshops.
Join Barry and Joyce Vissell in their first in-person event in 16 months: Summer Couples Retreat, June 24-27, 2021.
Visit their website at SharedHeart.org for their free monthly e-heartletter, their updated schedule, and inspiring past articles on many topics about relationship and living from the heart.