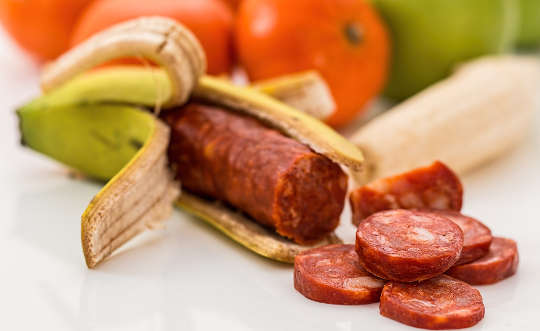 Image by Steve Buissinne
Processed diets, which are low in fiber, may initially reduce the incidence of foodborne infectious diseases such as E. coli infections, but might also increase the incidence of diseases characterized by low-grade chronic infection and inflammation such as diabetes, a study with mice shows.
Researchers investigated how changing from a grain-based diet to a highly processed, high-fat Western-style diet impacts infection with the pathogen Citrobacter rodentium, which resembles Escherichia coli (E. coli) infections in humans.
Gut microbiota, the microorganisms living in the intestine, provide a number of benefits, such as protecting a host from infection by bacterial pathogens. A variety of environmental factors, especially diet, influences these microorganisms, and they rely heavily on complex carbohydrates such as fiber.
The Western-style diet, which contains high amounts of processed foods, red meat, high-fat dairy products, high-sugar foods, and pre-packaged foods, lacks fiber, which is needed to support gut microbiota. Changes in dietary habits, especially a lack of fiber, are believed to have contributed to increased prevalence of chronic inflammatory diseases such as inflammatory bowel disease, metabolic syndrome, and cancer.
In this study, the researchers found switching mice from a standard grain-based rodent chow to a high-fat, low-fiber Western-style diet resulted in a rapid reduction in the number of gut bacteria.
Mice fed the Western-style diet were frequently unable to clear the pathogen Citrobacter rodentium from the colon. They were also prone to developing chronic infection when re-challenged by this pathogen.
The researchers conclude the Western-style diet reduces the numbers of gut bacteria and promotes encroachment of microbiota into the intestine, potentially influencing immune system readiness and the body's defense against pathogenic bacteria.
"We observed that feeding mice a Western-style diet, rather than standard rodent grain-based chow, altered the dynamics of Citrobacter infection, reducing initial colonization and inflammation, which was surprising. However, mice consuming the Western-style diet frequently developed persistent infection that was associated with low-grade inflammation and insulin resistance," says senior coauthor Andrew Gewirtz, a professor in the Institute for Biomedical Sciences at Georgia State University.
"These studies demonstrate potential of altering microbiota and their metabolites by diet to impact the course and consequence of infection following exposure to a gut pathogen."
"We speculate that reshaping gut microbiota by nutrients that promote beneficial bacteria that out-compete pathogens may be a means of broadly promoting health," says senior coauthor Jun Zou, an assistant professor in the Institute for Biomedical Sciences.
About the Authors
The findings appear in the journal PLOS Pathogens.
The National Institutes of Health and the American Diabetes Association funded the work. Original Study
Recommended Books:
The Harvard Medical School Guide to Tai Chi: 12 Weeks to a Healthy Body, Strong Heart, and Sharp Mind -- by Peter Wayne.
Cutting-edge research from Harvard Medical School supports the long-standing claims that Tai Chi has a beneficial impact on the health of the heart, bones, nerves and muscles, immune system, and the mind. Dr. Peter M. Wayne, a longtime Tai Chi teacher and a researcher at Harvard Medical School, developed and tested protocols similar to the simplified program he includes in this book, which is suited to people of all ages, and can be done in just a few minutes a day.
Click here for more info and/or to order this book on Amazon.
---
Browsing Nature's Aisles: A Year of Foraging for Wild Food in the Suburbs
by Wendy and Eric Brown.
As part of their commitment to self-reliance and resiliency, Wendy and Eric Brown decided to spend a year incorporating wild foods as a regular part of their diet. With information on collecting, preparing, and preserving easily identifiable wild edibles found in most suburban landscapes, this unique and inspiring guide is a must-read for anyone who wants to enhance their family's food security by availing themselves of the cornucopia on their doorstep.
Click here for more info and/or to order this book on Amazon.
---
Food Inc.: A Participant Guide: How Industrial Food is Making Us Sicker, Fatter, and Poorer-And What You Can Do About It -- edited by Karl Weber.
Where has my food come from, and who has processed it? What are the giant agribusinesses and what stake do they have in maintaining the status quo of food production and consumption? How can I feed my family healthy foods affordably? Expanding on the film's themes, the book Food, Inc. will answer those questions through a series of challenging essays by leading experts and thinkers. This book will encourage those inspired by the film to learn more about the issues, and act to change the world.
Click here for more info and/or to order this book on Amazon.
---