How old would you be if you didn't know your age? It's an interesting thought isn't it? Why not test it for yourself. How would you feel if you didn't know your age? Would you be 20, 17, 95 or 5?
This is confusing isn't it because if you didn't know your age, how would you know how to act? This is because we've all been taught to "act our age". But if you didn't know your age, you wouldn't know how to act would you?
We all know that people who are 40 or 50 or 60 aren't supposed to act like 17-year-olds. Or like 5-years olds or like 95-year olds. They're supposed to act their age, they are supposed to act like "adults". This means there are things we could do when we were 17 that we are not supposed to do when we are 40 or 50.
Without Limits: Forgetting What Age You Are
Once I was at a lecture with Wayne Dyer and he told this story. He was out running one day with his wife (he was 55 at the time) and there was a fence up ahead and as he started to jump over it, his wife shouted, "You can't do that..." But it was too late and he jumped over the fence anyway. Afterwards his wife said, "Wayne, you can't go jumping over fences like that... you're 55." And he said, "Oh, I forgot."
It is interesting how the idea of "age" limits us and what we think we can do. And for most of us, this is something we are not even conscious of, but it's happening just the same.
Here's another question. How would you feel about me if you think I'm 42? Oh you'd probably think I'm an active woman with a husband and children and a career of my own.
And now what if I tell you I am 49? How do you feel about me now? A bit different right, because you are thinking that I am almost 50, which changes your perspective on me.
And what if I tell you that I'm really 59? Then your story about me changes again doesn't it and you are probably thinking – my goodness, she really is old. Nearly 60, wow that changes everything doesn't it? And what if I tell you I'm 62? Now you are thinking, this is pretty amazing, she is really keeping well. I wonder what her beauty secrets are! And if I tell you I am really 69, well then you will probably think my goodness, the woman is positively ancient.
And it was all in the numbers right? Your story about me – about who I am and what I can do. All based on your perception of how old I am. It will even affect the way you read this article!
Are Your Thoughts Aging You?
Which brings me to what I would really want to talk about! I've written many books and all my books are about the way the mind works. And by this I mean, the ways in which our thoughts and stories influence our experience of life. I have discovered that the way we think, the way we look at things, is what determines if we are happy right now or not. It's really so very simple, but most of us don't know this secret yet.
In this connection, aging is the perfect example of how this mechanism works. Even though most people don't notice what's going on, it's going on anyway! Which is why I started this article by asking you how would you act if you didn't know your age?
I asked you this because I wanted to point out the power of our stories about aging. I wanted you to notice how much your ideas about aging influence the way you act. I wanted you to notice that if you didn't know your age, you wouldn't know how to act. I wanted you to notice that every age – 30 – 40 – 50 – 60 has its rules of behavior and I also wanted you to notice how much these rules of behavior influence the way you act and feel today. And also how much they influence the way you look at other people and judge them!
It's really quite amazing.
Writing A New Script for Aging
As far as I can see, we need a new "script" when it comes to aging! We've made a prison out of the aging thought – and this is a pretty crazy thing to do – especially since every man, woman and child on earth wants to be free. Free to be whoever they are regardless of their sex, religion, color and age!
Isn't that true of you too?
And according to my birth certificate, I am…! Now what's your story about me????
Subtitles by InnerSelf
©2014 Barbara Berger. All Rights Reserved.
Reprinted with permission of the author.
Article Source
Are You Happy Now? 10 Ways to Live a Happy Life
by Barbara Berger.
Click here for more info or to order this book on Amazon.


About the Author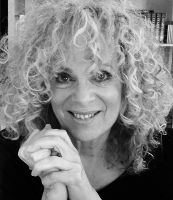 Barbara Berger has written over 15 self-empowerment books, including her international bestsellers "The Road to Power / Fast Food for the Soul" (published in 30 languages) and "Are You Happy Now? 10 Ways to Live a Happy Life" (published in 21 languages). She is also the author of "The Awakening Human Being – A Guide to the Power of Mind" and "Find and Follow Your Inner Compass". Her latest book, "Healthy Models for Relationships – The Basic Principles Behind Good Relationships" will be released in late 2022.

American-born, Barbara now lives and works in Copenhagen, Denmark. In addition to her books, she offers private sessions to individuals who wish to work intensely with her (in her office in Copenhagen or on Zoom, Skype and telephone for people who live far away from Copenhagen).

For more about Barbara Berger, see her website: www.beamteam.com