Jacob's Ladder, steps carved into rock. Image by Gabriela Fink
Welcome... Our InnerSelf welcomes your inner self.

Whatever we are going through, both individually and collectively, we must remember that we are not helpless victims. We can reclaim our power to carve our own path and to heal our lives, spiritually and emotionally, as well as physically.

This week, we take a look at ways to traverse the challenges of these times. We start with Serge Beddington-Behrens who reminds us that "The Force Is With Us: Gateways to Soul Power". Judith Corvin-Blackburn then assists us in moving forward by "Stepping Into Our 5D Frequency For Planetary Transformation".

Nancy Windheart writes about things we can do that can help ground us "During These Weird, Wild and Wonderful Times" while Malcolm Stern shares "How to Break the Spell and Set Yourself Free". Hersch Wilson reminds us to have the courage to "Be Kind: Kindness in Action" and Joyce Vissell suggests that we allow music and love to guide us "When Having A Difficult Time... " And Pam Younghans, in this week's "Astrological Journal", reminds us "that it is vital to remain calm and centered right now" amidst the dramas and thunderbolts that are taking place in the world.

We are reminded that we can choose where we place our attention, and how we walk through the shadows that surround us. We choose what we do next. We choose our attitude. We choose our vision for the future. And most importantly we choose our actions to help that vision come into fruition.

Please scroll down for the featured articles in this new issue of InnerSelf, and also the recap of all the articles that were added to the website during the week.

Wishing you enjoyable insightful reading, and of course a wonder-full, joy-full, health-full, and loving week.

Marie T. Russell
editor/publisher,
InnerSelf.com
"New Attitudes...New Possibilities"
♥ Your InnerSelf "To Do" List ♥

♥ If you shop at Amazon, please use this link: http://www.amazon.com/?tag=innerselfcom Your cost is the same and we receive approx. 5% in commission.

♥ Share the InnerSelf articles and the Daily Inspiration with your friends on social media and otherwise.

♥ We also welcome (and invite) feedback... To send us your comments, hover over the "This and That" item in every page's top menu, and click on the "Contact Us" button.

---
NEW ARTICLES THIS WEEK
***** articles and videos added daily *****
---
Written by Serge Beddington-Behrens

Nothing can happen without the power to make it happen, and if you and I are to work at living more abundantly and soulfully, we will need not only a lot of love, determination and psychological maturity, but also a lot of power. Indeed, having power is very important and it serves as a central gateway that can potentially...
---
Written by Judith Corvin-Blackburn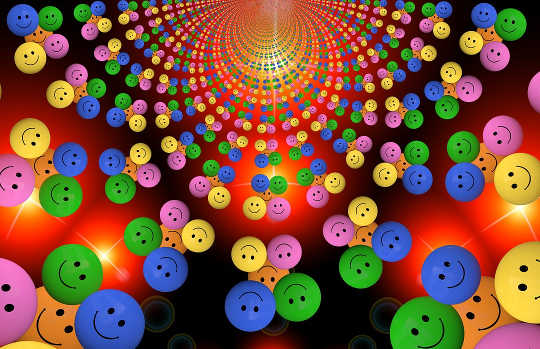 By nature, we are 5th dimensional humans. This has been encoded in our DNA. 5D humans live from their heart's wisdom. They feel fully empowered and emit unconditional love and non-judgment for themselves and all others.
---
Get The Latest From InnerSelf

---
---
Written by Nancy Windheart

How are you doing in this time? My experience is that it's weird, and wild, and wonderful in certain ways, and really, really challenging in others. Grief, loss, uncertainty. Inspiration, creativity, a feeling of a "pause" that is ongoing. These are some of the things I've been feeling, and I'm hearing from many people who are experiencing similar energies and emotions.
---
Written by Malcolm Stern

We need to examine the spells that hypnotize us and break them when they hinder us. Spells are words, deeds and judgements that go unquestioned, undigested and unchallenged. It could be a doctor informing you that you have three months to live, a friend saying your marriage won't work, your mind telling you that...
---
Written by Hersch Wilson

The most difficult act of bravery is often kindness. There are a hundred reasons not to help a stranger passed out in a parking lot. It's potentially dangerous. The person might be "crazy," have a communicable disease, or smell. The situation isn't our problem, we're busy and don't have time, and so on.
---
Written by Joyce Vissell

Right now, in our country, and perhaps in other countries as well, people are having a challenging time in their lives. It could be easy for a person to feel lost in all of this ongoing challenge. But how can we feel found?
---
On The 50th Anniversary Of Her Death, Why Janis Joplin Still Ignites
by Leigh Carriage
Janis Joplin died 50 years ago on October 4, 1970, aged just 27, but her songs reach beyond time. Her enduring…
---
What The World Can Learn From Clean Energy Transitions In India, China and Brazil
by Radhika Khosla et al
If the world is to transition to a climate-compatible future, much will turn on new innovations in clean energy and…
---
Why Older People Are At More Risk From Covid-19
by Brian Geiss
President Donald Trump's announcement that he's tested positive for COVID-19 is especially concerning because of his…
---
Why Are News Outlets Still Giving A Platform To Dangerous and Outdated Climate Views?
by Sharon Coen
For years, scientists have been stressing the need to act quickly and effectively on climate change. And as part of my…
---
Cyberspace Is Critical Infrastructure and It Will Take Effective Government Oversight To Make It Safe
by Francine Berman
A famous 1990s New Yorker cartoon showed two dogs at a computer and a caption that read "On the Internet, nobody knows…
---
How Are You Coping During The Pandemic?
by Nick Haslam
The pandemic has posed unprecedented challenges. Many of us have lost work, gained carer responsibilities and grappled…
---
Why Helen Reddy's Music Made Women Feel Invincible
by Michelle Arrow
"Show business", Helen Reddy once said, "was the only business that allowed you to earn the same salary as a man and to…
---
One Way To Solve Society's Most Urgent Problems
by Luciano Kay
Innovation is a critical part of tackling problems in areas as diverse as transportation, housing, public health and…
---
10 Pros and Cons of Legalizing Cannabis
by Patrick van Esch
The cannabis industry is one of the fastest-growing job markets in the United States. In one year, cannabis retailers…
---
How Racism Leads To Poor Attendance In Schools
by Teresa Anne Fowler
Students who experience chronic stress, such as socio-economic disadvantage, mental health challenges or cultural…
---
Why The Media May Be To Blame For Your Arachnophobia
by Mike Jeffries
Spiders have an unfortunate media presence. No number of studies emphasising their ecological value or the potential of…
---
How 3 Prior Pandemics Triggered Massive Societal Shifts
by Andrew Latham
Before March of 2020, few probably thought disease could be a significant driver of human history.
---
Are Consumers Willing To Pay More For Climate-friendly Products?
by Gary Mortimer
I'm seeing quite a few "climate-friendly" products at the supermarket. Are consumers willing to pay more for these? And…
---
The Many Ways Covid-19 Can Affect Your Gut
by Vincent Ho
Media reports earlier this week described a Queensland nurse with stomach pains who went on to test positive for…
---
Are You Worried About Negative Thoughts As A New Parent?
by Amy Brown
If you believe what the media tells us, we should feel nothing apart from overwhelming love, gratitude and excitement…
---
Falls May Signal Alzheimer's Before Symptoms Appear
by Tamara Bhandari
Older people without cognitive problems who experience a fall may have undetected neurodegeneration in their brains…
---
How Even A Casual Brush With The Law Can Permanently Mar A Young Man's Life – Especially If He's Black
by Gary Painter
A coalition of advocacy organizations, criminal justice reform advocates and everyday citizens have called for cities…
---
8 Ways Your Life Could Be Affected if Republicans Cancel Obamacare
by Simon F. Haeder
More than 10 years after its passage, the Affordable Care Act once more hangs in the balance. There have been plenty of…
---
Why Namaste Has Become The Perfect Pandemic Greeting
by Jeremy David Engels
Hands over the heart in prayer pose. A little bow of the head. A gesture of respect. An acknowledgment of our shared…
---
How Not Only Revenge But Unfairness Can Unleash The Urge To Punish
by Paul Deutchman
Unfairness alone is upsetting – upsetting enough to drive people to punish those who have benefited from unfair…
---
Why There Is No Ethical Reason Not To Vote Unless You Come Down With Covid-19 On Election Day
by Scott Davidson
Current polling suggests that the majority of those eligible to cast a ballot intend to vote. But a chunk of the…
---
Why You Should Call In Sick More Often Than You Think, Even If Working From Home
by Alison Collins
The dramatic rise in working from home due to coronavirus looks likely to become a permanent feature for many…
---
Here's Why Resistance Training Is So Effective For Weight Loss
by David R Clark et al
Weight lifting, also known as resistance training, has been practised for centuries as a way of building muscular…
---
The Arctic Hasn't Been This Warm For 3 Million Years and That Means Big Changes For The Planet
by Julie Brigham-Grette and Steve Petsch
Every year, sea ice cover in the Arctic Ocean shrinks to a low point in mid-September. This year it measures just 1.44…
---
How Science Untangles The Elusive Power and Influence of Hope In Our Lives
by Richard Miller
On Erin Gruwell's first day as a high school English teacher, she faced a classroom of 150 "at risk" freshmen. Most of…
---
Why We Need The Opposite Of A Carbon Tax To Reduce Emissions
by Sumedha Basu
For the last few decades, the consensus among leading economists has been that putting a price on carbon is the most…
---
What We Can Learn From New Zealand and Iceland About Covid-19 Response
by David Murdoch and Magnús Gottfreðsson
Despite being at opposite ends of the Earth, Iceland and New Zealand have many similarities. Both are small island…
---
Stressful Times Are An Opportunity To Teach Children Resilience
by Vanessa LoBue
Between the global COVID-19 pandemic, the associated economic downturn and widespread protests over racism, it's…
---
Dynamic Tattoos Promise To Warn Wearers About Health Threats
by Carson J Bruns
Imagine a tattoo that alerts you to a health problem signaled by a change in your biochemistry, or to radiation…
---
When Politicians Use Hate Speech, Political Violence Increases
by James Piazza
Politicians deepen existing divides when they use inflammatory language, such as hate speech, and this makes their…
---
Wooden Skyscrapers Could Transform Construction By Trapping Carbon Emissions
by Warren Mabee
All over the world, architects and engineers are crafting cutting-edge skyscrapers from one of the most renewable and…
---
Women and Suicide: The Dangers of Social Isolation
by Claire Warrington
Men have long been recognised as being most at risk of suicide, but the Office for National Statistics recently…
---
How Could Wearing A Mask Help Build Immunity To Covid-19?
by Larisa Labzin
People infected with SARS-CoV-2, the virus that causes COVID-19, can spread the virus when they speak, sing, cough…
---
If You're Pro-Life, You Might Already Be Pro-Choice
by Matthew Scarfone
Many people are worried that the death of Ruth Bader Ginsburg puts protections of reproductive rights at increased risk…
---
How Your Personal Data Is The Currency of the Digital Age
by Guillaume Desjardins
The commodification of the internet in the early 1990s brought western societies into the digital age and has changed…
---
Why Body Fat Deep Below The Surface Is A Toxic Risk
by Lea M D Delbridge and James Bell
Amid the COVID-19 pandemic, it's easy to forget one of the largest health challenges we face remains the global obesity…
---
Written by Pam Younghans
This weekly column (updated every Sunday afternoon) is based on planetary influences, and offers perspectives and insights to assist you in making the best use of current energies... Read this week's journal here
It is also highly beneficial to reread the past week's astrological journal as it gives a hindsight view of the events that took place and may provide many "ah-ha" insights.
---
OLDIES & GOODIES:
Life Is Always Trying To Teach Us Exactly What We Need To Learn
by Shakti Gawain
If we accept that life is always trying to teach us exactly what we need to learn, we can view everything that happens…
---
Enough Already! Do You Ever Have "Enough"?
by Alan Cohen
While having dinner with a well-known author and lecturer, our conversation drifted to money. "I have enough money," he…
---
Spiritual Creativity As A Way of Life: Co-Creating Love, Hope, Joy, and Peace
by Terry Lynn Taylor
Spiritual creativity is a way of life, a way of wholeness. It is a path of integrity. Integrity entails not just a few…
---
An Open Letter to the Entire Human Family
by Ruchira Avatar Adi Da Samraj
This is the moment of truth for humankind. Critical choices must now be made in order to protect the continued…
---
by J. Donald Walters
An unfeeling heart has even been admired by many, as evidence of a "scientific outlook". The truth is that without love…
---
Can Guilt Actually Be Good For You?
by Richard OConnor
We spend so much time helping people who punish themselves and constrain their lives with an overdeveloped sense of…
---
Meditating 101: Simple, Quick and Easy Do's and Dont's
by Sandy Goodman
I am probably the last person that should be saying how, when, and where to meditate. I have set a goal of daily…
---
Also check out the InnerSelf section, Remember Your Future, for articles dealing with issues that are related to you and the upcoming 2020 US election for President, Senate, etc.
---
HELPFUL INNERSELF LINKS:
Facebook | Twitter | InnerSelf Home
Please use this link to shop at Amazon:
http://www.amazon.com/?tag=innerselfcom
Your price is the same, and we get a commission :-) which helps us defray the costs of running the website: servers, bandwidth, program updates, etc.

---
Also From The Editors
More Articles By This Author
You May Also Like